One leads an organization that poses as a mainstream civil rights organization, defending individual rights and fighting discrimination. The other is an influential cleric who has repeatedly expressed his wish to kill Jews before he dies.
Together, they are promoters of a new film venture about the Muslim prophet Muhammad.
Nihad Awad, co-founder and executive director of the Washington, D.C.-based Council on American-Islamic Relations (CAIR), shared a stage with Yusuf al-Qaradawi, a Muslim Brotherhood spiritual leader, during a news conference in Qatar earlier this week.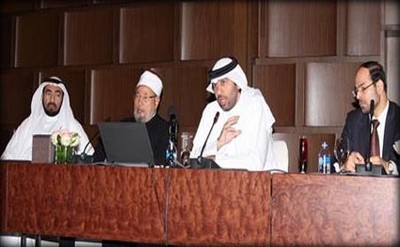 CAIR Executive Director Nihad Awad, far right, joins radical cleric Yusuf al-Qaradawi, second from left, in discussing a film about Islam's prophet Muhammad in Qatar this week.
The Muhammad movie project carries an estimated $1 billion price tag. It will be produced in in English to appeal to non-Muslim audiences and is backed by the al Noor Holding Group, Qatar's al-Sharq newspaper reported.
During the news conference, Awad complained that the American film industry had generated 750 movies "in which Islam and Muslims were noted in a negative way," the article said. The seven-part Muhammad film was an important step in countering the resulting image, Awad said.
Qaradawi, whose extremist rhetoric prompted France to ban him from visiting the country, essentially blessed the script as acceptable under religious law despite its portrayals of the prophet and his companions. He was joined by other trustees from Qaradawi's International Union for Muslim Scholars in supporting the project.
The union's board includes Tunisian Islamist leader Rachid Ghannouchi, a Hamas supporter who has praised Hamas rocket fire toward civilians and blessed mothers of suicide bombers, and Salah Soltan, a former Ohio imam who has repeatedly called for the killing of Jews.
"There is no excuse for anyone to refrain from jihad after God has removed the affliction, which obstructed us from jihad to liberate Palestine," he said last year. In a speech last week, he called on Egyptians to approve the country's heavily-Islamist constitution, saying it would help lead to Jerusalem's liberation.
The Chicago chapter of Awad's organization recently launched a public relations campaign aimed at changing public perception of jihad in Islam. Rather than a call to violence, or holy war, the campaign shows individuals describing personal jihads to better their lives.
But Awad's partners, like Qaradawi, who has repeatedly advocated jihad, including attacks on American forces in Iraq, haven't received the message.
The campaign, like the Muhammad film, targets non-Muslim audiences in hopes of softening the image of Islamic radicalism. Awad and the film producers in Qatar should consider taking on those within their faith who advocate for violent jihad – people like Qaradawi and Soltan – with greater gusto.