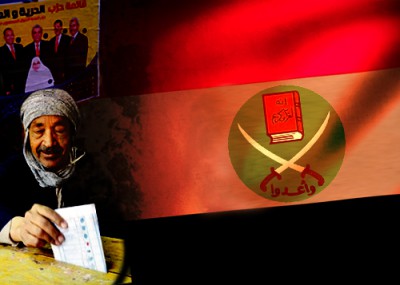 As President Hosni Mubarak's regime fell in Egypt, some feared that radical Islamists were poised to take over the state and the country. This opinion was not shared in America by leading voices in government and the media, where pundit after politician confidently asserted that the Muslim Brotherhood, the dominant Islamist organization in Egypt, did not enjoy that sort of widespread public support.
This certainty started at the top, as President Obama told Bill O'Reilly, "I think the Muslim Brotherhood is one faction in Egypt. They don't have majority support in Egypt."
The president's appraisal was echoed by United Nations Ambassador Susan Rice in an interview: "There's not indication that the Brotherhood is going to dominate Egyptian politics."
This benign notion of the Egyptian future was pushed by renowned New York Times columnist Nicholas Kristof, who wrote that "the biggest losers of the revolution" would be violent Islamist extremist groups" that would "lose steam when the more moderate Muslim Brotherhood" joined the game, and that "Egypt won't change as much as many had expected."
Boy, were they wrong.
Through two rounds of voting (out of three), Egypt's Islamist parties have secured between 67 and 75 percent of seats in the country's first post-Mubarak parliament. The clear leader is the Brotherhood's Freedom and Justice Party (FJP), which won 86 of the 180 seats up for grabs. The FJP's closest contender thus far has been al-Nour—the political arm of Egypt's fundamentalist Islamist Salafists—which has won roughly 20 percent of seats.
This comes after initial assurances from the Brotherhood that they did not seek to dominate a successive Egyptian government. They pledged not to offer a candidate for president and to run candidates in only about a third of all parliamentary races.
Meanwhile, distinctions between the Brotherhood and the Salafi parties may prove insignificant. "At the end of the day, we and the Brotherhood want the same thing. What is that?" asked Salafi al-Nour chief Sheikh Ayman Shrieb—"Well, we want an Islamic state. Every vote we don't get, we hope it goes to the Brotherhood."
So much for the Brotherhood's previous claim that the revolution had "no Islamic agenda."
News outlets were more than willing to help lower expectations for the Brotherhood's electoral chances.
Kristof, for one, took the Brotherhood's assurances, coupled with the group's stated commitment not to field a presidential candidate, as a good-faith effort to prove it had been "tamed by being brought into the system."
In July, National Public Radio reported on rifts within the movement that not only could hurt at the polls, but which are "causing some in Egypt to question whether the decades-old movement can survive." That report followed a similar CNN story, which cited sources saying it "is unlikely to win more than 20% of the seats in parliament" because much of its past support was based on opposition to Mubarak's rule.
During a discussion held at the Center for the National Interest in April, a panel of experts "agreed with the assessment that the organization [the Brotherhood] is unlikely to win more than fifteen or twenty percent in September's parliamentary elections. The Salafist movement, far more conservative and radical than the MB, is unlikely to win more than a tiny fraction of that number."
Months later, right as the postponed first round of elections were set to commence, Dalia Mogahed, executive director of the Gallup Center for Muslim Studies and former White House advisory council appointee, released a poll showing that only 23% of Egyptians "Support" the Muslim Brotherhood, while 61% "Do Not Support." Commenting on the results, Mogahed noted that "while the Muslim Brotherhood enjoy support from a significant segment of Egyptian society, more Egyptians see a parliament in which the group holds a strong, influential position as bad for the country."
In contrast, writer Barry Rubin made a point of noting the Brotherhood's history of doubletalk. And he correctly predicted the Brotherhood's electoral prowess, saying the group is "following a brilliant strategy to build a united front for Sharia, bringing in other clerics and gradually winning over more and more of the religious establishment to an Islamist position."
The ultra-conservative Salafi party already has called for an all-out ban on alcohol and beach tourism. The Brotherhood claims it will not go as far. Yet even its plan, which calls for strict changes to Egypt's tourism industry, undoubtedly would have a negative impact on the country's bottom-line.
A leading official on Tuesday pledged to bring Egypt into the 1920s via Prohibition.
"We'll prohibit alcohol," former Brotherhood Secretary General Sobhi Saleh told a rally outside Cairo. "Tourism does not mean nudity and drunkenness We Egyptians are the greatest religious people, and we don't need that."
On Thursday, the Brotherhood's Supreme Guide announced that his group's "ultimate goal" of "establishing a caliphate system" is close at hand. The path toward achieving that goal, Mohammed Badie told listeners, begins with the establishment of a "just and reasonable regime."
The statement calls into question the Brotherhood's pledge not to run a presidential candidate since a "just and reasonable regime" likely includes a leader in sync with Brotherhood aspirations.
The Brotherhood seeks to "persuade a figure who they find satisfactory to run Egypt's top post," Chairman Mahmoud Ghozlan said last week. Also at odds with its earlier position, the Brotherhood is now rejecting calls for presidential elections to take place before the constitution is drafted—the exact opposite stance it took a month ago.
Flip-flopping is a liability in American politics. Less so, apparently, in Egypt, where the Brotherhood cultivated support in part by borrowing another American tradition – "walk around" money. Former U.S. Ambassador to Morocco Marc Ginsburg claims Egyptian military and business leaders funneled huge amounts of money to build "an underground supply chain of financial and commodity support to local Islamist political organizations throughout Egypt outside the prying eyes of Cairo-based media."
Only in this case, the vote-buying and community support comes at an additional cost: the Islamists' agenda. That bodes ominously for American interests. Already, Egypt appears to be the next home base for designated terrorist group, Hamas.
But don't be surprised to see pundits, politicians and journalists continue to minimize the ramifications. Some things take more than elections to change.