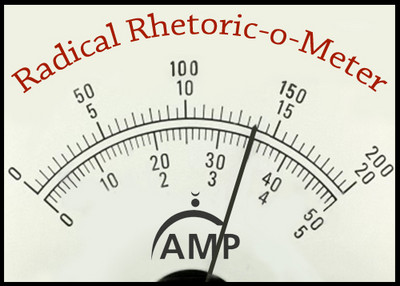 They call themselves American Muslims for Palestine (AMP), but their rhetoric indicates their true goal is the elimination of the state of Israel. In speeches last weekend at the Islamic Circle of North America-Muslim American Society 9th Annual Convention in Chicago, and a month earlier at their own conference, AMP officials repeatedly called for a grassroots effort in America to delegitimize Israel.
During a session featuring AMP speakers, board member Osama Abu Irshaid told the ICNA-MAS audience Sunday "to challenge the legitimacy of the State of Israel," and "to try to keep this debate alive."
Last month in New Brunswick, N.J., at AMP's 3rd annual conference, panelist Abdelhamid Abu Siyam ended his speech on a similar vein by calling in Arabic for "[the] right of return and rejection of Zionism, and rejection of the legitimacy of this state [Israel]."
American Muslims for Palestine (AMP) was formed in 2006 as a nonprofit organization based in Chicago with chapters around the country. Its message omits any mention of peaceful coexistence with the state of Israel, and routinely includes calls for an end for U.S. aid to the Jewish state.
During the opening of the AMP conference, Vice Chairman Munjed Ahmed welcomed the audience by threatening Israel. "You occupiers of Palestine will be out. That's a promise. You will be out," Ahmed said. "And we will work every single day as an organization until that day where we truly say that Palestine is free."
Calls for the destruction of the State of Israel were reinforced by promoting "resistance."
"The first element [in changing the balance of powers] is resistance," former Palestinian Minister of Information Mustafa al Barghouthi told the audience in Arabic. "The wonderful national Palestinian resistance taking place in reality should be encouraged and increased."
Conference speaker Othman Atta condemned "attacks by Palestinians against innocent civilians," while adding, "absolutely it's within the right of an occupied people to resist their occupiers." Atta is a lawyer and the former president of the Islamic Society of Milwaukee. Some mosque members "are involved in raising money … that is actually for HAMAS," according to a November 2001 FBI memo.
During an AMP session on U.S. Foreign Policy in the Middle East at the ICNA-MAS conference, Atta rejected peace negotiations between Israelis and Palestinians. "Palestinians, through Oslo and other negotiating processes accepted the absurdist notion that to obtain the legitimate rights that are guaranteed by God and guaranteed by international laws that we must sit with our occupiers and oppressors, with thieves and murderers, and come to an agreement," he said. "Now imagine that this was applied to US law here in the United States. Why the hell would we need to have a court system?"
He added sarcastically, "Were you raped? Hey, no problem, sit down with your rapist and see if you can come to some kind of accommodation."
AMP founder and chairman Hatem Bazian, a senior lecturer at the University of California, Berkeley, has a history of incendiary statements. At an April 10, 2004 anti-war rally in San Francisco, Bazian called for Americans to create a violent uprising at home similar to the Palestinian intifada.
"Are you angry? …Well, we've been watching intifada in Palestine, we've been watching an uprising in Iraq, and the question is that what are we doing? How come we don't have an intifada in this country," Bazian said. "It's about time that we have an intifada in this country that change[s] fundamentally the political dynamics in here. And we know every – They're gonna say some Palestinian [is] being too radical – well, you haven't seen radicalism yet."
During an AMP conference session on "Islamopohobia and American Muslims," Bazian, who also directs the Islamophobia Research and Documentation Project at UC Berkeley, claimed that "pro-Israel activists" in the United States have a "massive infrastructure that is spending 24/7 to demonize Islam and Muslims around the clock for their own strategic purposes."
During the same session, Bazian said Israel and its allies want to "demonize Islam," and "criminalize Islam to link to terrorism." Islamophobia, he argued, causes "Muslims in our own communities to actually go into the margin and think that they are gonna be revolutionary and engage in violence because they have been pushed to the margins."
Beyond its own conferences, AMP has sponsored numerous events for the UK-based pro-Hamas group Viva Palestina, as well as provided a platform for its leader, George Galloway, to speak. In May, Galloway was the headlined speaker for AMP's "Nakba" campaign around the country. Through four land convoys, Galloway and Viva Palestina have delivered millions of dollars to the Hamas regime in Gaza. AMP also hosted a Viva Palestina fundraiser in January, raising more than $130,000.
AMP's leaders include at least two men tied to a fundraising front for Hamas – the Holy Land Foundation for Relief and Development (HLF), which was shut down by the government in 2001. HLF and five former officials were convicted in 2008 of illegally routing millions of dollars to Hamas.
One AMP board member, Salah Sarsour, is named in law enforcement documents as helping raise money for Hamas.
Sarsour's ties with HLF are detailed in U.S. and Israeli law enforcement documents. His brother, Jamil Sarsour, was arrested by Israeli authorities in 1998 for providing military support to Hamas. When Jamil Sarsour was arrested by Israel, he "described his brother Salah Sarsour's involvement with HAMAS and fund-raising activities by the [HLF] in Richardson, Texas on behalf of HAMAS," a November 2001 FBI memo said. "His brothers Salah and Imad are involved in raising money in the name of the HLFRD that is actually for HAMAS."
In a February 1998 confession given during an interview with an Israeli police officer, Jamil Sarsour said he and Salah Sarsour provided money to senior Hamas military commander Adel Awdallah, wanted and killed by Israel in September 1998. The money came from the business account of a furniture store in Milwaukee owned by the two brothers.
"There is another Palestinian organization called Islamic Association for Palestine. It is connected to the H.L.F.," Jamil Sarsour said during questioning. "My brother Salah works for this organization also. He collected funds for this organization." Salah Sarsour is also the contact for the Muslim American Society's (MAS) Milwaukee chapter. MAS was founded by Muslim Brotherhood members in the U.S.
Like Sarsour, AMP's Osama Abu Irshaid was previously involved with a Hamas-support effort. He was an editor of Al-Zaytounah, an Arabic newspaper that was published by the now-defunct Islamic Association for Palestine (IAP). The IAP, along with the HLF, was part of a group called the Palestine Committee, court records show. The committee was created by the Muslim Brotherhood to help Hamas politically and financially, court exhibits show.
In August 2002, a federal judge ruled that there was evidence that the "Islamic Association for Palestine has acted in support of Hamas."
AMP's efforts continue with a rally that has been rescheduled for January, marking the 2nd anniversary of the Israel-Gaza War. AMP's press release for the rally says that the "repression" of anti-Israel activists, "from harassment by campus officials to raids and grand jury subpoenas by the FBI… is a sign that the Zionists and their sponsors in Washington are worried – not only that further crimes will be met with equally fierce resistance, but also because they know Palestinians are more determined than ever to fight on until total liberation, until every refugee can return, until the land of Palestine is free from the river to the sea!"
Such a vision leaves no room for the state of Israel's continued existence.