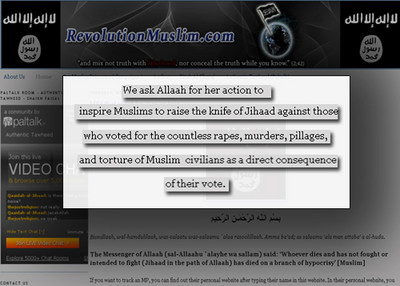 Revolution Muslim, an Islamist organization that gained notoriety for its calls to violence against the "South Park" cartoonists, issued its most explicit threat so far on Thursday. A blog post calls on Muslims to kill British parliamentarians who voted for the Iraq War, and provides recommendations about how to meet up with the MPs one-on-one. The posting also salutes a British terrorist recently convicted for carrying out just such an attack.
Roshonara Choudhry stabbed MP Stephen Timms in May. According to British police reports, Revolution Muslim also played a role in preparing Choudhry for her attack. It provided an online source for Choudhry to access videos by American al-Qaida preacher, Anwar al-Awlaki, whose popular speeches have underpinned a large number of recent terror attacks.
This week, Choudhry received a life sentence in a British prison. The judge noted her declaration that although her attack had taken away her life, it "was worth it." Revolution Muslim saluted her efforts by saying, "We ask Allah to keep her safe and secure, to hasten her release and to reward this heroine immensely."
Thursday's blog also called on other Muslims to follow in her footsteps: "We ask Allah for her action to inspire Muslims to raise the knife of jihad against those who voted for the countless rapes, murders, pillages, and torture of Muslim civilians as a direct consequence of their vote."
According to Revolution Muslim, Choudhry also read The Book of Jihad by Abi Zakaryya Al Dimashqi Al Dumyati. The blog provides a link to the text along with multiple exhortations to go to battle from classic Islamic texts like the Qur'an and Hadeeth. They include declarations such as, "Jihaad (holy fighting in Allaah's Cause) is ordained for you (Muslims) though you dislike it," and "O you who believe! What is the matter with you, that when you are asked to march forth in the Cause of Allaah (i.e. Jihaad) [but] you cling heavily to the earth? Are you pleased with the life of this world rather than the Hereafter?"
In addition, the blog provides instructions about how to track other parliamentarians, by accessing their schedule of private one-on-one meetings with constituents. The post notes, "If you want to track an MP, you can find out their personal website after typing their name in this website… In their personal website, you can usually find the time and location of their surgeries [private meetings] where you can encounter them in person."
That's reportedly how Choudhry attacked Timms.
Details about personal information and calls for Muslims "to raise the knife of jihad," mirror the threats issued by another Revolution Muslim personality. Zachary Chesser, a rising leader in the organization, recently pled guilty in the United States to issuing threats against South Park cartoonists and attempting to join al-Qaida's Somali affiliate, al-Shabaab. In his plea, Chesser admitted making online postings including home addresses of producer Trey Parker and cartoonist Matt Stone, and suggesting readers "pay them a visit." Chesser also posted speeches by al-Qaida cleric Anwar Al-Awlaki in which he cited religious justification for killing people who insult the prophet Muhammad.
Revolution Muslim has had numerous connections to other convicted and indicted terrorists. Another contact, Abdul Hameed Shehadah, was indicted in late October after trying to join al-Shabaab and the Taliban. He also tried to enlist in the US military to kill soldiers in Iraq, a regular 'target' of Revolution Muslim's propaganda. Shehadah's website, civiljihad.com, introduced readers to Revolution Muslim and soon afterwards simply automatically redirected readers to its website. Other famous contacts of the group included, Colleen LaRose, Bryant Neal Vinas, Tarek Mehanna, Daniel Maldonado, and Samir Khan, the editor of al-Qaida's English language magazine Inspire.
Revolution Muslim's latest threat further demonstrates that it has transitioned from offering extremist rhetoric to issuing instructions on who to target and how to do it. For an organization that has always skirted the limits of free speech, it is actively inciting violence and applauding those who carry it out.