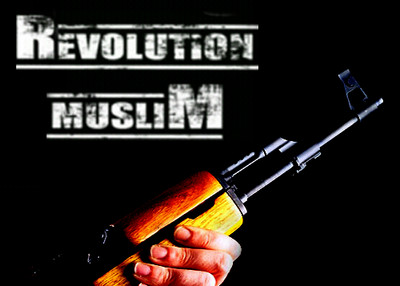 Followers of the outspoken groups Revolution Muslim and the Islamic Thinkers Society are moving from ideology to violent action, a review of recent terror indictments by the Investigative Project on Terrorism shows.
U.S. counter terror agencies have traditionally paid little attention to those groups, presumably because they represent a safe and legal outlet for the frustrations of young, aspiring Jihadists. Similarly, Islamist groups like the Council on American-Islamic Relations (CAIR) have minimized the danger of these individuals. CAIR spokesman Ibrahim Hooper wrote off the RevolutionMuslim.com site as "an extreme fringe group that has absolutely no credibility within the Muslim community." "In fact, most Muslims suspect they were set up only to make Muslims look bad," Hooper added. "We just have very deep suspicions. They say such outrageous, irresponsible things that it almost seems like they're doing it to smear Islam." But the new indictments show that some overzealous participants in the groups are increasing their radical activity, resulting in the groups' heightened threat. Their influence is growing.
The case of Abdel Hameed Shehadeh is the most recent example. Shehadeh was arrested Oct. 26 in Hawaii on charges of lying about why he traveled to Pakistan and his attempts to join the Taliban. Shehadeh, who operated three websites hosting extremist material and Al-Qaeda videos, enjoyed a close relationship with Revolution Muslim.
According to the criminal complaint, a June 28, 2008 visit by a federal agent to one of these websites revealed a blog post "introducing www.civiljihad.com to the Revolution Muslim online community."
"It is time for the Muslims to start practicing our freedom of speech… My brothers of revolution islam [Revolution Muslim], I am with you as long as you keep struggling. Trust me there are many brothers and sisters in America that are ready to speak up. They just need a push," Shehadeh posted on his site. By August 03, 2008, www.civiljihad.com simply became a redirecting website, automatically sending viewers to Revolution Muslim's homepage.
Organizations like Revolution Muslim have been the "push" that many of these individuals needed to organize and act. These groups share a common belief in spreading their understanding of Islam through Da'wah [proselytizing]. They also promote a common narrative of a "War on Islam," and an identification with foreign terrorist organizations aimed at bringing down the West.
RM functions as one of the most visible English-language websites and organizations promoting al-Qaida's call to jihad. In addition to promoting the literature and videos of individuals like senior terrorist ideologue Anwar al-Awlaki, RM leaders have personally participated in all levels of the radicalization process, from identifying targets to providing advice about bombings.
For example, RM founder Yousef al-Khattab sparked heightened security at prominent Jewish sites by identifying them as sources of funding, spiritual guidance and material for Israel's January 2009 attack on Gaza. He also taunted law enforcement in his threat, noting that, "And Wallahi [really], New York City Police Department, CIA, and FBI, you can put me in jail for the rest of my life. As long as I got that information out there to people about what to do, I did something." The following picture on RM's website was linked to his threat.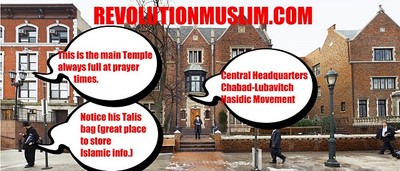 An earlier posting featured a Jewish prayer book covered in what appears to be blood. Likewise, a posting concerning the Times Square Bomber stated, "I think people should be more careful when they plan operations. Try fertilizer, not firecrackers, Insha'Allah [Allah willing]."
Revolution Muslim has also been a stopover point for identification with larger terrorist groups like Hamas and al-Qaida, or an ideological breeding ground for homegrown jihadist sentiment. By giving would-be warriors a centralized place to review and discuss violent speeches by clerics such as Abdullah al-Faisal, RM gathers isolated individuals on varying levels of the radicalization process. It gives them "a push" to identify with the most violent extremes of Islamist theology and feeds the narrative that Muslims everywhere are the victim of a "War on Islam."
RM's efforts have registered with susceptible individuals, including Abdul Hameed Shehadeh, former RM leading member Zachary Chesser, and a host of other attempted terrorists.
Chesser, aka Abu Talhah al-Amreekee, recently pled guilty in Alexandria, VA federal court to providing material support to Al-Shabaab, an al-Qaida-affiliated terrorist organization. Chesser also echoed calls by Awlaki aimed at inciting violence against cartoonists for the animated show "South Park" and a journalist who initiated the "Everybody Draw Muhammad Day." In addition, he provided the personal information of several individuals involved with "Everybody Draw Muhammad Day" on a jihadist forum. Other accused or convicted terrorists with noted Revolution Muslim ties include Colleen LaRose, Bryant Neal Vinas, Tarek Mehanna and Daniel Maldonado. Even Samir Khan, the suspected editor of Al-Qaeda's English magazine and the author of its second edition article, "I am proud to be a Traitor to America," gradually moved from the organization's circles to al-Qaeda.
RM is not alone in its connections to individuals who have carried out acts of terror. The Islamic Thinkers Society, another radical Islamist forum, promotes an identical message about a "War on Islam" and violent solutions. Islamic Thinkers Society went well beyond providing ideological support and identifying potential targets. According to CNN, "followers of the Islamic Thinkers Society not only helped radicalize [convicted terrorist Bryant Neil] Vinas, but also helped him connect with militants in Pakistan." Other accused terrorists affiliated with the movement include Mahmood Alessa and Carlos Eduardo Almonte, both reportedly negotiating guilty pleas for attempting to fight alongside Al-Shabaab.