The "Viva Palestina 5" convoy received the green light to depart from the Syrian port of Latakia to the Egyptian port of El-Arish today, after waiting for more than a week to receive final approval from Egypt and the ship's captain. Thirty activists will sail on a ship and the remaining 350 or so plan to fly to El-Arish.
The Egyptian ambassador in Syria told convoy organizers earlier this month that they could enter Gaza if they met five conditions. Those conditions were not specified, but Viva Palestina leader George Galloway was informed that he is not allowed to enter the country, upholding a ban placed on Galloway by Egypt in January.
Viva Palestina held a press conference in Latakia on Sunday, announcing Egypt's decision to bar an additional 17 convoy participants from entering the country. Five of those banned are British, ten are Jordanian and two are Turkish. Among those banned include convoy spokesperson and Hamas operative Zaher Birawi, who serves as a representative for Hamas and is a leader of a group affiliated with the Muslim Brotherhood in the UK. Also banned are 10 participants who were on the IHH Mavi Marmara ship that staged a violent confrontation with Israel on May 31.
Egyptian authorities said that the participants barred are a national security threat to the country.
Speaking at the press conference along with Galloway, Birawi, and others, was Mousa Mohamed Abu Marzook, the deputy secretary of Hamas in Damascus and a Specially Designated Global Terrorist (SDGT). Marzook is the man to the right of Galloway, sitting in front of the microphone in this picture.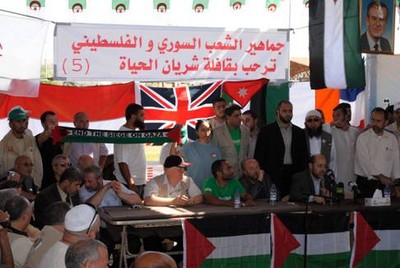 Marzook provided substantial
funds
to the defunct Holy Land Foundation (HLF) in the late 1980s and early 1990s while
living
in the United States. In 1994, Marzook designated HLF as the main fundraising arm for Hamas in the U.S. Marzook was arrested in New York in 1995 and deported to Jordan. In 2008, a jury found that HLF
routed
more than $12 million to Hamas through a network of charities by the terrorist group.
Marzook is the second SDGT that the Viva Palestina convoy has met with on its journey to Gaza. Earlier this month, a convoy delegation met with Hamas leader Khalid Mishaal in Damascus.