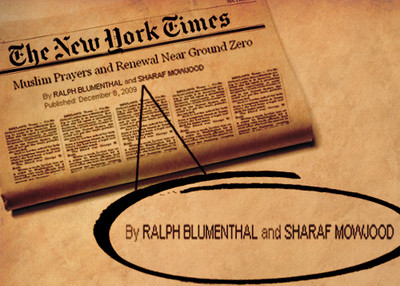 A reporter who helped write the first and positive New York Times story on the Ground Zero Mosque was trained by the group run by mosque leader Feisal Abdul Rauf, according to that group's website.
Rauf's organization, the American Society for Muslim Advancement (ASMA), touted the journalist's participation in a training program by ASMA's "Muslim Leaders of Tomorrow" (MLT).
"Media trainings showed immediate results," ASMA's 2009 year-end report said.
Rauf's group then cited Sharaf Mowjood, "a journalism student at Columbia University and trained at the MLT [Muslim Leaders of Tomorrow] conference, wrote a compelling story about the Muslim community's plan to establish a center near Ground Zero. The story was published on the front page of the New York Times with Sharaf as co-author." The article appeared in the Dec. 9, 2009, edition of the New York Times.
Mowjood could not be reached for comment. In an email, Times Metro Editor Joe Sexton, disputed ASMA's representation about the program Mowjood attended.
"He participated in no training sessions sponsored by ASMA or the Cordoba Initiative," Sexton wrote. He attended a lecture sponsored by ASMA in 2008. He was not a presenter or participant. He signed the sign-in sheet."
Sexton added that "The experienced reporters here who have worked with him have had no questions about his professionalism."
A picture from the MLT conference indicates the session was more than a lecture. Mowjood is seen seated at a conference table as another person speaks.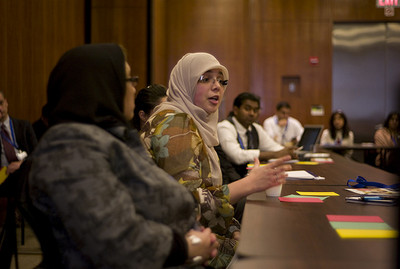 Sharaf Mowjood, third from the right and wearing the vest, listens intently to a fellow panelist at the ASMA media training session in 2009.
The media training was conducted April 25 and 26, 2009, according to an email update sent by the program in May 2009. "The conference focused specifically on the media," according to the ASMA email. "It offered participants a diverse range of intensive media trainings, imparting the MLTs in attendance with concrete tools to become effective media spokespeople."
The Dec. 9, 2009, Times story about the Ground Zero Mosque was written with veteran reporter Ralph Blumenthal. It featured few dissenting voices about the wisdom of building the project near the scene of the attacks. Instead, it characterizes Rauf as "Imam Feisal," who "follows a path of Islam focused more on spiritual wisdom than on strict ritual, and as a bridge builder, he is sometimes focused more on cultivating relations with those outside his faith than within it."
Mowjood previously worked as a government relations manager for the Council on American-Islamic Relations (CAIR). The FBI cut off communications with CAIR in 2008, citing evidence in the Hamas-support prosecution of the Holy Land Foundation for Relief and Development (HLF). Exhibits admitted into evidence in that case place CAIR as an arm of a Hamas support network in America. Prosecutors say that CAIR was "a participant in an ongoing and ultimately unlawful conspiracy to support a designated terrorist organization, a conspiracy from which CAIR never withdrew."
And an FBI official wrote that the cut off would last "until we can resolve whether there continues to be a connection between CAIR or its executives and Hamas."
In April 2010, Mowjood co-authored a story published on ABC News' website on the October 2009 FBI shooting of a Detroit imam as agents moved in to arrest him." CAIR has waged a campaign to cast the shooting as excessive and unjust, and to minimize Imam Luqman Abdullah's history of preaching violent jihad, including instructions not to surrender peacefully to police.
The ABC story was based on CAIR's release of autopsy photographs. It quoted CAIR-Michigan executive director Dawud Walid rebutting FBI claims that Abdullah was dangerous. FBI officials say Abdullah fired first, killing a police dog, as agents ordered him to surrender. Four others with Abdullah followed those instructions and were arrested without injury.
Rauf, the force behind the mosque near the site of the 9/11 terrorist attacks, started ASMA in 1997 as an organization to promote Muslim values. As the Investigative Project on Terrorism reported earlier this month, ASMA's application for tax-exempt, church status from the Internal Revenue Service included a number of questionable assertions. Among them, the group – originally called the American Sufi Muslim Association – promised to build a "permanent large scale prayer center in New York City," and claimed to be operating as a prayer center for between 450 and 500 daily worshipers.
The promised building never materialized. The address given for the existing prayer services turned out to be an Upper West Side apartment building with no space large enough to hold such daily crowds.
Last week, the IPT reported that an ASMA founder, Faiz Khan, formed an interfaith "9/11 truth" organization that claims the 2001 attacks against America were "an inside job."
In addition to the questions raised about Rauf and his organizations, he and his partner in the mosque project have had their business integrity challenged. The New York Daily News reported Wednesday that developer Sharif El-Gamal was evicted from his New York offices for failing to pay $39,000 in back rent. His company also owes the city more than $270,000 in back taxes, which he started paying last week.
And Union City, N.J., Mayor Brian Stack called Rauf "among the worst landlords" in his city after years of fire and health code violations in two apartment buildings Rauf owns.