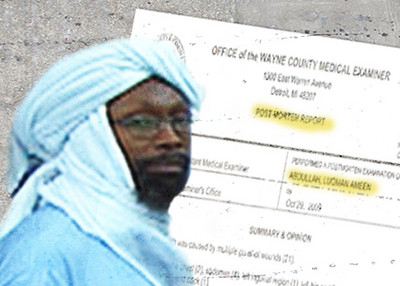 Authorities in Detroit released an autopsy of Imam Luqman Abdullah this week and its findings show his death was not pretty. Abdullah was shot 20 times, being hit repeatedly in the legs and torso and even taking a bullet through his scrotum as FBI agents tried to arrest him October 28 for a variety of crimes.
Reactions to the medical examiner's report also show that a facts-be-damned attitude persists among the imam's supporters when it comes to their campaign to foment anger and hostility toward law enforcement. Protesters gathered outside a news conference given by Dearborn's police chief Monday standing in front of a banner reading "Stop FBI Terror!" A supporter called the shooting "a targeted assassination."
The autopsy provides a detailed account and sketch of each wound Abdullah suffered. Not one shot from the FBI SWAT team hit him in the head. More than half hit below the waist. That point was somehow lost on the Detroit Free Press, which reported and editorialized that Abdullah suffered a head shot even though the newspaper posted a copy of the autopsy on its website.
Tuesday's New York Times joined the misreporting when it said "Mr. Abdullah, however, had not been charged with a crime when he was killed in a shootout." He had. "He was charged via criminal complaint" and agents came to serve him with an arrest warrant, Detroit FBI spokeswoman Sandra Berchtold said Wednesday.
Cries of excessive force and other errors by the FBI emanating from Detroit's Islamist leaders are rife with innuendo and ignore available information that makes the shooting still seem unfortunate, but understandable.
The criminal complaint against Abdullah and 11 others alleged that he led a radical separatist movement called "the Ummah." In his leadership role, Abdullah preached a violent jihad and pledged not to go quietly if police ever came for him. "Do not carry a pistol if you're going to give it up to police," an informant quoted Abdullah saying. "You give them a bullet" instead.
That's what he tried to do as agents moved in, killing a police canine instead of surrendering. The campaign that began almost immediately after Abdullah died is based on a premise that his firing the first shot should not have prompted agents to return fire.
Leading the charge is Dawud Walid, head of the Council on American-Relations' (CAIR) Michigan chapter. He has disputed everything about the case, casting Abdullah as a peaceful and charitable figure and accusing the FBI of doing more to save the dog than to save the imam.
After seeing the autopsy, Walid said it "brings more of a cloud of uncertainty to the situation. It just brings more questions."
The New York Times article quoted him saying "I was stunned that he was shot in the back" but never offered whether that was a sign Abdullah was shot trying to flee or a sign his body turned in the hail of bullets. In an interview with Detroit's Fox affiliate, Walid predicted the report would attract global attention. "I'm being cautious, but I don't think this will be met very well in the Muslim world."
CAIR is not alone in conjuring up the controversy. The Muslim Public Affairs Council (MPAC), which has emerged as a new outreach partner for the federal government, also chimed in with a call for an independent investigation.
"The FBI's tactics and actions in the case of Imam Luqman Abdullah have exacerbated tensions between our communities and law enforcement and undercut the fragile trust needed for effective partnerships to keep America safe," MPAC lobbyist Alejandro Beutel said in a statement. "The public deserves answers, which requires a thorough investigation by an independent party."
In addition, U.S. Rep. John Conyers, chairman of the House Judiciary Committee, wrote to Attorney General Eric Holder requesting independent investigations by the DOJ Civil Rights Division in a letter that could have been written by CAIR.
Conyers also raised the issue of FBI informants, echoing a campaign waged by CAIR, MPAC and others during the past year despite their assistance in a torrent of prosecutions and disrupted plots.
The shooting, he wrote, "has stirred great controversy," adding:
"These concerns are only inflamed when the Special Agent in Charge of the Detroit FBI office asserts – before the investigation has been completed – that 'I'm comfortable with what our agents did … they did what they had to do to protect themselves."
That, Conyers wrote, was a premature judgment. Missing from the congressman's judgment is any reference to Abdullah's refusal to surrender to advancing agents and his firing the first shot. The Detroit News reports Abdullah actually fired off three shots before he was killed.
On Tuesday, CAIR trumpeted Conyers' announcement that the Department of Justice would review the incident.
"We welcome the decision to open a civil rights investigation of the imam's death and thank Representative Conyers for his leadership in ensuring that all the facts in this troubling case come out," CAIR National Executive Director Nihad Awad said in a statement.
A Detroit News report indicates that CAIR and Conyers misrepresented the investigation's meaning. It cites a Justice Department spokesman who said the review is a standard action and not the result of any public request.
"The FBI's inspection division conducted a review," spokesman Alejandro Miyar told the newspaper. "The civil rights division has received the FBI's report and is now conducting an independent review of the shooting."
Left unmentioned in the coverage of CAIR's innuendo campaign is its own unwelcome attention from the FBI. First, the Bureau cut off outreach communication with CAIR, openly wondering whether the group ever severed its operational ties to the terrorist group Hamas. Now a federal grand jury is investigating whether CAIR has broken any laws prohibiting support for terrorist groups.
Last week, Andrew Arena, the head of the FBI's Detroit field office, tried to debunk CAIR's portrayal of rampant, unchecked use of informants to target Muslims during a forum with Walid at the University of Michigan-Dearborn:
"We use [informants] in gang cases, we use them in public corruption cases, we use them in everything we do. We use them in counterterrorism cases. But the use of those sources are governed by the Attorney General guidelines and the internal rules of the FBI. Folks, we don't target religions. We don't target buildings. We can't do it. Under our rules, under the laws of this land, under the Constitution we can't do it. I would go to jail; agents would lose their jobs. Plain and simply you cannot do it. You have to have predication. You have to have reason to send people into a location.

Now let's be plain and simple folks. Bad people can't hide behind religion. They can't hide inside the building and claim safe haven."
Meanwhile, a veteran SWAT officer who has reviewed the autopsy said it raises no red flags. In an email, Greg Stejskal, a 21-year FBI SWAT team veteran who still teaches on the use of deadly force, said the agents reacted as they are trained to do.
"Sounds as though the agents acted appropriately," Stejskal wrote. "21 hits is definitely not an extraordinary # w/ multiple agents w/ semi or fully automatic weapons, & the subject firing 3 rounds. Keeping in mind once the decision is made to shoot, the target is center of mass, & you shoot until the threat is eliminated. Further, as there is a delay in making the decision to shoot, there is a similar delay in making the decision to stop shooting."
The suspicions and questions about Abdullah's death would carry more weight had he been unarmed or had surrendered peacefully. Four other suspects present in the warehouse with him did just that and walked away in handcuffs but unharmed.
Absent that, it's fair to ask CAIR and its allies to define their true objective in ginning up so much hostility in the community.