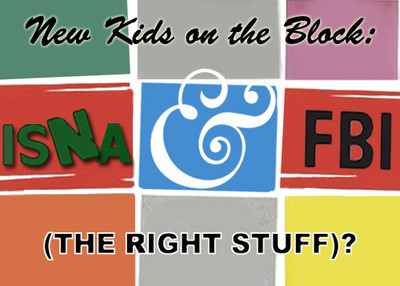 Never, ever talk to an FBI agent without a lawyer present. Even if it's over a cup of tea.
FBI agents are sending informants into mosques on aimless hunts for terrorist cases. Those informants will bait and entrap your members. But we support law enforcement and want to be a partner with it.
Those seemingly contradictory messages dominated a session on law enforcement relations, called "Free to Pray," at the Islamic Society of North America (ISNA) convention in Chicago earlier this month. Though it was organized by Muslim Advocates, a legal group, ISNA President Ingrid Mattson was a panelist.
"This isn't about the Muslim community against law enforcement or that we're against law enforcement," Mattson said. "I mean, any of you who are interested in joining any law enforcement agency whether it's police or FBI, you should do that."
Moments earlier, Muslim Advocates Executive Director Farhana Khera focused part of her remarks on Muslim community leaders – those often sought out by law enforcement officials for community relations and outreach. They might be using you, she warned, to get to members of your mosque:
"And sometimes these community members don't even think of themselves as a source. You know that they just might think themselves – Well I have a good relationship with the head of the FBI office; you know he comes by my office from time to time and we have tea, or we go to lunch, and he just talks to me about the community. But what may seem like an innocuous set of conversations in the FBI's mind they may be thinking of you as an informant, as a source. And the repercussions and the harm that that can cause can be pretty serious."
Echoing Khera was Nura Muznavi, a Muslim Advocates staff attorney, who warned that talking to the FBI without an attorney means "you're gonna be spending a lot more resources trying to fix that mistake than if you had gotten an attorney from the get-go."
ISNA may be the most influential Muslim American organization, with the White House sending high-ranking emissaries to its past two conventions to convey President Obama's well wishes. Its public message usually advocates interfaith dialogue and government outreach.
In this session, however, law enforcement was cast as hostile to Muslim Americans.
The attorneys vaguely described examples to prove their point, in which the FBI used "agent provocateurs" to drum up a case, or in which an imam's attempt to help ended in disaster. Upon examination, however, those few examples cited don't hold water.
The FBI's unconstrained investigation into the Muslim community started after 9/11, Khera said:
"Director [Robert] Mueller instructed every field office to actually go out into their fields and count every mosque, every Muslim charity, cultivate sources and informants, open investigations, and open and actually prosecute."
As a result, people sitting beside them at their mosques might be an agent provocateur sent there "to provoke and incite our fellow community members," Khera said. Muznavi accused the FBI of going on "law enforcement outreach" or "fishing expeditions" in which FBI agents "are going to masjid leaders, they're going to imams, and they're asking just for general information about community members."
Muznavi cited the case of Ahmadullah Niazi in Irvine, California. A man started hanging out in Niazi's mosque and was "going around to the young men at the masjid and talking about jihad and talking about violence and just kind of trying to it seemed like trying to stir up some trouble," she said. That prompted mosque leaders to report the man – who turned out to be an informant - to the FBI.
Left unmentioned were Niazi's family ties to a man who was Osama bin Laden's security coordinator and allegations that he concealed contact with the relative. In addition, during a February 2009 bond hearing, FBI agent Thomas Ropel III testified that Niazi was the one who instigated conversations about conducting terrorist attacks and blowing up buildings, not the FBI informant.
Niazi and another man did contact the FBI about the man who turned out to be the informant. Ropel's testimony indicates the FBI viewed the move dubiously. It came days after news reports highlighted the role an informant played uncovering a plot to attack fuel lines at New York's at JFK Airport.
Khera also discussed the case of Imam Ahmed Afzali, who tipped off New York subway bomb plotter Najibullah Zazi that investigators were asking about him. Khera defended Afzali, saying that the imam thought he was doing his "civic duty" by helping "self-police" the community. Afzali pleaded guilty in March to lying to the FBI about tipping off Zazi, who tried to flee from authorities after the imam's phone call. Zazi pleaded guilty to conspiracy to provide material support to Al Qaeda and conspiracy to use weapons of mass destruction against U.S. citizens in February.
During the session, Khera blamed the Muslim community's problems with the FBI on new DOJ guidelines for domestic FBI operations, implemented in December 2008:
"[The DOJ] issued formal guidance to FBI agents, to FBI field offices saying – Go ahead, go undercover, develop informants, go into mosques, go into other religious gatherings, community organizations, political gatherings, and poke around. Poke around, talk to people, see what you can sniff out, and you can also use what are called agent provocateurs, or informants, in these settings."
A review of the actual guidelines reveals this evaluation as myopic at best. While the guidelines do allow more flexibility for FBI agents to conduct investigations in the form of non-predicated "assessments," nothing in the guidelines indicates that FBI agents can just "poke around" as the speakers claimed. The stated purpose of an assessment is limited to detecting, collecting information on, or preventing federal crimes and threats to the national security, or collecting foreign intelligence.
Informants are authorized for use in assessments, but the guidelines specify that using an informant in this case is still subject to strict regulations as detailed in the Attorney General's Guidelines Regarding the Use of FBI Confidential Human Sources. Under these guidelines, an informant is not permitted to "initiate or instigate a plan or strategy to commit a federal, state, or local offense." An exception is given authorizing this type of activity only under strict guidelines that show that show the benefits obtained from this activity would outweigh the risks, for example, if it would prevent death or serious bodily injury.
Muznavi reminded any "community leader[s]" in the audience that any information provided can be used "for further surveillance and investigation of your community." She concluded, "So you really don't want to be putting yourself in a situation where you're providing anybody with information about people in your community that the FBI now is gonna follow up and start investigating those people."
Additionally, Muznavi criticized a group that voluntarily gave the FBI a list of participants who attended a seminar with failed Christmas Day airline bomber Umar Farouk Abdulmutullab. "If you are a leader of an institution, you can't be turning that information over to the FBI unless they have a subpoena, a court subpoena, that says you have to," she said.
Last year, ISNA opted out of signing on with an American Muslim coalition that threatened to cut off ties with the FBI, citing reports FBI informants had been unfairly targeting mosques for investigation. ISNA agreed that the FBI should look into the allegations, but said in a press release "that communications with law enforcement agencies should remain open." The statement added that the FBI has the responsibility of protecting all citizens from terrorists and criminals and that, "all Americans have a moral and legal obligation to ensure that the Bureau fulfills its mandate."
It is difficult to determine which message speaks for ISNA's true attitude. People who may be the subject of an investigation are well served to have counsel present during questioning. The ISNA convention panel cast everyone as a potential suspect, though, without a genuine foundation. If the abuses described in the convention panel were as rampant and threatening as portrayed, there should be endless and clear-cut examples demonstrating it. The few cited, however, ignore established facts that made law enforcement action more than justifiable.