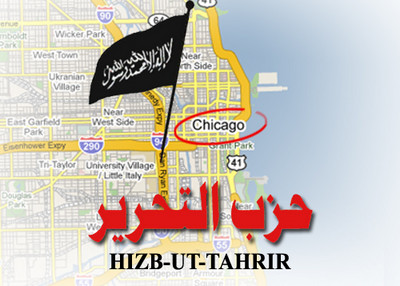 Hizb ut-Tahrir, an international movement seeking to re-establish an international Islamic state - or Caliphate - and to indoctrinate Muslims into supporting jihad, wants to step up its recruitment efforts in the United States. On July 19, the group, whose alumni include 9/ 11 mastermind Khalid Sheikh Mohammad and suicide bombers, will hold a conference entitled "The Fall of Capitalism and the Rise of Islam" in the Grand Ballroom of the Hilton Hotel in Oak Lawn, Ill, a Chicago suburb.
For decades, Hizb ut-Tahrir America (HTA) has operated covertly, holding these Khalifa (Caliphate) conferences in the United States under the name of front organizations. But that has begun to change. Last fall, the group issued a leaflet in its own name urging Muslims to boycott the U.S. elections. The group just released this video promoting the July 19 conference. According to the conference website, the program includes a question-and-answer session and two panels; one entitled "Capitalism is Doomed to Fail," the other "The Suffering Under Capitalism."
The conference initially was scheduled for the Aqsa School in Bridgeview, Ill. But the school withdrew, claiming Hizb ut-Tahrir officials "misrepresented themselves." An official said the group approached the school in late April claiming it wanted to hold a bazaar-type event in July that would involve selling traditional food and clothing. School officials said that when they learned the real purpose, they cancelled and refunded the group's deposit.
While solid numbers are difficult to come by, there is little question that Hizb ut-Tahrir's worldwide membership has grown substantially since the September 11 attacks, says Madeleine Gruen, a senior analyst with the NEFA Foundation. In 2003, estimates of HT membership ranged from 10,000 to 100,000 people worldwide. Today, by contrast, the group (currently active in more than 40 countries) has approximately 100,000 members in Indonesia alone and "many thousands" more around the world, Gruen told IPT News.
In the United States, Hizb ut-Tahrir's following is estimated at no more than a few hundred. The decision to hold this month's conference under its own name is a sign that the group is preparing to raise its profile. Once that is achieved, Gruen adds, its cadres are supposed to establish "an Islamic government and military" in order to take Hizb ut-Tahrir's message to the world.
HT seeks to fuse an ideology combining orthodox Islam, Marxist-Leninist economics, anti-Semitism and opposition to Western democracy into a political program to bring back the Caliphate. Despite its public rhetoric about nonviolence, Hizb ut-Tahrir has "precisely the same ideology and objectives" as al Qaeda, Gruen told IPT News. And HT has a much larger membership base to recruit from, she added.
While it refrains from carrying out terrorist actions itself, Hizb ut-Tahrir glorifies jihadism and excoriates the terrorist organization Hamas as being too soft on Israel. In a leaflet posted on its website July 1, HT said that if the Caliphate were in existence, all of "Palestine" would be rid of "the usurpation of the Jewish occupiers" and brought "to the fold of the Islamic state."
HT was founded in 1952 in Bayt al-Maqdis, a Jordanian-occupied suburb of Jerusalem, by Sheikh Yaqiuddin Al-Nabhani, a man whose philosophy had been shaped by the Muslim Brotherhood. After he concluded that the Muslim Brotherhood was too moderate, Al-Nabhani formed Hizb ut-Tahrir. After its involvement in failed coup attempts in Egypt and Jordan, HT was banned throughout the Middle East. It moved to Western Europe, and after the fall of Soviet Communism the group spread into Central Asia.
HT is obsessed with the purported evils of the United States, President Obama and the capitalist system. A look at its website found articles with titles like "Bailouts and bonus culture shows [sic] the corruption of democracy;" "Obama Offers Sugar-Coated Poison for the Region!" (a recap of the President's recent visit to the Middle East); and "G20 Leaders attempt to salvage the last vestiges of Capitalism." A common theme is that Muslims in Pakistan should not join with the U.S. military in fighting against the Taliban. "Fighting Muslims is a great evil, which only benefits America," reads one typical entry on the HT website.
A posting entitled "Obama's words will not hide America's ugly face of Colonialism" said of the President's speech to Muslims in Egypt last month:
"Although this appears a seemingly positive gesture towards the Muslim world, the actions of his government appear every bit as ruthless as the Bush administration. [Obama] differs only to the extent that, unlike Bush who spoke with frank hatred, he uses 'soft power' and personal charm to cover his intentions."
Hizb ut-Tahrir spokesmen have emphasized that their organization does not engage in terrorism. They claim the U.S. and Pakistani governments seek to suppress the group because they fear its advocacy of "justice" for Muslims.
Critics say the argument is a sham. "The freedom and justice HT seeks by overthrowing democracy can often only be attained through violence," said Zeyno Baran, senior fellow and director of the Hudson Institute's Center for Eurasian Policy in July 2008 testimony before the Senate Committee on Homeland Security and Governmental Affairs.
In her testimony, Baran added: "HT is not likely to take up terrorism itself. Terrorist acts are simply not part of its mission. HT exists to serve as an ideological and political training ground for Islamists. And I have called them a 'conveyer belt to terrorism.' "
Terrorists who have been members of Hizb ut-Tahrir include Al Qaeda's Mohammed; Abu Musab al-Zarqawi, leader of al Qaeda in Iraq, who was originally a member in Jordan; Hambali, head of the East Asian-based terror group Jemaa Islamiya, and Asif Muhammad Hanif and Omar Khan Sharif, who were recruited by Hamas to carry out suicide bombings at a Tel Aviv seafront bar. Read more about HT's record as a "conveyor belt" for producing terrorists here.
In a June 2001 article in its publication Al-Waie, Hizb-Ut-Tahrir issued a fatwa on suicide attacks which said that "all ways and means which a Muslim uses to kill unbelievers is [sic] permitted as long as the enemy unbeliever is killed." It is acceptable to "blow yourself up amongst their military encampments or blow yourself and them up with a belt of explosives."
HT has been banned in Turkey and Germany for distributing literature that includes incitement to hatred and violence against Jews. In a paper for the Manhattan Institute, Gruen pointed to one leaflet distributed by the group titled: "And Kill Them Whenever You Find Them, and Turn Them Out From Where They Have Turned You Out." It stated that:
"Jews are a people of slander. They are treacherous people who violate oaths and covenants. They lie and change words from the right places. They take the rights of the people unjustly, and kill the Prophets and the innocent."
The leaflet then encouraged martyrdom operations against Jews.
Despite the incendiary message, law enforcement's hands are tied when it comes to a group like Hizb ut-Tahrir, said Bob Blitzer, who formerly headed the FBI's counterterrorism efforts. "Preaching violence is not enough reason to arrest anyone," he said. "Law enforcement is probably aware of this group and is checking them out" to the extent that it can under the law.
The danger is that as a result of exposure to HT's extremism "someone on the edge gets radicalized and takes it to heart and commits a violent act," Blitzer said.
That doesn't mean the government is powerless. Given that Hizb ut-Tahrir conferences typically include sympathizers from numerous countries, federal homeland security officials should expect supporters of the group to try to enter the United States in order to attend the Khalifa Conference, Gruen said. The United States Code bars from the United States any alien who "endorses or espouses terrorist activity or persuades others to endorse or espouse terrorist activity or support a terrorist organization."
But in the past the U.S. Department of Homeland Security (the federal agency chiefly responsible for stopping foreign supporters of extremist groups from entering the United States) has been asleep at the switch when it comes to HT. In 2007, Hizb ut-Tahrir had a booth right next to the Department of Homeland Security at a conference sponsored by the Islamic Society of North America – a Muslim Brotherhood-linked organization that was an unindicted co-conspirator in the federal government's successful prosecution of the Holy Land Foundation for Relief and Development.
Dan Vara, a former attorney for Immigration and Customs Enforcement (ICE) in Florida, has been at the forefront of many key enforcement matters involving counterterrorism and counterintelligence. He says ICE has ample legal authority to prevent Hizb ut-Tahrir's foreign supporters from entering the United States.
"I would rake them over the coals on these issues" related to HT's support for the Taliban and advocacy of Hamas violence, Vara said in an interview.
For example, Section 1182 of the United States Code allows consular officers or the attorney general to bar from the United States "any alien who endorses or espouses terrorist activity or support of a terrorist organization." That section also provides that "Any alien whose entry or proposed activities in the United States the Secretary of State has reasonable ground to believe would have potentially serious adverse foreign policy consequences for the United States is inadmissible."
Hizb ut-Tahrir has a right to peacefully assemble and discuss whatever ideology it chooses. U.S. law enforcement, however, has a right to invoke the law and prevent foreign Islamists seeking to attend the conference from entering the United States.