Government Pays Mosque it Considers Radical
IPT News
May 10, 2010
http://www.investigativeproject.org/1944/government-pays-mosque-it-considers-radical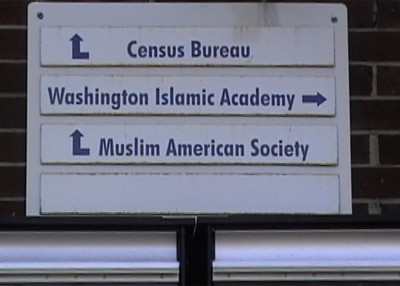 Federal law enforcement officials call it a front for Hamas terrorists which "has been under numerous investigations for financing and [providing] aid and comfort to bad orgs and members."
The U.S. Census Bureau calls it landlord.
In gearing up for the 2010 Census, the General Services Administration (GSA) leased office space throughout the country. One location is a 6,654 square foot section of a two-story building on Edsall Road in Alexandria, Va. owned by the Dar Al-Hijrah mosque. The United States government is spending $582,000, or about $23,000 per month, to lease the space from November 2008 through the end of this year.
The GSA helped the Commerce Department find office space for the Census. A GSA spokeswoman did not respond to requests for comment or for clarification of the lease's true cost. Fairfax County property records indicate that Dar Al-Hijrah bought the 40,000-square-foot building in May 2008 for $5.8 million.
The Investigative Project on Terrorism obtained the reports referencing Dar al-Hijrah through a Freedom of Information Act (FOIA) request seeking records related to a brief detention of Anwar al-Awlaki, a former imam at the mosque now considered a leading terrorist recruiter. Those records were copies of TECS reports – a computer database operated by U.S. Customs and Border Protection. Some of the reports released to the IPT are redacted.
TECS data generally provides a summary narrative and referral to more detailed case references and case agent contacts.
The TECS reports dated in 2002 obtained under this FOIA stated that Dar Al-Hijrah was "associated with Islamic extremists" and was "operating as a front for Hamas operatives in U.S." A report dated in December, 2007, said the mosque "has been linked to numerous individuals linked to terrorism financing" and "has also been associated with encouraging fraudulent marriages." Another December 2007 report advised Dar Al-Hijrah, "has been under numerous investigations for financing and proving (sic) aid and comfort to bad orgs and members."
The TECS reports indicate that Immigration and Customs Enforcement (ICE) generated the information.
Federal law enforcement officials have become well acquainted with Dar al-Hijrah over the years.
It was home to Awlaki, the radical cleric, who today is considered the inspiration to Fort Hood shooter Nidal Malik Hassan and Umar Farouk Abdulmutallab, the Nigerian man who tried to detonate an explosive in his underpants on a flight to Detroit Christmas Day. Reports also indicate that Times Square attempted bomber Faisal Shahzad was inspired in part by Awlawki.
In February, Dar Al-Hijrah hosted a fundraiser for Sabri Benkahla, who is serving a 10-year federal prison sentence after being convicted in 2007 for obstruction of justice, perjury before a grand jury, and making false official statements to the FBI in the course of an investigation into the Virginia Jihad terror cell.
Other mosque founders and officials have been implicated in Hamas-support efforts.
One founder, Ismail Elbarasse, was an assistant to Hamas leader Mousa Abu Marzook. It was in Elbarasse's former home in Northern Virginia that FBI agents found a trove of internal documents from the Palestine Committee, a Hamas-support network in America created by the Muslim Brotherhood.
According to an FBI memorandum, Mohammad al-Hanooti was known publicly as "an active HAMAS supporter, purportedly holding fund-raising activities, as well as supporting visitors to the United States from Israel and Jordan, to speak on behalf of HAMAS." Al-Hanooti was Dar Al-Hijrah's imam from 1995-1999.
A former mosque trustee, Abdulhaleem Al-Ashqar, was convicted of contempt and obstruction of justice for refusing to testify about Hamas fundraising in the U.S. He helped organize a 1993 meeting of Hamas members and sympathizers in Philadelphia.
Attempts to obtain a copy of the lease from the GSA have been unsuccessful. A written request for a copy was submitted April 13, and its receipt was confirmed by a spokeswoman. The IPT sent a list of questions about the lease arrangement and the contents of the TECS reports to the GSA last Wednesday. A spokeswoman said the agency was "working on it," but could not say if it would ever issue a response.
In addition to the Census office, the Edsall Road building is home to a school run by the mosque and the Muslim American Society (MAS). A 2004 Chicago Tribune investigation found that MAS was the American branch of the Muslim Brotherhood.
Some of this information is publicly available. And the GSA could have learned about the DHS TECS reports by requesting a Federal Protective Service background check on its vendor.
The contract expires at the end of the year.
Reader comments on this item
The Census Bureau's New Building Has 1,508,013 Feet of Floorspace
Submitted by Resident Apt.1, Jun 4, 2010 15:50
How much floor space does the Census Bureau need? Their new building, completed in 2007, is 1,100 feet long (that's 20 feet longer than three football fields). It has 8 floors and has 1,508,013 square feet of floorspace. It cost taxpayers 331 million dollars and it is just 16 miles from the Dar Al-Hijah Islamic Center in Alexandria, Va.
http://censusthis.wordpress.com/2010/06/04/census-bureaus-black-hole-photos/
Who were the dim bulbs in charge of finding this place to rent??
Submitted by Mimi, May 23, 2010 14:03
That should be researched too, might shed some light...
A Zionist support?
Submitted by Yaqub, May 22, 2010 10:13
I bet this fool has been sending money to the zionist state, so they can continue to kill and displace Muslims and Christians. I am American. If you don't like the efforts of the government in renting space from Muslims...don't wander (sic) in the wilderness, just leave America and go back to where ever you came from, and take those bastards that think like you, with you!!!
so lets garnish the rent from the terrorists
Submitted by boker, May 14, 2010 17:01
sounds like a win win situation... garnish the rent. census gets some the space and feds get a rebate! how do we let these terrorists supporters own u.s. property anyway?
NOW WE'RE SUPPORTING TERRORISTS ON HOME SOIL?
Submitted by MaryHolloway Love, May 12, 2010 10:19
How can anyone in ANY Administration justify adding monies to the coffers of those known to be supporting terrorists organizations, especially those that are active in killing American troops in foreign countries and planning and executing acts of terror and murder here on American Soil, while we are fighting overseas to stop the threat? How DARE a government agency lease an office space from an KNOWN ISLAMIC Organization with TIES to terrorists, and KNOWN FINANCIAL SUPPORTERS AS WELL? Something is terribly terribly wrong in this, when insurgents who are armed, not just with weapons, but with our laws and our different government departments who don't talk to each other , allows this to happen. It is a desecration of those that died and all those that died to make America the Greatest Country on Earth, a place of Refuge for all who needed a safe place. Now it is not even safe for it's own CITIZENS, as illegal immigration (quite a few are Islamics) threatens the life and property of Americans where they are coming across the border.
When will we just give the Islamic Extremists the KEYS TO the CITIES and the entire American Population that is left will WANDER IN THE WILDERNESS?
Comment on this item