M. Zuhdi Jasser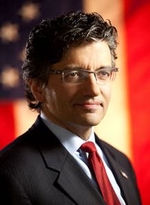 M. Zuhdi Jasser, M.D. is the Founder and President of the American Islamic Forum for Democracy (AIFD). A devout Muslim, Dr. Jasser founded AIFD in the wake of the 9/11 attacks on the United States as an effort to provide an American Muslim voice advocating for the preservation of the founding principles of the United States Constitution, liberty and freedom, through the separation of mosque and state.
He is a first generation American Muslim whose parents fled the oppressive Baath regime of Syria in the mid-1960s for American freedom. He is leading the fight to shake the hold that the Muslim Brotherhood and their network of American Islamist organizations and mosques seek to exert on organized Islam in America.
Dr. Jasser is an internationally recognized expert in the contest of ideas against political Islam and American Islamist organizations. He has testified before Congress, his writings regularly appear in national and international publications and he frequently offers his expertise on television and radio.
He can be reached through his assistant at (480) 225-7473 and at vesna@aifdemocracy.org.
Writings by M. Zuhdi Jasser