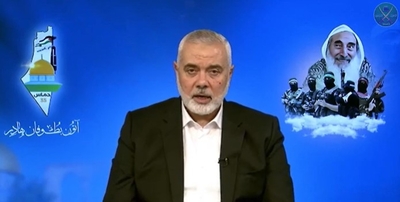 Hamas leader Ismail Haniyeh promises more bloodshed and suffering.
Unemployment in Gaza is
above 40 percent
. Its infrastructure is in shambles, with electricity and clean water often scarce.
Hamas, which has controlled Gaza for 15 years, could change these conditions if it prioritized its people's wellbeing over an endless, unwinnable war to destroy Israel. On its 35th anniversary last month, Hamas made it clear that such a shift was not going to happen.
Instead, its leaders promised to spread the pain to the West Bank.
"Palestine, from its sea to its river, is the land of the Palestinian people. We will continue to cling to it completely, and to our legitimate right to defend and liberate it by all means, beginning with the armed resistance, as a strategic option until the occupation is deterred and demised from it," a Hamas statement said.
"We call upon the Palestinian Authority [which controls the West Bank] to strengthen the elements of steadfastness of our Palestinian people, stop security coordination with the occupation [Israel], immediately stop fighting resistance, allow political and public freedoms, stop persecuting activists, students and opinion leaders, and release all political prisoners."
"That resistance is a destiny and not a choice or a slogan, and it will continue, it will rise, it will grow, and it will teach the world the lessons of tolerance and giving," said Hamas leader Ismail Haniyeh.
"We are in front of a new phase of the confrontation with the occupation, which will witness more resistance, resistance and operations in and around the West Bank," he said. "We are the ones who [set agendas] in the West Bank."
While there are signs an increasing number of Gaza's residents are unhappy under Hamas rule, leaders used the 35th anniversary celebrations to issue new threats against Israel.
Yehya Sinwar vowed to strike Israel with "missiles without counting."
But how credible are Sinwar's threats? While it has launched thousands of rockets at Israeli civilians, many are intercepted. Those that get through have caused death and destruction, but not enough to change conditions in the conflict.
"The Israeli missile and drone defense system is the world's most advanced," Austrian security and policy analyst Wolfgang Pusztai told the Investigative Project on Terrorism (IPT). "The technology available to Hamas, including what is available through Iran, is no match for the Iron Dome and the other air defense systems."
Hamas knows this and has tried "to overwhelm the defense system by saturating it," Pusztai said. It fired 127 rockets within five minutes during May 2021 fighting. Two Israelis were killed.
Hamas displayed its own drones during Hamas's anniversary parade. These drones were built with Iranian assistance.
But recent reports indicate that Iran may have reduced its financial support for Hamas as it deals with its own economic challenges brought on by sanctions.
An indication of how severe that economic crisis is came Sunday when Iran doubled the price of oil it sells to Syria, a key proxy state.
In addition to its economic problems, the Iranian regime faces persistent public protests over women's rights and other abuses. "This explains why Iran has reduced or maybe even ended financial support to Hamas and some smaller groups, possibly including Palestinian Islamic Jihad (PIJ), Al-Aqsa Martyrs Brigades, and the Popular Front for the Liberation of Palestine (PFLP)," Pusztai said. "However, Hamas is an important tool for Iran in the conflict against Israel," so any funding cuts are likely to be temporary.
Meanwhile, Hamas is hell-bent on increasing its West Bank presence and violent activities. In response, the Palestinian Authority has arrested a large number of West Bank Hamas operatives.
"There is no doubt that the legitimate Palestinian Authority has an image of being corrupt and incapable of improving the situation of the ordinary people on the West Bank, while Hamas is working hard to increase its influence there," Pusztai said. "The efforts of Salah Al Arouri, deputy head of the Hamas political bureau, focus almost entirely on the West Bank and on Arab Israelis, cooperating with Hezbollah and Iran."
"Nevertheless, usurping power there would be very difficult for Hamas. Success would on one side certainly depend on the popular support Hamas really has on the West Bank which is difficult to reliably assess," Pusztai said. "If people from the West Bank have a look on Gaza, they might imagine what could happen on the West Bank, if Hamas takes over."
Gauging the depth of Hamas support among Gaza residents is difficult. But this week, the Times of Israel published a series of interviews Gazans by the New York-based nonprofit Center for Peace Communications. The interviews show an increasing belief Hamas leaders do not care about their lives and conditions.
Life has not improved despite billions of dollars in foreign aid for Gaza. "Gaza is like the Bermuda Triangle," one resident told the Center. "Everything that enters, vanishes."
The report cites opinion polls in which nearly three-fourths of Gazans say that Hamas-run institutions are corrupt.
And some are tired of seeing friends and loved ones die in retaliatory strikes following Hamas attacks on Israel.
"OK, Palestine is our cause, and it is a just one," one Gaza man told the Center, "but that doesn't mean you should keep getting Palestinians killed, again and again, without any result."
Another man noted that, while Gaza residents have nowhere to turn for safety, "[Hamas] sit in their bunkers while we have to bear the brunt. And at the end they tell us it's a victory."
Such messages are not getting through to Hamas leaders.
During the 35th anniversary celebrations, senior Hamas official Ismail Radwan stressed the terrorist group would never sign a peace agreement with Israel.
"Hamas ... considers that resistance is the shortest path to restoring [Palestinian] rights, and there is an agreement with all resistance factions, and the coordination continues with everyone," he said.
Hamas is "trapped in their own positions," Pusztai said. "They not only reject the Oslo Accords, but are against the existence of the state of Israel at all and want to establish an Islamic State in the whole of Palestine. There is no compromise for them."
"But the question is also, how much of the population, and especially the influential clans of Gaza, are willing to endure?"
We may find out soon. "We are very close to a large-scale escalation in the Palestinian arena, in a situation where the Palestinian Authority is very weak, and Hamas is very strong," Israeli MK and former IDF Chief of General Staff and Knesset member Gadi Eizenkot told Israel's channel 14 last week.
Gearing up for the next war is all Hamas has accomplished during its 35-year history. Palestinian suffering is not a consideration.

IPT Senior Fellow Hany Ghoraba is an Egyptian writer, political and counter-terrorism analyst at Al Ahram Weekly, author of Egypt's Arab Spring: The Long and Winding Road to Democracy and a regular contributor to the BBC.
Copyright © 2023. Investigative Project on Terrorism. All rights reserved.