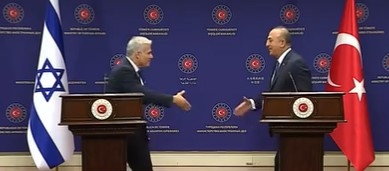 Israeli Foreign Minister Yair Lapid thanks his Turkish counterpart, Mevlut Cavusoglu, for Turkey's help in foiling Iranian plots targeting visiting Israelis.
Israeli intelligence
foiled
three separate Iranian plots to kidnap or kill Israeli citizens visiting Turkey. In one case, a couple
reportedly
was picked up by Israeli security agents in a van and rushed to the airport because Iranian assassins were waiting for them in their hotel.
Ten suspects are in Turkish custody as a result.
But Iran's violent plots on Turkish soil are not limited to Israelis and Jews.
A dissident Iranian journalist's kidnapping in Istanbul last month is the latest in a series of abductions and assassinations carried out by Iranian intelligence against dissidents abroad.
Iranian citizen Mohammed Bagher Moradi took refuge in Turkey in 2013. He had fled after an Iranian court sentenced him to five years in prison for the vague charge of "illegal gathering and collusion against national security."
But that wasn't enough. He was abducted earlier this month.
In February, Turkey announced that it arrested eight spies who attempted to assassinate Israeli businessman and Istanbul resident Yair Geller.
Iranian intelligence activities stretched to the United States. Last year, the FBI arrested four Iranian nationals for attempting to kidnap Iranian-American journalist Masih Alinejad. Alinejad is among the voices exposing the violence condoned by Iranian authorities against women. As a result, her mother was interrogated by the Iranian secret service, and her brother received multiple prison sentences.
"The mullahs' regime has a record of extraterritorial assassinations with no less than 450 terrorist operations registered beginning in the early 1980s until today. [Most] victims were political opponents of the regime," Hosseini Abedeni, a member of National Council of Resistance of Iran (NCRI) parliament in exile, told the Investigative Project on Terrorism.
"The main danger comes from trained terrorist teams sent from Iran to undertake their task and return," added Abedeni.
In 2020, Turkish intelligence said that it discovered a network run by Iranian diplomats to kidnap or assassinate Iranian dissidents on Turkish soil.
"The Iranian Ministry of Intelligence and Security (MOIS) and the Islamic Revolutionary Guards Corps (IRGC) and its extraterritorial unit called the Quds Force are the regime's main bodies engaged in terrorism against opponents abroad," said Abedeni.
In 2019, Iranian intelligence assassinated dissident Masoud Vardajani. Two Iranian intelligence officers stationed at a consulate in Istanbul reportedly were involved in his assassination.
But Turkish policies towards Iran were lenient and a number of Iranian backed convicts have been released from prisons.
An Iranian diplomat was allowed to leave Turkey last year after prosecutors sought a life sentence against him.
"The regime's Ministry of Foreign Affairs is also charged with using diplomatic facilities to enhance terrorism. In 2018, a regime diplomat named Assadollah Assadi was arrested in Germany on a mission to bomb the annual grand meeting of the NCRI in France." His arrest was part of a joint investigation involving Germany, France and Belgium. Assadi was sentenced to 20 years in prison. The European Union sanctioned a directorate of the MOIS for having orchestrated the failed effort," said Abedeni.
Last February, Turkish state-media reported 17 suspects allegedly linked to the Iranian intelligence networks were arrested for planning to kidnap an unnamed Iranian dissident. Among the arrested suspects are a Turkish state prosecutor, a retired army colonel and a defense company owner.
The "Iranian regime's terrorist efforts are specifically intense in Turkey as targets are more in reach not far from the border," said Abedini.
In March, Turkish prosecutors sought a 30-year prison sentences for 11 defendants charged with plotting to kidnap Mehrdad Abdarbashi. He is an Iranian military pilot who fled to Turkey rather than fight for Iran in Syria. Iranian intelligence attempted to abduct Abdarbashi last September.
The concern for Iranian dissidents' safety extends beyond Turkey.
Last Wednesday, several human rights organizations in the United Kingdom appealed to the British Home Secretary to stop the deportation of "Barham," a former Iranian police commander who sought asylum after he was sentenced to prison for refusing orders to open fire on peaceful protests in 2019.
Turkish President Recep Tayyip Erdogan has been working on restoring relations with Israel while also maintaining relations with Iran. But Iran's activities reportedly prompted Turkey to send "blunt and forceful messages" to Tehran, telling it to stop carrying out terrorist acts on its soil.
Despite raging protests in Iran, the regime continues targeting dissidents outside Iran as assassinations became a fixed policy.
Reports from Iranian opposition figures overseas such as Mehdi Oghbai and Hosseini Abedini expose ongoing riots and oppressive practices. These revelations, in turn, can make them targets.
Iran's Supreme Leader Ayatollah Khamenei blamed the protests on what he called "Iran's enemies."
"They hope to turn the people against the Islamic establishment and the Islamic Republic through psychological work, activities on the internet and cyberspace ... and by spending money and recruiting mercenaries," Khamenei said June 4 in a televised speech.
"This is a regime that has used terrorism as a strategic tool against opponents," Abdeni said. It tries to silence dissidents abroad "in a bid to terrorize and discourage further action by the resistance and to show people back home that it still maintains the means and the will necessary to kill mercilessly."

IPT Senior Fellow Hany Ghoraba is an Egyptian writer, political and counter-terrorism analyst at Al Ahram Weekly, author of Egypt's Arab Spring: The Long and Winding Road to Democracy and a regular contributor to the BBC.
Copyright © 2022. Investigative Project on Terrorism. All rights reserved.