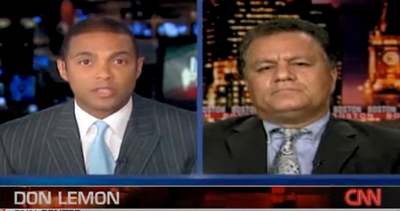 Kaveh Afrasiabi on CNN in 2009. Prosecutors say he was on the Iranian government payroll.
More than six weeks have elapsed since a major American journalism scandal broke with the federal
arrest
of U.S. newspaper editorialist and frequent cable news commentator Kaveh Afrasiabi, who long sold himself as a neutral expert on Iran.
The initial Department of Justice media release alleged that, during all the 13 years Afrasiabi wrote op-eds for the New York Times, the Boston Globe, Washington Times, and esteemed academic journals, the Islamic Republic of Iran was richly paying and directing him to propagandize for the regime and to lobby lawmakers, Capitol Hill staffers, State Department officials, and the White House. He is charged with failing to register as a foreign government agent, which of course would have blown what turned out to be a wildly successful operation.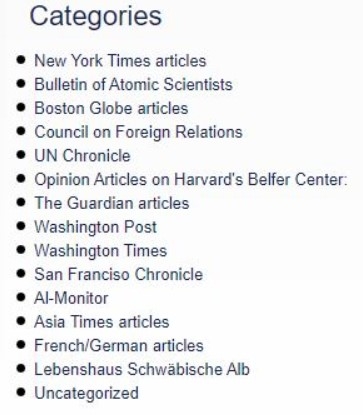 Publications Afrasiabi's website says published his work:
Afrasiabi, who is representing himself in the case, has denied all wrong-doing,
says
he is "a final target of Trump's failed 'maximum pressure' strategy on Iran." Iran went to bat for Afrasiabi, calling his February arrest a "hostage-taking." American news media, which played the starring role, have left it at that.
But this episode warrants far more excavation for lessons learned. The federal government's case brims with largely unreported, troubling investigative details of a major Iranian intelligence success that was launched right off the decks of America's premier journalism and academic institutions.
If even a portion of the alleged duplicities prove out, the Afrasiabi affair would qualify as a significant U.S. intelligence failure and landmark breakdown in a critical thinking tradition foundational to American journalism and academia.
Afrasiabi's Writings Remain Intact
A yawning silence has followed Afrasiabi's February arrest. Unlike many other publication scandals, the newspapers whose pages built Afrasiabi's initial stature as a neutral Iran "expert" have applied no journalism to their fallen contributor – or public introspection as to how Iranian intelligence so badly played them, an IPT search of the Lexis-Nexis news database showed.
Most of his articles remain published, including this Sept. 5, 2018 New York Times article titled "Trump and Rouhani Need to Talk," and this essay on Colombia University's prestigious Journal of International Affairs, this interview transcript in the Washington Post, one in Brown University's Journal of World Affairs, another in the Harvard Theological Review, and this one in the San Francisco Chronicle.

The New York Times has not updated its descriptions of Afrasiabi in published articles like this one, two months after his indictment for being a paid agent of the Iranian government.
Not one has been updated to inform readers that prosecutors believe the material is from an Iranian government agent. If you stumbled into any of those articles today, you would have no way of knowing the source's alleged connection to a hostile foreign government.
No editorial page editors have been reported fired over this incident, in sharp contrast to the resignation of a New York Times editorial page editor who allowed U.S. Sen. Tom Cotton, R-Ark., last summer to publish a call for possible military action to stop riots and looting in American cities.
The FBI and federal prosecutors believe they have the evidence to prove that Afrasiabi "is paid, directed and controlled by" the Iranian government "to lobby U.S. government officials, conduct public relations ... and create and disseminate information publicity favorable to the [Iranian government] in the U.S. and abroad." He directly lobbied a member of Congress "for policies favorable to" Iran, and published articles "at the direction and under the control of the" Iranian government.
According to the U.S. government's narrative, Iran could directly order Afrasiabi to write what it wanted in prominent publications at diplomatically opportune moments. It edited and preapproved many of them, and then had Afrasiabi exploit those calling cards to access and lobby a spectrum of American government officials who had no idea who or what he really was.
An FBI affidavit filed along with the initial complaint points to this 2012 New York Times op-ed, which argued that "U.S. sanctions on Iran acted as a major stumbling block in nuclear negotiations 'since Iranian negotiators need[ed] to produce a tangible tradeoff between any concessions and a recognition of Iran's right to legitimate [nuclear] enrichment.'"
In email correspondence obtained by the FBI, Afrasiabi refers to the United States as "the enemy" and wrote that the "us government is in the palms of zionists (sic)."
Like the other articles cited above, this op-ed has not been updated to reflect Afrasiabi's indictment for acting as an agent of the Iranian government.
None of the publication gatekeepers would have accepted his writings had they known the secret that Afrasiabi allegedly kept for so long.
One would hope.
Iranian Officials as Covert Editors-in-Chiefs
The 65-year-old Afrasiabi came to America in 1973, became a legal permanent resident in 1984 and then became a naturalized U.S. citizen. Iran's Permanent Mission at the United Nations in New York "surreptitiously" put Afrasiabi on its payroll in 2007. That was a tense time, when the George W. Bush administration, Iran and Israel were rattling war sabers over Iran's nuclear weapons program.
Registering as a foreign agent, of course, would have immediately short-circuited any chance of success with this influence operation. In a filing last week, Afrasiabi acknowledged receiving $3,000 per month from the Iranian UN mission, along with health insurance.
Of course, canons of professional opinion journalism forbid any writings where authors and their subjects share undisclosed political and financial links because such conflicts of interest undermine credibility.
So ethical editors schooled in professional standards would have especially frowned had they known about the extreme degree to which Iran violated this canon: For years, Afrasiabi's Iranian government handlers – the head diplomat and the press officer at the New York mission, at least – ordered him to pen diplomatically beneficial articles at key moments. Their involvement went deep; they edited his content, preapproved his writings, and gave him talking points for television, the government alleges.
Take the time in 2011 when Saudi Arabia (the Sunni arch enemy of Shiite Iran) sent troops to help Bahrain arrest Shiite demonstrators during the "Arab Spring" uprising there. The Iranian press secretary, according to the DOJ complaint, "directed Afrasiabi to publish an article advocating" what the Iranian regime wanted to have happen. The article should call for the European Union to penalize Bahrain if it did not stop arresting Shiites and also to call for a Saudi troop withdrawal.
"[W]hat we can do on Bahrain? You know that situation is very trategic (sic)?" the Iranian press secretary emailed Afrasiabi. "Can we talk to publish some article on that?"
A couple of weeks later, an article co-authored by Afrasiabi appeared in the Guardian newspaper, advocating diplomatic and economic reprisals against Bahrain, travel bans on its officials, and a demand that Saudi Arabia withdraw forces, the DOJ complaint notes.
Like the American news outlets, the Guardian's story remains online, with no update acknowledging the charges against Afrasiabi.
For another article in February 2013, Afrasiabi emailed an unpublished draft version to the Iran mission's deputy ambassador asking, "please check the attached article. I will appreciate any input. It has been accepted and gone through revisions. It is in line with leader's latest speech."
The obliging deputy emailed back with notes and suggested changes.
"The below issues are dangerous and are contrary to our national positions and actions." The deputy listed four points that Afrasiabi should remove from the article.
Afrasiabi did as instructed and submitted the new version to the Bulletin of Atomic Scientists, later sending a link to the deputy ambassador in an email stating: "Salam, here is the article, thank you again, I got rid of all those points you raised."
Such direct regime involvement in Afrasiabi's writing operation and television appearances was not uncommon, judging by other incidents alleged in the DOJ's narrative. The Iranian mission's press secretary, for instance, provided the talking points for numerous 2014 television interviews in which Afrasiabi denied allegations in a new documentary that blamed Iran for the 1988 bombing of Pan-American Flight 103 over Lockerbie, Scotland.
The same happened in 2016 when Iran captured 10 American Navy sailors in the Persian Gulf. Afrasiabi went on television – again supplied with the Iranian press secretary's specific talking points, the DOJ complaint states. He said the sailors had all been treated so well that when Iran released the Americans 16 hours later, they had all "laughed and left with big smiles on their faces."
The DOJ complaint details similar sleights of hand well through 2020, where the Iranian regime had Afrasiabi reserve special ire for President Donald Trump's airstrike on Al Quds Force General Qasem Soleimani.
Using his Status to Access American Power-Brokers
The government's story is that Afrasiabi parlayed his initial portfolio of prestige editorials into access on Capitol Hill, where he lobbied hard for Iran during extremely sensitive nuclear negotiations. The DOJ complaint details operations in which the regime directed Afrasiabi to play on his New York Times and National Public Radio articles to pry open doors to lawmakers. Afrasiabi would send story links to congressional staffers, pitching himself as an independent Iran expert with important information to offer – and to ask for some in return.
"I am clear about lobbying us for swap deal," he emailed one of his Iranian bosses at the UN mission in 2009, two years into the job.
This was a reference to a December 2009 effort in which Afrasiabi helped an unidentified congressman draft a letter to President Barack Obama, urging the new president to accept a "fuel swap" proposal Iran's nuclear negotiators had floated. The letter was sent to Obama, but the Iranians lost contact with how it had played.
Afrasiabi was on the case. He emailed a "senior U.S. State Department official" seeking the administration's "latest thinking" on that matter. In asking for a meeting, Afrasiabi cited his "repeatedly" written op-eds, the links to which he helpfully sent.
In 2012, now seeking a final copy of that 2009 letter, Afrasiabi emailed a staff member complaining the congressman had not gotten back to him, which he saw as a slight to such a prominent writer.
"I have not heard from the Congressman. I am an Iran expert and with high visibility – as can be seen in below samples of my interviews on NPR, Christian Science Monitor, Al-Jazeera, Agence France, oped in NY Times, and feel a little disrespected here..."
The tactic worked. After he provided links to various articles and television interviews again, another staff member emailed a copy of the 2009 letter to Afrasiabi and then carried out his request to schedule an Iran experts panel where he would teach lawmakers and staff about U.S.-Iranian relations.
Afrasiabi went on for years more to trade on his prominent writings and television appearances for access to American decision-makers.
All That is Left Hanging
After his arrest, Afrasiabi told the Algemeiner news site that Iran's UN mission did pay him for years, but that "it never occurred to me that I was doing anything illegal. My conscience is clear, and if the US government had an iota of sense of appreciation, they would thank me for all my tireless activities for the cause of détente, non-proliferation, human rights, inter-religious dialogue and understanding."
Afrasiabi has yet to address any of the government's specific investigative findings. But news organizations caught up in this operation have all gone just as mum. Explanations and discussions are warranted about what news organizations knew or suspected about Afrasiabi, and how they will vet all future guest commentators with track records of tireless support for American adversaries. This discussion need not wait for criminal judicial processes to play out.
Maybe editors at the New York Times and elsewhere merely got duped for years and years. None, after all, were in position to demand Afrasiabi's personal bank records showing his relationship with Iran.
Still, newspapers and academic journals who enabled the Iranian operation are not volunteering whether they ever wondered why a writer whose consistent pattern of support for Iran always seemed to fall in line with official Iranian positions.
The U.S. intelligence community also is on the hook here for an eventual explanation as to how long agencies were aware of Afrasiabi and what they may also know about the media outlet involvement. Did they miss the operation for years, too?
No one and no entity involved in the Afrasiabi affair deserves a pass on explaining it to the American public.
Todd Bensman is a 23-year former investigative newspaper reporter and government intelligence official with master's degrees in journalism and security studies. His new book is America's Covert Border War: The Untold Story of the Nation's Battle to Prevent Jihadist Infiltration.
Copyright © 2021. Investigative Project on Terrorism. All rights reserved.