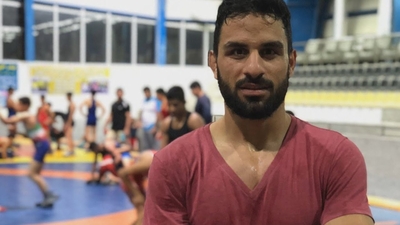 Navid Afkari-Sangari, a 27-year-old Iranian wrestler who, along with his two brothers, took part in anti-regime protests in 2018, was executed Sept. 12 by the Islamic Republic of Iran. Navid's two brothers, Vahid and Habib, were sentenced to 54 years and 27 years.
Navid Afkari's execution generated global condemnation after his sentence sparked an international campaign to save him, but in the end, he was brutally tortured and arbitrarily executed to send a message to the millions of Iranian dissidents within Iran. This is the sad story of Navid Afkari's short life.
Benjamin Weinthal, the Jerusalem Post correspondent, a keen wrestler himself, played a key role in raising international awareness about Navid Afkari and so did Fox News.
"The horrific act of executing an athlete can only be regarded as a repudiation of the humanitarian values that underpin sport," said Brendan Schwab, executive director of the World Players Association. "It must result in Iran forfeiting its right to be a part of sport's universal community."
The International Olympic Committee President Thomas Bach, and UFC President Dana White also pleaded for Iran to spare Afkari.
"Hearing that Iran is looking to execute a great and popular wrestling star, 27-year-old Navid Afkarai, whose sole act was an anti-government demonstration on the streets," President Trump tweeted Sept. 3. "They were protesting the 'country's worsening economic situation and inflation'... To the leaders of Iran, I would greatly appreciate if you would spare this young man's life, and not execute him. Thank you!"
In an emotional video, Navid's mother said her sons were convicted in an "unjust and false trial without a shred of credible evidence being produced."
"I desperately appeal to anyone who can hear me, please help me save my sons," she pleaded through tears.
Iran denied that Afkari's death sentence was for participating in the protests. Rather, it claimed the champion wrestler murdered a regime security agent, Hassan Torkaman, who took part in the crackdown on protesters in Shiraz, in August 2018. When a regime security agent is killed, the case cannot remain unresolved, a scapegoat must be found and what better than to blame a protester. Navid was chosen to be that scapegoat.
Afkari was born in 1993 in Shiraz. The Islamic revolution in 1979 had promised Iranians a utopia of justice and righteousness as well as economic prosperity. Free electricity, water, buses and fuel were promised to the "dispossessed" masses by Ayatollah Khomeini shortly after he returned to Iran from exile in February 1979.
Navid Afkari's family however, like the vast majority of Iranians never got a share of what the revolution promised. Navid spent his childhood selling chewing gum and balloons on the streets to help the family make ends meet and had to leave school in his teens.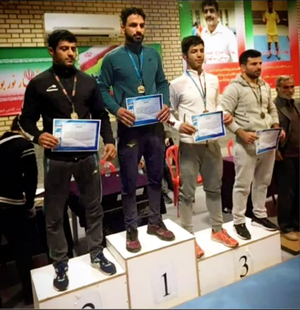 Navid Afkari (second from left) winning the gold medal in a local competition 4 years ago.
He developed a love for wrestling. He entered his first tournament at age 14, placing second nationally. His wrestling accolades continued when he was conscripted in the armed forces, and he won the bronze medal in the Armed Forces Greco-Roman wrestling tournament.
After his service ended, he worked as a plasterer while wrestling when he could.
In August 2018, Navid's life and that of his brothers, Vahid and Habib, changed forever. All three brothers, discontent with the Shia theocracy dictatorship in Iran, joined thousands of others in anti-regime demonstrations in Shiraz.
Iran cracks down mercilessly on such displays of dissent. The number of casualties among protesters remains unknown. But a month after they protested, Navid and his brothers were arrested.
Navid was held at one of the most notorious detention centers in Shiraz, known as Prison No.100. He was tortured with alcohol poured down his nostrils and a plastic bag wrapped around his head while getting savagely kicked, punched and beaten by clubs.
Navid's torturers wanted him to confess to killing Hassan Torkman and implicate his brothers. One of Navid's two brothers twice tried to kill himself for he found the tortures so unbearable.
Judge Ahmad Boroumandi sentenced Navid to 4½ years in prison and 74 lashes in August 2019 for insulting regime officials and for disrupting law and order by taking part in the protests. Two months later, Judge Mehrdad Tahemtan, from the Fars province Branch One Court, sentenced Navid to death by hanging for murdering Torkman, based solely on confessions extracted under torture.
The Islamic judiciary's case against Navid Afkari was riddled with contradictions. No CCTV footage clearly showing Navid committing murder has ever been shown. The only CCTV footage that was produced in court to implicate Navid for the murder shows a bearded young man happily walking on the street, talking on his mobile phone. The CCTV footage was recorded two hours before the murder.
"I have studied the entire case against Navid, there is not even a single frame of footage available that shows Navid murdered anyone." said Iranian human rights activist Mehdi Mahmoudian, who lives in Tehran.
My sources also name Moslem Rahimi, a supermarket owner, who witnessed the murder, who has stated Afkari was not the killer.
Shahin Nasseri, an inmate in the Shiraz police station, said he witnessed two plainclothes men severely beating Navid and telling him, "You must sign the statement we are telling you to sign, while Navid was pleading he was innocent."
Navid vehemently denied murdering Torkman during his trial and challenged the judge to produce the CCTV footage. The judge, Mehrdad Tahemtan, simply replied "I don't need to."
On Sept. 11, Navid was taken to Adelabad prison in Shiraz. There, he was tortured again by the chief prison guard, Khadem Al-Hosseini. The next day, it was unexpectedly announced that Navid's execution was carried out. Many in Iran think Navid was killed under torture. He was buried at night. Those present at the burial say the torture marks on his face were clearly visible and his nose was broken.
Despite all the contradictions and controversies in Iran's case against Navid, he was given no appeal. Navid however, became a national hero. For those Iranians, the Islamic Republic's noose around Navid's neck was a gold medal for courage in the struggle against a tyrannical regime that has suppressed the Iranian people's talents and aspirations in the last four decades.
There was an outpouring of sorrow and condemnation by many Iranians. Government repression has so far prevented mass demonstrations for Navid and his brothers, but the pent-up anger was manifested in other ways. Posters and graffiti declaring him as a national hero adorned many walls across Iran and thousands used Navid's picture for their social media profiles.
It now remains to be seen whether the international bodies and governments will let the Islamic Republic get away with Navid's unjust execution?
If they refuse to speak out, they will only further embolden this rogue regime to carry out even more arbitrary executions of its political opponents.
IPT Senior Fellow Potkin Azarmehr, is a London-based investigative journalist, business intelligence analyst, and TV documentary maker who was born in Iran. He regularly contributes to several newspapers and television stations on Iran and Middle East related news. You can follow him @potkazar
Copyright © 2020. Investigative Project on Terrorism. All rights reserved.