Update: Fox Soul confirmed Monday afternoon that it would not air the Farrakhan speech. Instead, "Fox Soul will present a special program ... featuring a compilation of the most powerful speeches from the greatest black leaders and thinkers about racial relations and civil rights in America. This powerful and inspirational program replaces the previously scheduled Nation of Islam leader Louis Farrakhan's 'Message to America.'"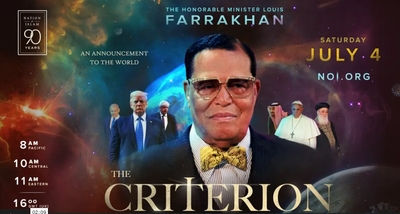 Fox Soul, a streaming service created by Fox Television Stations aimed at African-American viewers, has taken down social media promotions for a July 4 speech it planned to air by bigoted Nation of Islam leader Louis Farrakhan.
The promotions appeared last Thursday, touting a live program called "THE CRITERION," in which "THE HONORABLE LOUIS FARRAKHAN will deliver his MESSAGE TO AMERICA" on Independence Day.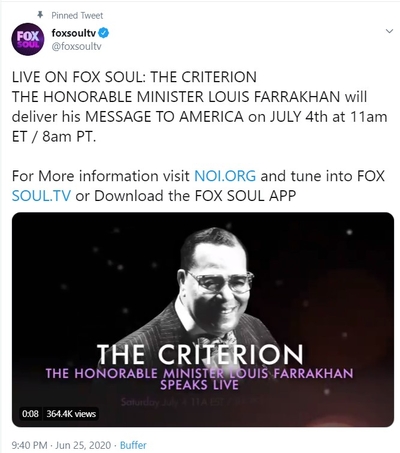 Fox Soul, which debuted in January, made the announcement Thursday, and made it a pinned tweet on its Twitter feed, ensuring it was the first thing people who accessed the feed would see. It was deleted by late Monday morning after articles started appearing questioning the wisdom of giving Farrakhan free, live airtime.
A Facebook promotion had been online since last week advertising Farrakhan's 10 a.m. live speech on FoxSoul.tv also disappeared Monday morning.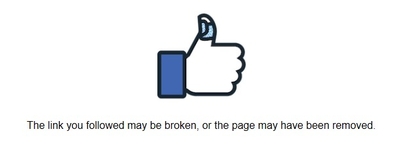 But the Nation of Islam's promotion for the speech remains active, with no reference to Fox Soul. A 2-minute video features Farrakhan describing America's foundation as built on slavery and killing Native Americans. It uses images from lynchings and shows Minneapolis police officer Derek Chauvin kneeling on George Floyd's neck, the move that killed Floyd last month. Other images show police cracking down on protesters, mixed in with President Trump's photo op holding a Bible outside St. John's Church across from the White House.
Fox Soul did not respond to a request for comment from the Investigative Project on Terrorism sent before the promotions were deleted.
The Simon Wiesenthal Center called on Fox to cancel the broadcast.
"The African-American community is blessed with leaders in every field of endeavor from the arts, to business, to politics, to faith to media – anyone of whom can deliver an empowering and inclusive message of hope on July 4th," wrote Center founder Marvin Hier and associate dean Abraham Cooper. "Farrakhan is a racist anti-Semite – a demagogue and divider – at a time when all Americans need to hear messages of unity and hope, the values which Martin Luther King Jr. lived and died for."
Farrakhan, on the other hand, "spent his adult life spitting on everything July 4th stands for."For decades, Farrakhan has engaged in hate speech against Jews, gays and lesbians."
He compared Jews to termites and in 1984 called Adolf Hitler "a very great man."
In a 2015 speech, he called the 9/11 attacks a "false flag operating" orchestrated by "Israelis and Zionist Jews." Jewish control of Hollywood, Farrakhan said in 2018, produced "all of this filth and degenerate behavior ... turning men into women, and women into men."
He also claimed that "[h]omosexuality can be produced through chemistry." Jews, Farrakhan said, have developed marijuana strains that can turn black men gay.
"God did not create man to lay with man. But you are being chemically programmed against your nature, you don't know it."
This rhetoric dates back decades. "We must change homosexual behavior and get rid of the circumstances that bring it about," Farrakhan wrote in a 1993 book.
His hateful ideas have helped keep Farrakhan in the news, especially in 2018, when leaders of the national Women's March refused to disassociate from him in the wake of an anti-Semitic Founder's Day speech.
Pulitzer Prize-winning Miami Herald columnist Leonard Pitts wrote that, despite the appreciation some may have for Farrakhan, he must be condemned "unflinchingly." He called Farrakhan "a toxic fount of anti-Semitic and homophobic rhetoric," but acknowledged it can be difficult for some black people to do.
The question of how black folks should (or should not) engage with him is thornier than an outsider may appreciate. Many of us are genuinely impressed by the NOI's philosophy of self-reliance and its record of turning around black lives. And when Farrakhan gets ranting on his pet hates, some of us tend to write it off, to tolerate him as you would a dotty uncle.

...

Yes, Louis Farrakhan has said and done some powerful things. But he has also said and done some things that are truly hurtful and reprehensible. So let's not rush to make harmless this dotty uncle of the African-American experience. Let's not fall into the trap of condemning bigotry when it comes toward people who look like us, but tolerating it when it comes from people who look like us. We are required to be better than that."
Fox Soul appears to have come around to similar thinking.
The network's logo features the slogan, "Our Voice, Our Truth."

"We intend to inform, inspire, and empower our viewers by meeting their needs for authentic conversations on topics relevant to our lives," programming director James DuBose told Variety in January.
In a time of intense national debate over racism, promoting the words of an avowed hater on Independence Day was an ill-considered idea. Fox Soul's apparent reconsideration of broadcasting a Louis Farrakhan speech on Independence Day avoids a significant misstep.
Copyright © 2020. Investigative Project on Terrorism. All rights reserved.