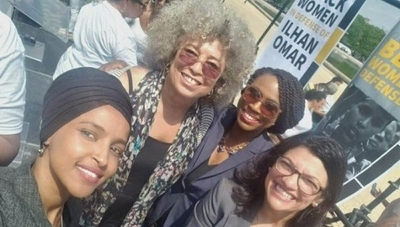 Facebook image. From left, U.S. Rep. Ilhan Omar, Angela Davis, U.S. Rep. Ayanna Pressley and U.S. Rep. Rashida Tlaib.
Stances taken in the past week by Rep. Ilhan Omar, D-Minn., cement her position as the most radical member of Congress, critics say.
In the past week alone she sided with the Marxist Maduro regime in Venezuela, described American Communist icon and 1979 Lenin Peace Prize Winner Angela Davis her "idol," and defended Hamas and Palestinian Islamic Jihad (PIJ).
Omar often blames America and Israel for the world's problems. Last week, Omar denounced U.S. sanctions against Venezuela intended to force out its socialist dictator Nicolas Maduro after she was asked about the problems in the country.
"People like Elliott Abrams, neocons and warmongers, you know, for so long pushed for policies that are now – we can see, not only in Central America, but in many parts of the world, the kind of devastations that they've seen for decades," Omar said on Democracy Now. "...[M]any of the sanctions we impose ultimately lead to devastations – and we are seeing it now in Venezuela."
Just as in the case of her tweet about "Black Hawk Down," Omar makes America out to be the bad guy and ignores the greater context. In this case, she turned a blind eye to the repression and impoverishment that has been brought about by the corruption of Maduro's regime and his predecessor Hugo Chavez.
Then on Sunday, Omar blamed Israel after Hamas and PIJ launched 700 rockets toward Israeli cities.
"How many more protesters must be shot, rockets must be fired, and little kids must be killed until the endless cycle of violence ends? The status quo of occupation and humanitarian crisis in Gaza is unsustainable. Only real justice can bring about security and lasting peace," Omar tweeted.
Omar retweeted a post by journalist Mehdi Hassan blaming Israel for a missile strike that killed a pregnant woman and child in Gaza. That retweet remained active Friday morning, and Omar has been silent following the revelation that a Palestinian Islamic Jihad (PIJ) rocket was responsible for the death of a pregnant Palestinian woman and a child in Gaza, not an Israeli airstrike as pro-Hamas propaganda claimed.

Omar repeatedly generates controversy with comments she says are intended to criticize Israel, but which repeatedly have invoked historic anti-Semitic stereotypes about Jews, power and money. For example, she blamed the American Israel Public Affairs Committee (AIPAC) for funding the criticism that she and fellow U.S. Rep. Rashida Tlaib have received over their attacks on Israel in February that led to a backlash. "It's all about Benjamins baby," Omar wrote in a tweet.
These stances put her beyond the pale, critics say.
"This is clear to me that she's very far to the Left; she's easily the most far-Left member of Congress," Grove City College Professor Paul Kengor, academic historian and a scholar of Marxist movements and the American Left, and author of Dupes: How America's Adversaries Have Manipulated Progressives for a Century, told the Investigative Project on Terrorism (IPT). "We're seeing that in merely a few months of her being in office.
"To call Angela Davis one of your idols is really shocking; Angela Davis is the best-known female American Communist."
But that's what Omar did last week while sobbing at a Capitol Hill rally in her defense. "To one of my idols, Angela Davis, I just... yeah, I just, I, I can't tell you how enormously inspiring you have been to me throughout my life," Omar said.
Omar has "so many associations and love affairs with so many radicals on the Left, both past and present," said former Democratic New York State Assemblyman Dov Hikind, who has emerged as a vocal critic of anti-Semitism on the Left. "There is an obvious double standard on the Left, which is so concerned with the rise of hate on the right but is blind to hate on the Left.
"She doesn't stop. She's a member of Congress, and no one in the Democratic Party and others do nothing to shut her up."
Like Omar, Angela Davis has a track record of supporting Palestinian terrorists. She supported PLO leader Yasser Arafat in the 1970s and met with him at a Communist conference in East Germany. More recently, Davis supported convicted Popular Front for the Liberation of Palestine (PFLP) terrorist Rasmieh Odeh during her unsuccessful bid to avoid deportation from the U.S. on immigration fraud charges. When she applied to become an American citizen, Odeh failed to disclose her conviction in a 1969 Jerusalem grocery store bombing that killed two Israelis.
To Davis, however, Odeh's prosecution for naturalization fraud marked "a continuation of the embarrassing history of decades of suppression of social justice activists in the U.S."
Zuhdi Jasser, founder of the American Islamic Forum for Democracy, says American Muslims should be embarrassed supporting her in the light of her above issue stances.
"Any Muslim who supports her in any way is obviously aligning themselves with the most vocal radical of Islamist, Socialist and Communist activists in American Muslim history," Jasser said. "Frankly, she should be highlighted as an embarrassment to rational humanitarian, free thinking, free market American Muslims."