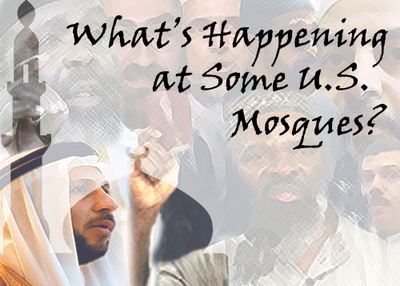 An extremist imam used his Friday prayer last week to call on Muslims and Palestinians to disavow non-violent protest against Israel. But the imam was not preaching from the West Bank or Gaza Strip. This imam was yet another spiritual leader espousing radical views from the United States, joining a long list of other U.S.-based Muslim leaders who have promoted anti-Semitism and incited violence against Jews and Israelis.
Mohamed Elbar – an imam at the Islamic Society of Bay Ridge (a.k.a. Masjid Musab) – delivered a sermon in Brooklyn April 13 that amounted to violent incitement.
Elbar was not trying to keep this view secret in a private setting of committed individuals. On the contrary, his sermon was live-streamed on the Islamic Society's official Facebook page, broadcast publicly to its followers and translated by the Investigative Project on Terrorism (IPT). It remained accessible as of this publication.
Elbar reserved harsh criticism for some unidentified imams and preachers who he said issued religious decrees (fatwas) calling for non-violence against Israel. According to the imam, these preachers only advocate direct confrontations if there is symmetry in power.
Too "many imams in our diverse Arab countries" are issuing fatwas that prohibit violent resistance against Israel, he said, "so long as the occupier or the aggressor [Israel] possesses more power than you [Palestinians] possess."
"They [other imams] tell them [individuals in the Palestinian territories]: 'You don't have the kind of weaponry that the Zionist entity has, so it's not right for you to stand up to the Zionist entity, because if you stand up to them and get killed by the Zionist entity, it's as if you killed yourself,'" Elbar preached.
After denouncing non-violent protest, Elbar rhetorically asks his congregation: "So what should we do? How are we going to defend our land?"
By offering such passionate criticism, Elbar is encouraging violence and promoting terrorism among Palestinians to coerce concessions from Israel.
He warned that if Palestinians and Muslims "give up" the fight against Israel, then Israelis will destroy the Al Aqsa Mosque in Jerusalem. He also engages in anti-Semitic historical revisionism by claiming that the Jews will re-build a "Temple of no value and no historical evidence" over the mosque's ruins.
"It [Al Aqsa Mosque] will get demolished if we abandoned it and an alleged Temple of no value and no historical evidence of its existence would be built to replace it," Elbar claims.
Propagating such a destructive scenario is a form of violent incitement, especially since previous false allegations of Israeli changes to the religious status quo in Jerusalem have led to outbreaks in Palestinian violence. Palestinian Authority President Mahmoud Abbas espoused a similar view in the past, which encouraged a wave of Palestinian stabbing attacks and terrorism in Jerusalem and surrounding areas.
Elbar, who is also a professor of Islamic Studies at the Graduate Theological Foundation and teaches "Da'wah related courses" (proselytizing Islam) at the Manara Institute, has a history of making radical statements.
In a Dec. 8 sermon – following President Donald Trump's recognition of Jerusalem as Israel's capital –Elbar referred to Jerusalem "as a sole Islamic property," denying any Jewish or Christian ties to the city. In the final prayer, Elbar prayed for "Allah to liberate Palestine from the occupiers [Jews]."
In 2014, the IPT covered a rally featuring Elbar as a speaker, organized by the Egyptian Americans for Democracy and Human Rights in front of the Saudi consulate in New York City. Protesters demanded that Muslim Brotherhood leader Mohammed Morsi be reinstated as Egypt's president. Elbar led chants accusing the Saudi king of "selling Egypt to the Jews" while members of the crowd chanted that Saudis were "dirtier than the Jews."
Elbar's history of anti-Semitic and radical Islamist preaching resembles extremist sentiment embraced by several other imams in the United States.
For example, Sheikh Raed Saleh Al-Rousan, the founder of the Tajweed Institute's Houston branch, used a Dec. 8 sermon to repeat a notorious Quranic hadith that radical preachers often invoke to mobilize Muslims against Jews.
That same day, Sheikh Aymen Elkasaby from the Islamic Center of Jersey City, called for "the plunderer oppressors (Jews)" to be destroyed.
"So long as the Al-Aqsa Mosque remains prisoner in the hands of the Jews... So long as the Al-Aqsa Mosque remains under the feet of the apes and pigs, this nation will remain humiliated," Elkasaby preached, adding that he wishes to achieve "martyrdom on the threshold of the Al-Aqsa Mosque."
In another instance, a Texas-based imam, Sheikh Ramadan Elsabagh, called for Israel's destruction in a recorded prayer posted to his Facebook page on Dec. 7, according to an IPT translation.
American Islamist groups have remained silent in the wake of these sermons, and have not outright condemned the imams' behavior. Now, Elbar joins a growing list of radical U.S.-based Muslim leaders who continuously espouse extremist views. Muslim leaders who explicitly glorify terrorism against Jews deserve more scrutiny in American media and political circles.