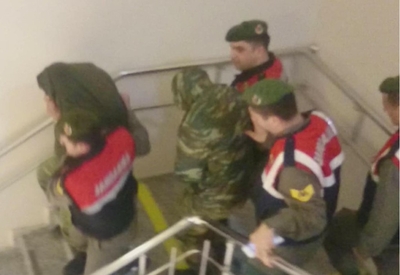 Turkish forces lead captured Greek soldiers into custody.
A Turkish court on Monday refused to release two Greek soldiers who strayed across the border into Turkey last week. Turkey accuses the soldiers of being spies. Greece claims the border crossing was
accidental
due to heavy snow and fog. This is just the latest example of Turkey threatening its neighbors under President Recep Tayyip Erdogan's rule.
A Turkish government spokesman said Monday the soldiers were being held because they wandered into the military zone. He denied they were being held as a bargaining chip to exchange for eight Turkish soldiers who fled to Greece following the 2016 coup attempt as some press reports speculated. Erdogan repeatedly demanded the soldiers be returned to Turkey.
The Greek soldiers told Turkish prosecutors they were "following footprints in the snow in an attempt to stop migrant smuggling." Turkish authorities remanded the soldiers into custody because they aren't resident in Turkey and could flee the country. They also noted they planned to examine the soldiers' digital data.
This latest action risks inflaming tensions between Greece and Turkey. The two NATO allies have become locked into a war of words in recent weeks, starting last month when a Turkish vessel rammed a Greek ship off a disputed island in the Aegean Sea. Greek Foreign Minister Nikos Kotzias warned that the Turks had "touched on the red line and in some sense it overstepped it." Greece would meet any Turkish "aggression" with an equal response.
"Test our resolve. We are kindly asking Greece to set foot on the Imia islets. If that happens, we will defend them to the death, from the moment that Erdogan gives the order," said Erdogan adviser Yigit Bulut.
Erdogan recently claimed that Turkey is a continuation of the Ottoman Empire and vowed to recapture influence in areas once ruled by its caliphate. Much of northern Greece, where most ethnic Turks live today, remained part of the empire until 1913. Erdogan's Neo-Ottomanist allies proudly speak of jihad and used such terms to describe Turkey's recent invasion of the Afrin region of Syria.
Turkish armed forces also conducted war games in the vicinity of the Evros River, where the Greek soldiers were arrested. That exercise included crossing a river, which the Greek media insinuated meant learning how to invade a neighboring country.