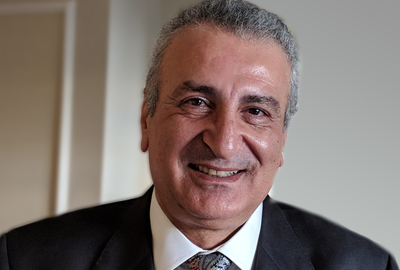 A liberal Syrian opposition leader lobbied the Trump White House and conservative think tanks in Washington last week to support a plan to counter growing Iranian and Islamist domination in Syria. Kamal al-Labwani says he received a favorable reception from his contact at the National Security Council and from the think tanks with which he met.
He wants American help to manage a force of non-Islamist Arab and Kurdish rebels to push out the Assad regime and in building a credible non-sectarian democratic government in its place.
Current U.S. policy has focused on arming and supporting the Kurdish-led Syrian Democratic Forces (SDF) against ISIS. Secretary of State Rex Tillerson announced two weeks ago that the U.S. would keep troops in northern Syria to keep ISIS from re-emerging.
Al-Labwani wants the United States and Israel to provide military support to a coalition of Arab non-Islamist rebels fighting under the banner of the Free Syrian Army (FSA) Southern Front along the Jordanian border in southern Syria. Reports last fall indicate that Israel has been arming FSA groups. In one video, FSA fighters were shown emptying ammunition containers marked with Hebrew letters.
Al-Labwani met with Israeli authorities in 2016, asking them to enforce a no-fly zone over southern Syria, including over Damascus and southwestern Syria using their air defense systems. The Israelis told al-Labwani they could cover an area at least 62 miles deep inside Syria, but that has yet to happen. But Israel has implemented al-Labwani's suggestion to allow Syrian fighters to obtain medical care in Israeli hospitals.
In an interview with the Investigative Project on Terrorism (IPT) al-Labwani proposed training these forces in Jordan and in areas controlled by the FSA Southern Front and the SDF. He plans to meet with SDF representatives in Geneva next month.
The FSA Southern Front would cut off Iran's land bridge to the Mediterranean by linking up with the SDF, now fighting ISIS in northern Syria, in eastern Syria along the Iraqi border.
According to Michael Pregent, adjunct fellow at the Hudson Institute, al-Labwani's proposal has merit, but it could face difficulties due to likely infighting between Arabs and Kurds.
Al-Labwani says tensions among Syria's competing ethnic, tribal and religious groups can be minimized by building a new federal Syria that would give a greater say to these groups in running the country.
Al-Labwani founded a group called the Syrian Liberal Democratic Union in 2001. His warning that year that a civil war was in Syria's future landed him in prison for three years.
Al-Labwani also served six years in a Syrian prison for meeting with Bush White House officials in 2005. He then joined the opposition Syrian National Council (SNC) but resigned due to Qatari and Muslim Brotherhood control of the body. Al-Labwani predicted in 2012 that having Islamists take over the revolution against Assad would be disastrous. He also belonged to the National Coalition for Syrian Revolutionary and Opposition Forces in 2014, which has supported Turkey's recent assault on Syrian Kurds in Afrin.
"Turkey, Qatar, and Jordan, and everybody ask us to be loyal to [their] country, not loyal to Syria," al-Labwani said about their overlordship over the SNC and its successor bodies. "That is the big problem. You need money; ok, you have to obey us. You need weapons; you have to take orders. So this makes division inside this [society] and ... is not loyal to my case because I spent 10 years in prison not to be agent to Jordan or agent to Turkey [but] to help my people, my family."
These nations have no interest in letting Syrians build their own civil-society institutions or in having their own representatives, al-Labwani said. He wants no part of any institutions controlled by Qatar, Turkey or any other foreign power.
Al-Labwani has strong connections with leaders of opposition groups in the south and plans to meet with SDF representatives in the coming month in Vienna, Austria to discuss his plan.
Countering Iran and the Islamists
In the short term, countering Iran, the Muslim Brotherhood and other Islamic extremists by supporting non-Islamist leaders and rebels under their control should be the priority for the United States and the West, Al-Labwani said.
The alternative is what al-Labwani called an "axis of resistance" in the form of a coalition between Sunni and Shiite jihadists in Syria backed by Iran that will spread across the region.
Hizballah and other Shiite militias backed by Iran's Revolutionary Guard Quds Force have provided the firepower, that in conjunction with Russian airpower, has kept Assad in power.
"If the U.S., Turkey, Qatar and Saudi [Arabia]had been willing to give the rebels anti-air missiles and more weapons and money, Assad would have been toast despite Russian and Iranian help. I don't know how many billions the rebels got, but it clearly wasn't enough, considering Russia and Iran's willingness to escalate," University of Oklahoma Director of Middle East Studies and Syria expert Joshua Landis said. "As we saw in Iraq, Kuwait, Libya and elsewhere in the Middle East, air power is decisive."
Undercutting Iran requires working with tribal leaders to promote conflict in Hizballah-controlled areas. The Iranian-controlled terror group enjoys hegemony over neighboring Lebanon, and it counts Christians such as Lebanese President Michel Aoun as key allies. Hizballah and other Iranian-backed Shiite militias have served as Assad's shock troops fighting to restore control of areas formerly controlled by ISIS and other militias.
"We need to defeat Hizballah. To go inside the society, inside his society and make conflict between each other. We have to fight them from inside the Lebanese society," al-Labwani said.
Working with Arab rebels in the south, al-Labwani says he can help provide a credible alternative to the Islamists supported by Qatar and Turkey.
Sheikh Muhammad Yaqoubi is an influential Syrian anti-Islamist cleric who works with al-Labwani. Yaqoubi told the IPT that Syrian rebel leaders in the south, who were snubbed by the Obama administration due to their lack of Muslim Brotherhood connections and support from Qatar, could get the job done.
Now it's up to the Trump administration to embrace anti-Assad forces who want a peaceful, non-sectarian Syria in contrast with the prior administration's policies.