Friday's terrorist attack at the Temple Mount in Jerusalem provided yet another example of how apologists avoid acknowledging the reality of Palestinian violence.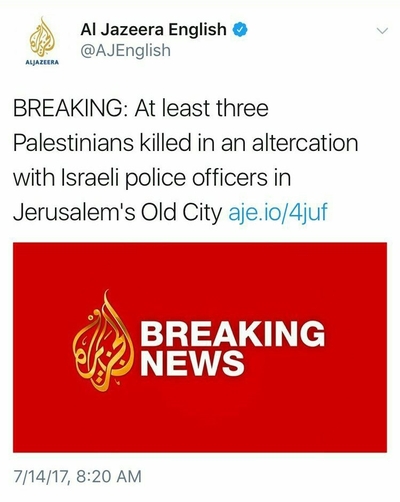 Qatar-based Al-Jazeera television's first headline made it seem like three Palestinians were shot dead for no particular reason. "At least three Palestinians killed in shooting in Jerusalem's Old City," the network posted on Twitter.
The three were killed after they shot and killed two police officers and wounded a third in an unprovoked attack.
In the United States, Jewish Voice for Peace (JVP), which claims to want a safe and secure state for both Israelis and Palestinians, reacted to the terrorist attack by sharing a Facebook post posting a video about the electricity crisis in the Gaza Strip. "The news today of armed Palestinians killed by Israeli occupying police near Al Aqsa mosque is grim, sad and frightening but won't include the backdrop of Gaza in the dark, its undrinkable water, children suffering from post-traumatic stress disorder... each day becoming more unlivable," JVP wrote.
This apparent rationalization of a terrorist attack that killed two Israeli police officers by Israeli Arabs who opened fire after prayer on the Temple Mount is not a surprising move by Jewish Voice for Peace.
A Palestinian activist at a JVP conference earlier this year urged the audience to become "freedom fighters" by utilizing "guerilla disobedience" because activism against the occupation was not enough.
At another panel on Zionism, JVP argued that Israel is an apartheid state ignoring equal rights and opportunities of Israeli Arabs, while also pushing the notion that Zionism should not exist. Zionism was a movement aimed at the reestablishment of a Jewish state.
JVP championed the case of convicted terrorist Rasmieh Odeh, who was responsible for a 1969 grocery store bombing that killed two Israeli students. JVP invited Odeh to speak at its conference in April, just after she pleaded guilty to naturalization fraud and agreed to be deported. Odeh claims her Israeli terrorism conviction resulted from weeks of torture. Though she has no evidence to support this, JVP embraces it as truth.
For a group supposedly inspired by their faith to work for justice and equality for both Israelis and Palestinians, Jewish Voice for Peace is disturbingly quiet about condemning terrorist violence targeting Israelis.