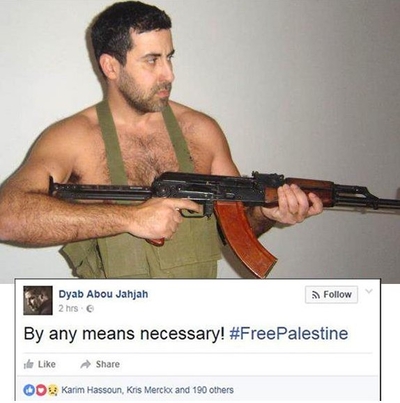 He's been called "a pimp for the Prophet" and the "Arab Malcolm X." He has celebrated the 9/11 attacks, been banned from entering the United Kingdom, and rejects Israel's legitimacy. He is pro-Hamas and outspokenly anti-Semitic. Yet his many followers see him as something of a savior, a voice of emancipation for Muslims in the West.
Now, the Lebanese-Belgian activist Dyab Abou Jahjah is starting his own political party in Brussels, aiming to represent minority groups and his vision for a "society of radical equality." The initiative follows yet another of his many efforts, the October 2014 founding of Movement X, "a civil rights movement that embraces [the] new demographic reality" of Europe and "stands for a radical interpretation of democracy," according to its mission statement.
Jahjah's fledgling party is likely to wield some influence in Belgian and European politics. The controversial 45-year-old has developed a strong following over the years, expanding his influence from Belgium to the Netherlands and France. In 2000, he founded the Antwerp-based Arab European League (AEL), which aimed to create what Jahjah called a pan-European "sharocracy," combining Sharia law with principles of democracy. And it was willing to go to extremes to create it: "You do not receive rights," declared the AEL on its web site at the time. "You take them." And for the AEL's slogan, Jahjah, a long-time fan of Malcolm X, adopted X's motto, "by any means necessary."
Similarly, although it has never been explicitly stated, Malcolm X seems also to be an inspiration for Movement X, not only in its name but in the promise of its mission statement. "We will shun no legitimate tool of action in our struggle," it says, and "Movement X will engage in all possible and necessary actions."
"Malcolm X was also against assimilation," Jahjah told the New York Times in 2003. "He fought for civil rights and he was also inspired by Islam."
While Jahjah has not taken on "any means necessary" in his own campaigns, he has been slow to condemn those who do. As the 9/11 attacks unfolded, he wrote in his 2003 autobiography Between Two Worlds, he and his friends could not contain their delight. Elsewhere, he has stated, "I felt a sense of victory when the Twin Towers collapsed." And although he speaks out against ISIS these days, it is not because of its terrorist acts against the West. Rather, he is concerned with its destruction of Muslims, and the bad reputation it is giving to Islam.
The AEL succeeded at first, expanding from Belgium to the Netherlands and France. But in 2006, as tensions escalated between Israel and Lebanon, Jahjah returned to his homeland to join the fight. He left behind a letter to his followers, posted on the AEL website: "Palestine is bleeding. Lebanon is bleeding. The whole Arab world is bleeding," he wrote. "I now wish to be with my people. The Zionists will not force us to our knees. They can destroy our roads and our airports, they can murder our children, but not our spirit."
With Jahjah no longer at the helm, the organization eventually faded out.
Even so, its influence continued. In 2008, a group of young Belgian Muslims penned an op-ed in the national daily De Morgen calling themselves "the AEL Generation." Three years later, AEL supporter Fouad Belkacem, who also shared Jahjah's admiration for Malcolm X, founded Sharia4Belgium, a radical Salafist group. The organization, which included others of the "AEL Generation," quickly became one of Belgium's most influential recruiters for the al-Qaida linked Syrian jihadi group Jabhat al Nusra and ISIS. In 2015, a Belgian court sentenced Belkacem to 12 years in prison for "belonging to a terrorist organization and brainwashing young men in Belgium into fighting a holy war in Syria."
Jahjah's AEL successor, Karim Hassoun, seems likely to follow him in his newest endeavor. Already, Hassoun has assumed a prominent role at Movement X.
That is not reassuring. Just two months after a terrorist assassinated four Jews at the Brussels Jewish Museum in May 2014, for instance, he staged an anti-Jew, anti-Israel demonstration in Antwerp. Videos from the event show him standing by as fellow demonstrators and Movement X supporters chant, "Khaybar, Khaybar ja Jahud." The chant refers to the 7th-century battle of Khaybar, and Mohammed's first conquest of the Jews. It is, in essence, a death threat.
Such chants, however, are not in keeping with Jahjah's own suave style. He always been far more sophisticated in his rhetoric. He does not call for the death of Jews and rarely mentions "Jews" at all. He prefers the word "Zionist," and Jahjah uses it often. When Antwerp's mayor sought increased security for Jewish centers after the Brussels Jewish Museum attack, Jahjah called him a "zionistenpijper" – a Dutch term that has no English equivalent, but means someone who performs oral sex on a Zionist. Similar anti-Israel and anti-Zionist statements abound on his blog and in his Twitter posts.
While he insists he is not anti-Semitic, several commentators have observed that Jahjah "uses the word 'Zionist' to refer to Jews, and then calls himself a fanatic anti-Zionist."
It was also "Zionists" who helped inspire Jahjah to return to Belgium in 2013 as tensions began anew that year between Lebanon and Israel. Jahjah, who claims he provided support for Lebanese troops in their war against Israel as a child in the 1970s, by then had had enough. Now married to his second wife and the father of two young girls, Jahjah wrote on Twitter: "#Lebanon Mission accomplished. .. new mission ahead... an old unfinished fight! I don't leave a job unfinished, count on it #Belgium!"
That new mission proved to be MovementX, coupled with a barrage of PR projects, including a new book, A Call For Radicalization, published in Holland in last September.
This, too, seemed aimed at stirring controversy. For a publisher, Jahjah selected Bezige Bij, a house originally formed as part of the resistance movement during the Nazi occupation, which now represents the country's most prominent Jewish writers (Harry Mulisch and Leon de Winter among them). Several authors – not all of them Jewish – left the publisher in protest.
Ever the publicity hound, Jahjah has not stopped there. Last summer, he was invited to join Dutch TV show "Zomergasten," on which prominent personalities are interviewed in depth. "Dyab Abou Jahjah did ... his best to come across as a friendly, reasonable man, but his opponents won't be fooled," Dutch national daily NRC Handelsblad observed the following day. Ron van der Wieken, director of the Jewish advocacy group Centraal Joods Overleg, added in the NRC, "Anyone who knows his work, knows that he is a dangerous, angry man who manipulates with images, and tells half-truths."
Now that "dangerous, angry man" is launching a political party in his own image: one that supports the Boycott, Divest and Sanction (BDS) movement against Israel, seeks to promote Islam as a force in European culture, opposes assimilation and integration – "I'd rather die than assimilate," he once said – and "will engage in all possible and necessary actions" to obtain its ends.
Jahjah's political support is likely to be limited, at least for now. He has competition from other Muslim-led political parties in Belgium, and Muslims remain a distinct, but rapidly expanding minority.
Nonetheless, his good looks and charisma have tended to favor him through the years. His anti-Israel rhetoric is likely to bring sympathetic voters from the left, even those who are not Muslim.
Even more, he speaks to a growing European Muslim population, a generation caught, in Jahjah's words, "between two worlds." Secular Europe has failed to reach far too many of them despite social programs, integration efforts, and various forms of outreach. And while other Muslim politicians offer options, none, it seems, speak quite so well to this group as Abou Jahjah has. They are a population seeking someone to speak for them, young men and women who are looking for a leader. Whom they choose to follow will reflect not just the success or failure of Dyab Abou Jahjah and his movement, but the successes or the failures of European leaders and the West.
Abigail R. Esman, the author, most recently, of Radical State: How Jihad Is Winning Over Democracy in the West (Praeger, 2010), is a freelance writer based in New York and the Netherlands. Follow her at @radicalstates.