Some weak excuses are being offered after two Canadian imams attracted media attention for giving incendiary, anti-Semitic sermons.
Ryerson University in Toronto announced it fired Ayman Elkasrawy from his teaching assistant position in the wake of reports he prayed for Allah to "purify" Jerusalem's Al-Aqsa Mosque "from the filth of the Jews."
He also prayed that anyone who "displaced" Muslims be destroyed: "Count their number; slay them one by one and spare not one of them, O Allah! Purify Al-Aqsa Mosque from the filth of the Jews!"
The Muslim Association of Canada suspended Elkasrawy, describing him as a "junior employee" whose sermon was "unauthorized." Toronto police are investigating Elkasrawy's remarks to determine whether his remarks constitute hate speech.
Elkasrawy apologized in a Feb. 20 Twitter post, saying he misspoke. "I firmly believe that all human beings, Muslim, Jews and people of all and no faith, deserve to live a life free of any threat to their safety."
In Montreal, calls for an investigation into similar comments by a Sheikh Wael Al-Ghitawi are growing after the Middle East Media Research Institute (MEMRI) posted videos showing him denying Jewish roots in Israel.
"Jews do not have any historical right to Palestine," Al-Ghitawi said in the 2014 sermon. He falsely asserted that "for long periods of time, there was not a single Jew in Jerusalem and Palestine."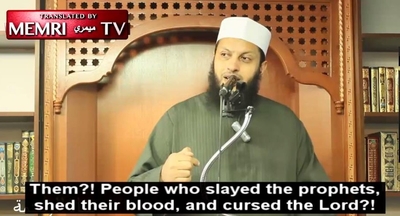 Jews "slayed the prophets, shed their blood and cursed the Lord," Al-Ghitawi said. He also called Jews the offspring of "Turkish mongols" who were "punished by Allah."
The comments need to be investigated, said Rabbi Reuben Poupko, co-chair of the Quebec branch of the Centre for Israel and Jewish Affairs.
Al-Ghitawi preaches at the Al-Andalous Islamic Centre, which already faced scrutiny for another 2014 sermon by a guest preacher who called for the death of Jews "one by one" and called for Allah to "destroy the accursed Jews."
The center tried to rationalize the comments, noting they came during the 2014 Gaza war between Israel and Hamas. It issued a statement claiming the imam used "clumsy and unacceptable phrasing," Canada's National Post reported.
These incidents are the latest in a series of radical statements from Canadian imams. Last year, MEMRI exposed a sermon by an imam in Edmonton, Alberta, who urged Muslims to "look forward" as "Rome will be conquered." Shaban Sherif Mady also glorified the restoration of the "rightly-guided" Islamic Caliphate – mirroring similar calls by the Islamic State's leader Abu Bakr al-Baghdadi.