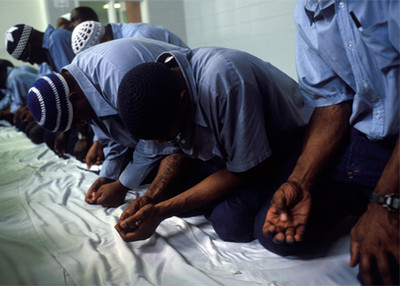 Captured terror suspect Salah Abdeslam now sits in an isolated cell inside a French maximum security prison. Before his extradition from Belgium this week, the individual responsible for the recent terror attacks in both Paris and Brussels that killed over 150 people was known to prison officials as a model inmate and is being called "a very good boy."
This is not the first time a captured Islamist terrorist received this type of description. In 2013, Indiana U.S. District Court Judge Jane Magnus-Stinson lauded the prison behavior of John Walker Lindh. Lindh, also known as the "American Taliban," is serving a 20-year sentence after he was captured by American forces in 2001 fighting alongside the jihadists in Afghanistan. He also carried an explosive device and was believed by many to be partly responsible in the death of a CIA Operations Officer named Johnny Micheal Spann. Spann was killed in 2001 when inmates in the Qali-Jangi prison at Mazar-e Sharif started a riot at the fortress in Afghanistan.
The riot occurred the same day Lindh was interviewed by Spann and another CIA officer. Some felt strongly that Lindh purposely withheld information he had regarding the pending prison revolt.
Appearing before Judge Magnus-Stinson, Lindh requested lightening some conditions of his confinement. The Bureau of Prisons opposed the changes, saying it believed Lindh remained a security risk.
The judge saw it differently, finding that although Lindh was convicted of the terrorist acts, "His scant, nonviolent disciplinary history during his incarceration has merited him a classification of low security."
In other words becoming "jail wise" can make you less of a threat to the United States. The term has become synonymous with inmates who have learned to work the system to their advantage by outwardly appearing to be compliant to prison rules without ever changing their criminal nature.
They don't call them "cons for nothing.
We know that Lindh did not attend any de-radicalization program specifically designed to treat radical Islamists because there is none in the United States prison system. What then of the terrorists incarcerated at Guantanamo Bay? As the administration pursues a policy of closing the prison at any cost, we find ex-detainees being sent to dubious locations.
Earlier this month, nine inmates were transferred from GITMO to Saudi Arabia. What awaits them there? The Saudis have a de-radicalization program that would be the envy of most captured jihadists.
Located at the al-Ha'ir prison outside of Riyadh, inmates can look forward to lavender walls, red carpet, queen size beds, a refrigerator, television and private showers. There is even an ATM so inmates can draw from their commissary accounts which the government replenishes every month. Married inmates are entitled to monthly conjugal visits with fresh linens, tea, and sweets provided on the nightstand.
The Wahhabi/Salafist teachings prominent in Saudi Arabia allow men to have up to four legitimate wives, so inmates can actually get a wife to visit once a week. The de-radicalization philosophy there is to see the terrorists as misguided, or simply suffering from an ideological sickness which can be easily corrected with the proper treatment. Sounds simple and extravagant.
No wonder terrorists are calling for the closing of the Guantanamo prison. They want to go to the Islamic version of Disneyland.
Yet even with all these perks, a very real threat of recidivism remains which the Saudis have had to face. Several graduates of the program have gone on to become suicide bombers right there in Saudi Arabia. Others returned to the battlefield in countries outside the kingdom.
Recent events both in Europe and the United States raise legitimate questions as to how best to handle terrorists once they are captured and incarcerated. Several terrorists in both the Brussels and Paris attacks had spent time in prison where they were radicalized by other jihadists. Authorities neglected to have an adequate post-release program in place to monitor those getting out of prison. After all, as far back as 10 years ago, French intelligence officials knew they had a serious problem with Islamic radicalization in the prison system. They also knew that the main radicalizing influence was by those already incarcerated for terrorist acts or providing material support for terrorists.
Officials in the United Kingdom have known for years that they had a problem, not only with radicalized inmates, but also with clergy who made things worse. Some Islamic prison clergy provided literature to inmates that espoused a strict Wahhabi-Salafist form of the religion. This not only led to more inmates being exposed to radical Islamist ideology, but it also created a form of extortion and intimidation, as shariah law was imposed on whole cell blocks.
Again, no effective post-release program was created so authorities could gauge whether released inmates were de-radicalized or continuing down the path of a committed jihadist.
The United States faces a similar problem with the pending release of a large number of convicted terrorists after years of incarceration. The Justice Department acknowledges we are not prepared to release them. No established de-radicalization or rehabilitation program is in place to deal with those individuals. The DOJ identifies three distinct groups of incarcerated international terrorists: those convicted of actual terrorism like 1993 World Trade Center bombers El Sayyid Nosair, Ramzi Yousef, etc.; those whose convictions included a nexus to terrorism like financing and support; and perhaps the most enigmatic, are those inmates whose conduct during their time in prison was connected to terrorism.
A recent example involves David Wright and Nicholas Rovinski, who were arrested in Boston last June and charged with providing material support for ISIS. Roviniski was still able to communicate with Wright through letters sent from the jail. Rovinski wrote to Wright last August, describing ways to continue their plans to take "down the United States government and decapitate non-believers," prosecutors allege in a superseding indictment. This is not the first time a terrorist in prison was able to send letters out to other terrorists.
Mohammed Salameh, convicted in the 1993 World Trade Center bombing and incarcerated in the maximum security federal prison in Florence, Col. managed to smuggle letters out to Mohamed Acraf. Acraf was one of the individuals responsible for the 2004 train bombing in Madrid, Spain that killed 200 people. This glaring security leak was outlined in a report by the Inspector General's Office which stated the Bureau of Prisons "is unable to effectively monitor the mail of terrorist and other high-risk inmates in order to detect and prevent terrorism and criminal activities."
This would be the same IG office that also stated the BOP was unable to effectively vet Islamic clergy or religious volunteers entering the prisons.
Something has to be done to stop the leaks. Yes, terrorists go into prison, yet they are not rendered harmless. Terrorists also eventually complete their sentences and get out of prison. A study by the Centre on Religion and Geopolitics (CRG), found that 65 percent of Islamic terrorists spent time in prison during their careers.
It is therefore incumbent that there be a comprehensive strategy that deals not only with capturing radical Islamic terrorists but also effective confinement and post release monitoring. U.S. Rep. Stephen Fincher, R-Tenn., has sponsored H.R. 4285, which would tighten some of the security lapses now occurring in regard to terrorists in prison. For example, federal prison volunteers would be screened for connections to terrorism. This would be an effective first step in initiating the strategy. Legislating prison reform is nothing new.
Prison officials nationally routinely face federal mandates on how to operate. Failure to comply often leads to funding cuts. Perhaps it is time to tighten the purse strings until an effective counter-terrorism program for corrections is in place nationwide. The ultimate motivation should come from a steadfast desire to keep us safe from those committed to do us harm.
IPT Senior Fellow Patrick Dunleavy is the former Deputy Inspector General for New York State Department of Corrections and author of The Fertile Soil of Jihad. He currently teaches a class on terrorism for the United States Military Special Operations School.