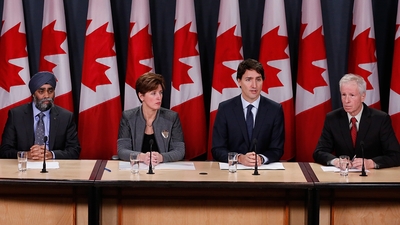 Justin Trudeau led his Liberal party to victory in last October's Canadian federal election by branding himself as the champion of "change" from the decade-old Harper Conservative government that most Canadians wanted to be rid of. "Change" was promised on almost everything; from taxation to environmental policies to new relationships with indigenous peoples and much more.
"Change" was also the message on several international matters with promises to increase the numbers on Syrian refugee resettlement from 10,000 to 25,000 by the end of 2015 and a promise to end Canada's combat mission in Iraq.
The commitment to increase the number of Syrians resettled in Canada was a blatant case of political one-upmanship on Trudeau's political rivals and, as subsequent events would show, it was made without considering the operational realities of what was necessary and if it was even possible. This has been made clear since the election, as the supposed deadline of 10,000 persons resettled by the end of December was missed, the costs of the initiative rose from $250 million to $1 billion and the new arrivals are stuck in hotels as the community readiness and support is not what was assumed.
When it became apparent that the original targets would not be met, the government indicated that to expedite the process, screening would be done post-arrival. Fortunately, the operational people at the Royal Canadian Mounted Police (RCMP), Canada Border Services Agency (CBSA) and Canadian Security Intelligence Service (CSIS) appear to have persuaded new Public Safety Minister Ralph Goodale that, to put it mildly, this would be unwise. The result was deployment of Canadian personnel in Lebanon and Turkey to assist in the screening and creation of biographical and biometric data which was shared with the United States for input before approval and departure of the refugees for Canada.
This cross border co-operation was only briefly mentioned, but was confirmed in a Jan. 20 letter from the Canadian ambassador to the United States at Senate Homeland Security Committee hearings into Canada's Syrian resettlement program. In short, appropriate security measures have been taken to address the legitimate concerns created from a politically-motivated policy.
The second major international policy issue on which Trudeau committed to change involves Canada's role in fighting the Islamic State in Iraq and Syria (ISIS). The previous government joined the U.S.-led coalition and was contributing six fighter jets for air strikes against ISIS as well as supplying aircraft for reconnaissance, targeting and refueling. Canada also deployed 600 military personnel as part of the joint Iraq Task Force with an additional 69 personnel in a "Train and Assist" mission to help the Peshmerga in the Kurdistan province of Iraq.
A year before the election, Trudeau gained national attention (to put it politely) when he gave a bizarre interview in which he mocked Canada's participating in airstrikes as some kind of macho "whipping out our [fighter jets] to show how big they are." He was rightly mocked for his vacuous remarks at the time but the die was cast and pulling out of the combat mission became Liberal mantra during the election. Once elected, the challenge became how to achieve it without causing serious damage to Canada's international relationships and to maintain some semblance of credibility domestically.
Trudeau made a wise choice in selecting Harjit Sajjan as Canada's new defense minister. Sajjan is a former Vancouver Police officer who also served three tours with the Canadian military in Afghanistan, where he specialized in developing on the ground connections to support intelligence led operations. He has also had to stoically stick to the script that "change is coming" while the details were being worked out and the national media became increasingly skeptical.
On Monday, co-incidentally while Parliament was adjourned, Prime Minister Trudeau, flanked by Minister Sajjan and the less-than-inspiring Foreign Affairs Minister Stephan Dion, released the plan for 'change' in Canada's ISIS strategy.
The specifics of the new Canadian strategy include:
Withdrawal of the six Canadian fighter jets from the bombing mission by Feb. 22.
Maintaining aircrew and support personnel for one refueling aircraft and up to two aerial surveillance aircraft.
Tripling (to 210) the number of Canadian Forces members helping train local ground troops (in Kurdistan).
Adding 230 Armed Forces members to the Joint Task Force-Iraq.
$840 million in humanitarian assistance over three years.
$270 million over three years to "build local capacity" in Jordan and Lebanon to help them deal with refugees.
An increased diplomatic presence in the region.
Trudeau's plan got polite "support" from Canada's major international allies, including, most importantly, his intellectual soulmate, Barack Obama. Domestically, there has been recognition of the potential value in helping Jordan and Lebanon financially and in significant "humanitarian assistance" funding, although it will also be advisable to ensure these funds are not used for smartphone upgrades or paying for human smuggling into the European Union.
The biggest question is how these measures can be honestly described as ending a combat mission. Trudeau's claimed moral aversion to bombing in Iraq and Syria apparently doesn't include conducting air surveillance and refueling for other countries to conduct the bombing. It also seems somehow to conclude that expanding the training and assisting of local ground forces to fight ISIS is not part of a combat mission.
It is worth noting that the new policy does not include funding for Turkey, and that the increased military training that is being provided to the Kurds to whom the Turks are openly hostile and who are likely headed towards independence from Iraq and Syria. Stay tuned because nothing is ever certain in the Muddle East.
Domestically, however, "change" can now be claimed in Canada's ISIS strategy as politics has trumped pragmatism.
Harjit Sajjan's name was incorrectly spelled in the original version of this story. We regret the error.
Scott Newark is a former Alberta Crown Prosecutor who has also served as Executive Officer of the Canadian Police Association, Director of Operations to the Washington D.C.-based Investigative Project on Terrorism and as a Security Policy Advisor to the Governments of Ontario and Canada.