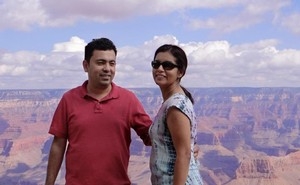 A Bangladeshi-American writer who endured threats from Islamists over his secular views was hacked to death in Dhaka late Thursday, reports say.
Avijit Roy, 42, was a naturalized American living in Georgia. He was a frequent critic of radical Islamic doctrine. At least two attackers descended on Roy and his wife, blogger Rafida Ahmed Bonna, near Dhaka University. She was hospitalized with several stab wounds and a severed finger.
No arrests have been made and no suspects identified. But police reportedly found two machetes and a finger at the scene. The couple was in Dhaka to attend an annual national book fair where two of Roy's works were being promoted.
The Investigative Project on Terrorism profiled Roy last year after death threats against him and a top Bangladeshi bookseller prompted the company to stop selling Roy's books. He said he felt safe in America, but took the death threats seriously. "Who knows, some miscreants might take him up and act on it."
The threats came from Islamist Farabi Shafiur Rahman, allegedly a member of the radical Jamaat-e-Islami, who issued them publicly but remained free.
Rahman noted on Facebook that "Avijit Roy lives in America and so, it is not possible to kill him right now. But he will be murdered when he comes back." The threat apparently proved all too real Thursday night.
The threat also targeted the bookseller Rokomari.com, invoking the name of blogger Rajib Haidar, who also was hacked to death by Islamists in February 2013. Haidar, known as Thaba Baba, advocated for war crimes tribunals for alleged leaders of the 1971 killings of intellectuals and leaders after Bangladesh's war of independence against Pakistan. Rokomari stopped selling Roy's books in response.
In an article last fall, Roy described how his book, The Virus of Faith, was well received and became a best-seller at last year's book fair. But the book also "hit the cranial nerve of fundamentalists," he wrote. "The death threats started flowing to my inbox on a regular basis. I suddenly found myself to be a target of militant Islamists and terrorists."
In the essay, Roy discussed the problem of Islamist violence, but struck a defiant tone.
"Well, I am still alive despite Farabi [Rahman]-threats- writing a blog remembering the Blasphemy day," he wrote. "My books are also going well; at least this is what I hear from my publishers. Apparently, readers did not need Rokomari to get my books ... There is nothing much to complain about life right now. But that is not the point I would like to make here."
Roy died for having ideas that radical Islamists considered blasphemous. He joins martyrs for free expression, like those at Charlie Hebdo who were slaughtered in Paris last month.