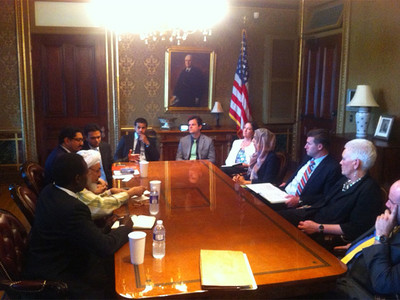 Sheikh Abdullah Bin Bayyah posted this photo of his June 13 White House meeting.
The Investigative Project on Terrorism has uncovered evidence that radical Muslim cleric Sheik Abdullah Bin Bayyah, who
met with
top White House officials last month, personally urged Muslim nations to aid the Palestinian terrorist groups in Gaza militarily.
"Muslim rulers are required to rescue their fellow Muslims in many ways, through financial, military and diplomatic support. Everything should be done to stop this terrible, ongoing massacre in Gaza," Bin Bayyah wrote in April. The posting was removed following the release of IPT's June 26 report about Bin Bayyah's White House visit. "I also call upon our Palestinian brothers to unite all resistance movements in the same name and under the same banner. And it is the duty of all Arabs to help them in the name of Islam, logic, pan-Arabism and humanity."
The comment lines up with the position of the International Union for Muslim Scholars (IUMS), headed by Sheik Yusuf Qaradawi. Bin Bayyah has been its vice president for 9 years. The group notably issued a December 2012 communiqué praising Hamas's "strategic victory … in the dignified Gaza" and calling for Israel's destruction.
Bin Bayyah notably declared that Palestinian terrorists have the right to all "kinds of resistance, including the use of weapons."
The sheikh issued a fatwa on January 19, 2012 stating that Muslims could satisfy their zakat obligations by giving their money to "fighters in the cause of Allah" (those undertaking a military jihad) to "buy weapons."
"He ... avoids any specifics at all, giving the reader the room to use his opinion to finance causes like Hamas, Hizballah, or other radical Islamists," Zuhdi Jasser, president of the American Islamic Forum for Democracy, said.
Islamic charities such as the Holy Land Foundation and others have notably been convicted of laundering zakat donations to fund Hamas or other terror groups.
Bin Bayyah also condemned the linking of Islamic charities with terrorism, calling it "sham propaganda."
White House officials justified meeting with him on June 13 because he denounced al-Qaida in 2010 and because of work he did with the Bill and Melinda Gates Foundation. After the IPT reported on his visit, a spokesperson told The Daily Caller that the White House invited him to tackle "a wide range of issues including poverty, global health efforts and Bin Bayyah's efforts to counter the al Qaeda narrative."
"Bin Bayyah may be anti-Al Qaida because he is against the targeting of what he defines as civilians. He simply detests 'freelance jihadists' or 'jihadi-anarchists' preferring more ordered Islamist statists within his Salafi circles," Jasser said. "These quotes [about Palestinian terrorists] in essence reveal that he may disagree with the means and authority Al-Qaida may use but in fact the ends of a global neo-Caliphate and Islamist hegemony he clearly promotes.
"Here, he clearly endorses the adoption of all militant causes initiated by what he deems to be legitimate Islamist grievance movements from across the world."
The White House did not respond to repeated IPT requests for comment.
Additionally, the administration has not addressed any questions related to Bin Bayyah's support for Hamas. It has also been silent about criticism of its reaching out to the IUMS in the light of the group's calls for Israel's destruction, and its 2004 call for the killing of U.S. troops in Iraq. Qaradawi, the IUMS's founder, is considered so radical he has been barred from entering the United States.
Hosting Bin Bayyah in the White House was a mistake, House Homeland Security Committee Chairman Michael McCaul, R-Texas, told the IPT.
"The Obama administration sends a strong message whenever they accept or facilitate meetings with foreign leaders or officials," McCaul said in an emailed statement. "The administration's narrative of the terror threat decreasing does not mirror the reality that al Qaeda and Islamist extremism is still a growing threat to the homeland, and the actions of officials in the White House should reflect that reality."
Inviting Bin Bayyah to the White House reveals an ideologically-motivated "tone deafness to what constitutes a radical," Jasser said.
Although Bin Bayyah has stated his opposition to Al-Qaida's tactics for creating a global Caliphate, his writings show that he supports the idea of Muslims being united under a single flag defended by a single army.
"[T]he basic principle is that the [Muslim people] ought to be under one banner and one ruler. This is the basic principle prescribed by Islam. But the status quo shows that the ummah has been disunited for a long time, its enemies have grown significantly, and its magnificence has declined," Bin Bayyah wrote in a January 2012 fatwa on his website. "The ummah should have one army to protect it. It needs no foreign armies or interference in any form."
Bin Bayyah suggests that the Organization of Islamic Cooperation (OIC) gives hope for pan-Islamic unity and a united federation. He blames a "fierce campaign launched by the enemies of the ummah" through colonialism, efforts to spread democracy and "regaining Jerusalem through crusade" efforts for lack of Muslim unity. The OIC Charter guarantees the Palestinians' right to replace Israel with a state of their own that has Jerusalem as its capital.
"Bin Bayyah here obviously reveals that he not only believes in the dominance of the Islamic state but he thus through citizenship links every Muslim's faith practice to the military obligations of jihad which scholars like him determine," Jasser said. "Where does he differ from Sheik Awlaki? It is not clear. We are to assume that 'scholars' like him will not take Muslims across the planet into a collective war without 'just cause' to 'rescue their fellow Muslims,' 'under one banner' and thus 'unite all resistance movements."
Connecting Islam with terrorism involves a "deliberate negligence of the objective facts," which stems from "ignorance," according to Bin Bayyah.
If freedom and democracy on the Middle East was on the White House's agenda when officials met with the cleric, then the administration should take a closer look at his writings, which show that he considers the Western approach to freedom and democracy un-Islamic.
Bin Bayyah's view of democracy and free speech is scarcely any different from that shown by the recently deposed Muslim Brotherhood regime in Egypt that cracked down on dissidents claiming they had insulted Islam.
In Bin Bayyah's view, free speech is subject to the limitations imposed by Islamic sharia law – particularly when it comes to speech and "harmful values in the society."
And he seemed to criticize the United States in an essay last year when he wrote that "the most boastful countries in terms of democracy are the most aggressive and corrupt countries in the world."
Bin Bayyah likely approved of the Brotherhood's March arrest of comedian Bassem Youssef for "insulting Islam." "Basically, it is definitely prohibited to criticize, mock at, or deride of the right religion and whoever does this bears enormous sin," Bin Bayyah told the London-based al-Sharq al-Awsat newspaper in January 2012.
Bin Bayyah rationalizes Palestinian terrorism, criticizes democracy, and supports blasphemy laws and other restrictions on free speech and other basic freedoms. But the White House appears unwilling to criticize or isolate those views. Instead, it ignored his call for Muslim rulers to give military assistance to Palestinian terrorist groups and opened the White House doors to Bin Bayyah and defended his invitation because he said bad things about al-Qaida.