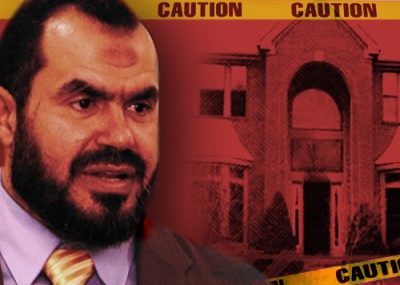 Can a hate peddler be the victim of a hate crime?
The people at the Council on American-Islamic Relations (CAIR) seem to think so. It is not clear whether they agree that Salah Soltan, a former leader in the Columbus, Ohio Muslim community who is hailed by some Islamists as an influential scholar, is a hate monger. He has issued fatwas sanctioning the murder of Zionists, and who has said the 9/11 attacks were "planned within the U.S., in order to enable the U.S. to control and terrorize the entire world."
Soltan's home in Hilliard was nearly destroyed early Monday morning in a fire described as arson by local investigators. Soltan's adult son and a roommate escaped without injuries. CAIR issued a statement asking the FBI to investigate the fire as a hate crime, noting two recent incidents in which anti-Muslim graffiti was painted on the house.
This is not to minimize the severity of the crime, which thankfully resulted in no injuries, but the case serves as an example of how dangerous radicalism like Soltan's gets sugar-coated by his supporters and by the media.
CAIR's release about the fire makes no mention of his history of incitement, or of the fact that it worked with Soltan, who also helped establish the Muslim American Society and spent years in Ohio running the American Center for Islamic Research and lecturing at the Islamic Society of Greater Columbus. There is no record of CAIR condemning Soltan's radicalism when he lived in Ohio or since he left the country for Bahrain about five years ago.
Soltan signed CAIR's 2005 fatwa against terrorism. But he has repeatedly praised Hamas, endorsing "the creed of Jihad and Resistance" while rejecting the very concept of a peaceful settlement to the Palestinian-Israeli conflict. He serves on the board of trustees for influential Muslim Brotherhood theologian Yusuf al-Qaradawi's International Union for Muslim Scholars.
Media reports from Columbus news outlets refer to Soltan as a "controversial Islamic scholar."
Ricky Gervais hosting the Golden Globes again was controversial. College football's system of declaring a champion is controversial. But Soltan is more than "controversial:" by his words and actions, he has spread the most virulent anti-Semitism and endorsed violence.
In August, Soltan issued a fatwa during a rally in Cairo saying "whoever meets a Zionist in Egypt, it is his right to kill him."
During the Jewish holiday of Passover in 2010, Soltan appeared on the Hamas-affiliated Al-Aqsa television station in Gaza where he invoked the blood libel against Jews. Zionists killed a French doctor and his nurse, Soltan claimed, "Then they kneaded the matzos with the blood of Dr. Toma and his nurse. They do this every year."
Osama bin Laden's terrorism, Soltan said last year, is not as bad as American terrorism because bin Laden acted "in the defense of Islam and the resistance against the occupiers," while the United States acts only "in defense of hegemony, oppression, and tyranny."
CAIR, which has a record of touting alleged hate crimes which do not turn out to be right, does not allow consideration that Soltan may not have been targeted solely for his faith; the house that was set on fire also is the listed address for Soltan's former research center.
Soltan may have returned to the United States in the wake of the fire. Egypt's Al-Ahram newspaper reports that officials there wanted to question him regarding insults he may have made toward the Egyptian army, but that was postponed "to allow him to travel urgently to the US."
An article on Soltan's website blamed "the Zionist entity" for the fire, vowing that "such brutal attacks will not deter us from continuing our struggle and jihad in the way of God Almighty in order to achieve the liberation of al Aqsa, the prisoners Jerusalem and Palestine."
Rather than believing two wrongs don't make a right, Soltan took the destruction of his property to call for jihad against Israel.
The FBI defines a hate crime as a regular offense "with an added element of bias" including race, religion, sexuality and other factors. In other words, because the victims are black, or gay, or Muslim, they are targeted for the crime.
If Salah's home was targeted, it likely wasn't merely due to his faith. That doesn't make it any less deplorable. But neither is it a hate crime.