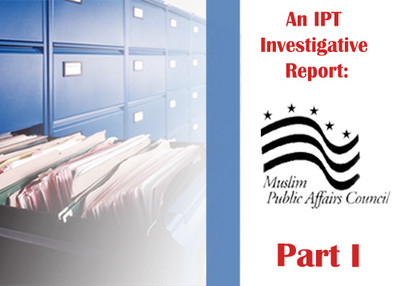 Far from being the zealous champion of civil rights that it presents itself to be, the Muslim Public Affairs Council (MPAC) has followed a consistent pattern of defending designated terrorist organizations and their supporters, opposing U.S. counterterrorism efforts and spouting anti-Semitic rhetoric.
That is the key conclusion drawn in a thorough, carefully documented 88-page report on the organization prepared by the Investigative Project on Terrorism (IPT). The first of a three-part breakdown of that report can be found here.
It shows the true nature of MPAC's philosophy and intentions, which are matters of serious import, as the group has been accepted as a liaison partner with law enforcement agencies in both the George W. Bush and Obama administrations.
Main Justice, an independent news organization that covers the Justice Department, reported January 12 that MPAC is "one of two Muslim-American organizations now attending regular meetings led by the Civil Rights Division and including government officials [from] the FBI, Department of Homeland Security and other agencies."
Beginning life in 1986 as the Muslim Political Action Committee of the Islamic Center of Southern California (ICSC), MPAC split off two years later and adopted its new name-- one that managed to preserve the same acronym. Though it is now independent, the two organizations remain closely intertwined.
Much of the IPT report details MPAC's long history of efforts to sow distrust between Arab Americans and the broader American community, incite hatred of Jews and defend suspected domestic and international terrorists.
Before it launches into a litany of such specifics, it cites the philosophical links between MPAC's "founding fathers" and the Muslim Brotherhood founded in 1928 by Hassan al Banna -- a rigidly conservative and highly secretive Egyptian-based organization dedicated to resurrecting a Muslim empire.
Al Banna is credited with developing the motto that the Brotherhood still uses today: "God is our purpose, the Prophet our leader, the Quran our Constitution, jihad our way, and dying for God our Supreme Objective."
Hassan Hathout, who described al Banna as his mentor and "the person who most influenced my life," was to become a co-founder of ICSC. His brother Maher helped in that effort and, when MPAC was split off, became its senior adviser.
Both brothers had immigrated to the United States after involvement with the Brotherhood leading to their arrests in Egypt for "Muslim Activism." Hassan later expressed his hopes for relaunching the Islamic movement from a U.S. base. "Who knows," he wrote, "maybe the infertile soil that would not accept the seed of Islam in the East, might be replaced by a more fertile soil that would accept Islam in the West…This is the beginning of the Islamic Movement in the United States and in the West, and you are a part of this."
Sharing the Hathout brothers' Islamist ideology is another of MPAC's founders, Mohamed Fathi Osman. Osman, an Egyptian-born scholar and author, has gone beyond simply defending Islamic movements to explicitly condoning jihad. "Jihad is allowed in Islam against those who attack the faithful…the jihad of Islam is no more nor less than any legitimate struggle for justice," he argued in a 1987 article entitled, "The Anatomy of Terrorism."
When first organized, MPAC focused its activities largely on the Israeli-Palestinian conflict, most notably supporting the Palestinians during the first Intifada in 1987-88. In the interim, it has evolved into a social welfare organization that describes its objectives as "working for the civil rights of American Muslims, for the integration of Islam into American pluralism, and for a positive, constructive relationship between American Muslims and their representatives."
Lofty goals indeed, but at odds with what the record -- drawn from the organization's ties and membership, its statements and publications -- shows to be its real agenda.
The disconnect can be seen, for example, in considering the history of Edina Lekovic, responsible in her role as MPAC's spokeswoman for preparing the statements that show the group's reasonableness and good intentions.
But this is the same Edina Lekovic who was an editor of Al-Talib, a Muslim student magazine, while studying at the University of California at Los Angeles in the late 1990s. She is listed as managing editor in the July 1999 issue -- one that features Ayatollah Khomeini and Osama bin Laden on its cover, with a headline' "The Spirit of Jihad," and describes bin Laden as a "freedom fighter and philanthropist."
By the time this paean to bin Laden ran, Al Qaida had issued a declaration of war against the United States and a fatwa declaring it to be "an individual duty for every Muslim who can do it in any country in which it is possible to do it" to kill Americans and their allies. And it had carried out the bombings of U.S. embassies in Kenya and Tanzania.
Nonetheless, Al-Talib proposed, "When we hear someone refer to the great Mujahid Osama bin Laden as a 'terrorist,' we should defend our brother and refer to him as a freedom fighter; someone who has forsaken wealth and power to fight in Allah's cause and speaks out against oppressors."
And, perhaps, a hero of civil rights? The first of three installments of the MPAC report can be read here.