Lawsuit Details Depth of Berkeley Jewish Student Harassment
IPT News
August 12, 2011
http://www.investigativeproject.org/3100/lawsuit-details-depth-of-berkeley-jewish-student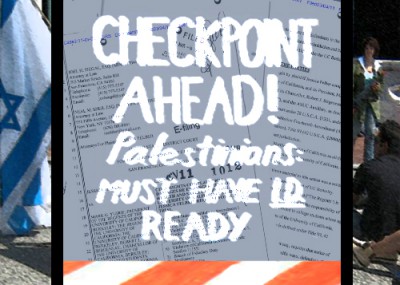 A pattern of harassment and physical assaults by members of two Muslim student groups at the University of California, Berkeley crosses the line from allowing free speech into creating a hostile campus environment, an attorney representing two students argued in court papers filed this week.
Jessica Felber and Brian Maissy are suing the University of California and Berkeley President Mark Yudoff, along with Berkeley's chancellor, the Regents of the University of California, the Associated Students University of California and Berkeley's dean of students for failing to protect them from verbal and physical assaults.
"Defendants assert that this Court is powerless to stop this conduct, claiming that these student groups have 'First Amendment Rights,'" wrote attorney Joel Siegal in response to a defense motion to dismiss. "But these Defendants have an equal obligation to protect the health and safety of Jewish students under Title VI," which requires federally funded educational institutions protect students against discrimination.
The lawsuit claims Berkeley has tolerated years of programming by anti-Israel student groups Students for Justice in Palestine (SJP) and the Muslim Students Association (MSA) despite reports of Jewish students being cursed at, threatened and assaulted.
SJP's stated goal is to promote a "just resolution of the plight of the Palestinians" and employs boycott, divestment and sanctions campaigns as well as mock checkpoints and mock "apartheid walls" on campuses throughout the U.S. to promote that cause.
MSA also has a history of supporting radicalism on Berkeley's campus. In 1995, the MSA at UC Berkeley conducted a rally in support of Hamas. In April 2002 the MSA publication at UC, Irvine, Al-Kalima, voiced its support of Hamas and Hizballah. MSA was established by the Muslim Brotherhood in 1963 to serve as a platform to spread Islam and Islamic ideas to college campuses in the U.S.
By continuing to authorize and fund SJP and MSA as official student organizations, the lawsuit alleges, the university allowed itself to become a dangerous and threatening environment for Jewish students. SJP and MSA sponsored "Apartheid Week" events, specifically the mock checkpoints that they stage on campus, create an actionable hostile environment harassment.
Students at the checkpoints carry "realistic looking assault weapons—'imitation firearms'—as part of the event," Siegal wrote, citing a California statute prohibiting such reenactments unless they are authorized by the school.
Declarations by Felber, Maissy, and Berkeley Professor Mel Gordon detail examples of incidents that they felt crossed the line into intimidation and harassment. Each complains that school officials failed to discipline the people involved.
Felber, who graduated in December, said she was physically assaulted on campus by an SJP member in March 2010. Hussam Zakharia, then leader of SJP, rammed a shopping cart into her back during simultaneous "Israel Apartheid Week" and "Israel Peace and Diversity Week" events.
She was treated for her injuries and later received therapy as a result of the incident. After that, Felber said, she was so intimidated that she was afraid to leave home without an escort.
Felber said she already felt intimidated on campus by SJP before that incident. She described an SPJ speaker at an event singling her out and calling her a "terrorist supporter" in front of 100 people.
Brian Maissy, a current student, similarly described the fear created by the annual "Apartheid Week" events. Maissy, who wears a yarmulke, said the students with the fake assault rifles yelled, "Are you Jewish?" at him and other passersby. The event occurs at the entrance to campus and is difficult to avoid, Maissy said.
University officials did not act to protect the students, he said, and he fears for his safety on campus.
The situation dates back at least a decade, according to Mel Gordon, a tenured theater professor at Berkeley. He described being physically attacked by SJP members in 2001 as they protested outside a campus building. When Gordon tried to go inside the building to teach a class, a student beat, spit upon, and kicked Gordon in the stomach.
Gordon sued his attacker and said he was awarded restitution in the case and a member of SJP was convicted. But, to his knowledge, SJP was not suspended or disciplined by school officials. The university continued to sponsor SJP and MSA as student organizations.
He described a letter he sent to school officials in 2008 after an altercation between members of SJP and the Zionist Freedom Alliance. In it, he said he told the chancellor about his experiences with SJP and urged something be done. He did not receive a response.
Jewish students also complained to school officials in 2008, saying they did not feel that the UC police and faculty were doing anything to curb SJP's intimidation and harassment. The officials denied that there was an anti-Semitic crisis on campus and "actively and intentionally" allowed it to continue, lawyers for the students say.
The lawsuit seeks damages, a five-year ban on MSA and SJP on campus, and a loss of university funding for the groups. The plaintiffs also argue that UC Berkeley must create an independent fact-finding body to handle student complaints of hostile environment situations on campus.
The case is scheduled for trial September 22.
Related Topics: Campus, Civil suits, Muslim Students Association (MSA), University of California Berkeley, Students for Justice in Palestine, Muslim Students Association, Campus, Civil suits, Muslim Students Association (MSA)
Reader comments on this item
Blaming the Victims
Submitted by Irit, Sep 17, 2011 18:32
a s is a typical Islamic thug. Not content with demonizing, dehumanizing, bullying and physically assaulting innocent Jews, especially women and children, he wants to blame his disgusting behavior on his victims.
Get help, a s. There are many excellent Jewish psychiatrists who can provide needed therapy for you.
shame on the pro-Israel lobby!
Submitted by a s, Sep 17, 2011 11:31
There is no context to this article, these students who are filing complaints are not interested (more in political opposition) of the cause that SJP or MSA are advocating for: End Israeli Apartheid. The pro-Israel lobby just wants groups like SJP and MSA to be silenced, censored and banned - so crying wolf constantly is what they do across all campuses in North America and Euopre. It just shows who really is violent (systematically) - the pro-Israel lobby - who is suing because of isolated incidents of altercations between person to person. Isnt that what "democracy" and "education" is about, divergence of thought? Because UC-Berkeley campus is allegedly not safe spaces for supporters of war criminals (Netanyahu) and apartheid states (Israel), then the campus is not "safe". Actually - it seems to be quite safe and respectful of human rights law. What a crazy society! A minority of people with ill-interests is trying to dominate the majorities freedom of speech by labelling them as unsafe. Whats unsafe and threatening to campuses is the pro-Israel lobby creating lawsuits to ban groups that speak truth to power. If the pro-Israel lobby runs these universities, then education is even more compromised. SHAME!
Yudoff
Submitted by Israel, Aug 14, 2011 20:32
Mark Yudoff is married to Judy Yudoff a past president of the United Synagogue of Conservative Judaism. I know that they maintain a kosher house and that Judy worked for Jewish issues from Texas to Minnesota to California and nationally as well. I think Mark is the President of the University of California, not just Berkeley and would be surprised that he would not support action against these hate mongers.
It's about time!
Submitted by Jason, Aug 13, 2011 17:50
I applaud Mr Sher and the brave students who filed this suit. It's time that Universities, both American and foreign, draw the line between free speach and threats, harassment and intimidation. I, for one, think that hate speach should be banned in this country like it is in some other countries. In addition, organizations like these that espouse support for terror groups should also be banned from campuses and deemed illegal everywhere.
Surprised?
Submitted by Scott, Aug 13, 2011 16:44
This should be no surprise. Ivy league schools in this country are bastions of uber liberal, know better than you, low-life professors. These are the same people who screamed bloody murder in the '60's when they thought their speech was being suppressed. Epically ironic that they now actively work against and support those who violently work against anybody whose opinion differs from their own.
More Reader Comments
Comment on this item