The Tangled Web of the GZM Imam's Organizations Raises Questions
IPT News
August 26, 2010
http://www.investigativeproject.org/2134/the-tangled-web-of-the-gzm-imams-organizations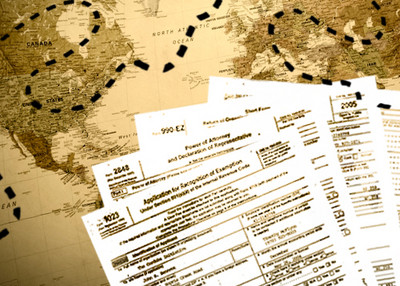 The backers of the Ground Zero Mosque have virtually no money, one of the group's leaders says, and plan to create another nonprofit organization that would further complicate the already labyrinthine financial network surrounding the project.
Daisy Khan, one of the leaders of the project, told supporters over the weekend that the mosques organizers have "nothing in the bank" for their effort. Khan said there is no money and that she doesn't know of anything that has been raised.
Tracing the money going to the two nonprofit groups led by Khan and her husband and partner in the mosque project, Imam Feisal Abdul Rauf, requires a world map.
Federal tax records show Rauf and Khan direct the two groups supporting the mosque project – the Cordoba Initiative and the American Society for Muslim Advancement (ASMA). Those two organizations, along with Soho Properties, which owns the site of the proposed mosque and community center, are coordinating the project.
However, federal tax records show the Cordoba Initiative has not listed contributions from at least two charitable foundations that have supported its activities. In another case, a foundation gave money to Cordoba's sister group, the American Society for Muslim Advancement (ASMA), that was supposed to go to Cordoba; that money was also not listed in Cordoba's tax records.
Cordoba has failed to list almost $100,000 in charitable donations since 2007, federal tax records show.
Between 2006 and 2008, Cordoba's charitable tax filings with the IRS show a total of $31,668 in gross receipts. However, tax filings from two charities that have donated to Cordoba or ASMA show more than $130,000 to donations to Cordoba during that time.
They include:
$98,000 from 2006 through 2008 from the Deak Family Foundation, a Rye, N.Y.-based nonprofit organization.
$32,000 from the William and Mary Greve Foundation of New York in 2007.
The Greve foundation also gave ASMA $25,000 in 2008 "to support Cordoba Initiative in improving Muslim-West relations." There is no record in the Cordoba Initiative's tax filings that shows it received $25,000 from ASMA. Greve foundation officials did not respond to requests for comment.
The Deak foundation's contributions to Cordoba were routed through ASMA, the religious organization Rauf founded in 1997 as the American Sufi Muslim Association, said R. Leslie Deak, the foundation's director. The Deak foundation has also given more than $100,000 between 2006 and 2008 to the National Defense University Foundation. That group supports activities at the National Defense University, a Pentagon think tank in Washington.
However, Cordoba's tax filings between 2005 and 2008 show no contributions from ASMA.
The missing donations are troubling, said Bob Blitzer, a former FBI counterterrorism chief now in private business. "Obviously, they're not running things very well," Blitzer said. "It's the whole issue of the money is really bothering the public. Does he have the money?"
Blitzer said the missing money could be due to theft, embezzlement or sloppy bookkeeping. "They're really open for somebody who, particularly the government since they're filing as a nontaxable institution, could look into why the money is missing," he said.
As a religious organization, ASMA is exempt from filing the same federal tax forms as Cordoba. That means it is not required to name its donors, or reveal how much it receives in donations or how it spends its money in federal tax documents.
The church status for ASMA comes from the group's original 1997 filing with the IRS. ASMA was originally created as the American Sufi Muslim Organization and stated on its federal application it would provide "facilities for the local Muslim community in offering five time daily prayers" and other religious functions. As a result, the group was granted church status and was exempted from filing the traditional tax forms and financial disclosures associated with other charities.
The group changed its name from the American Sufi Muslim Association to the American Society for Muslim Advancement (ASMA) in 2006, New York state corporation records show. Its current web site mentions nothing about the group hosting prayer services. Instead, it cites five key parts of its mission, to educate, incubate, advocate, organize and mobilize on behalf of Islam.
Their church status, former FBI counter-terrorist chief Blitzer said, could also be subject to an investigation. "The bigger issue is, if they got tax exempt status as a church and they're now not having services, how can they maintain their status for any length of time?" Blitzer said.
A financial statement found on ASMA's web site for the fiscal year ending June 30, 2009, also does not mention religious services as one of the group's functions. The statement says ASMA is "a non-profit intermediary organization established in 1997 and dedicated to reshaping the discourse about Islam."
The same financial statement lists Cordoba as a "related party." The statement says Cordoba is a separate corporation that will "work with ASMA as a sister organization sharing the same infrastructure, space, utilities, vendor services and co-sponsorship of programs to remain fiscally lean and keep operational costs low for both."
The statement, however, does not show that ASMA sent any money to Cordoba between July 1, 2008, and June 30, 2009.
During that time, ASMA reported receiving $1,382,194 in grants, the financial statement shows. Donors included the United Nations Population Fund, $53,664; the Dutch government's MDG3 Fund, $481,942; the Hunt Alternatives Fund, $15,000; the Carnegie Corp. of New York, $122,000; the Rockefeller Brothers Fund, $50,000; and the Qatar government fund, $576,312.
There are no available records for anything called the Qatar government fund, although the oil-rich Persian Gulf nation has a sovereign wealth fund known as the Qatar Investment Authority.
At various times this year, Rauf has said he plans to solicit donations for the $100 million mosque and community center project from overseas sources, although he has not named any donors. One possible source could be Malaysia, where Cordoba has an office, according to a 2009 New York corporate filing.
In an interview earlier this year, however, Khan said there is no connection between the two offices that share the same name. "I don't know what the status of that organization is," Khan told investigative reporter Claudia Rosett of Forbes magazine on Aug. 11. Yet Khan is named as a Cordoba official in the 2004 tax form that includes the reference to the Malaysian official. Khan is also listed as a Cordoba director in its 2008 tax filing, which is the latest on record.
Imam Rauf was also listed as a participant in several meetings of the Malaysia-based Perdana Global Peace Organisation, according to the group's web site. Perdana is led by former Malaysian Prime Minister Mahathir Mohamad.
Mohamad was prime minister from 1981 to 2003. Shortly before he left office, he told a gathering at the Organization of the Islamic Conference that Jews rule the world by proxy. Mohamad said he was not anti-Semitic but opposed "Jews who kill Muslims" and "the Jews who support the killers of Muslims."
Creating a new nonprofit group to handle the finances for the mosque profit means that outsiders looking to monitor the group's finances would have to wait until 2012, according to guidelines for nonprofits posted on Guidestar.org. That site tracks nonprofit groups and their finances.
It takes an average of two months for the IRS to rule on a group's nonprofit filing, Guidestar says. So, if the group filed immediately, it could receive tax-exempt status in late October. IRS regulations require all nonprofits to file their tax forms within five months after the end of their fiscal year. That would push disclosure of the mosque group's finances to March 2012 at the earliest.
Until then, however, questions about Rauf and Khan's finances remain. "When you see this kind of activity, it makes you pause," Blitzer said.
Related Topics: Gound Zero Mosque
Read More: Gound Zero Mosque
Reader comments on this item
Church Status
Submitted by Steve, Aug 26, 2010 20:53
This is the first I have heard that any of the entities under the Imam's control had incorporated as a Church. That is more than a question of curiosity. The reporting requirements for religious institutions are meager indeed! This needs to be investigated and cut short now. It is bad enough there will be delays in learning the sources of funds. It is a travesty if they will never be known!
war is deception
Submitted by stranger, Aug 26, 2010 17:52
what about Mahathir's remarks on US and americans?....
(The Star, 18 October 2004), he was quoted as having said "The American people are, by and large, very ignorant and know nothing about the rest of the world.... Yet they are the people who will decide who will be the most powerful man in the world"
these people have no respect for others beliefs or humanity...all they want is to take over the world however they can, and if they were powerful enough..they would not hesitate for a second to use brute force....they demand freedom of opinion, expreesionand religion etc , but do they give any?
since they do not have the option...they will use democracy (which they despise) as a tool to bring down democracy and establish the worst form of authoritative government imaginable....... the prophet said " war is deception"
btw am not misinformed about Islam...or the goals of these Islamist's...I was born and raised a muslim in a 100% (not by choice) muslim country
Approval
Submitted by Church Approval, Aug 26, 2010 16:04
"It takes an average of two months for the IRS to rule on a group's nonprofit filing"
Here's how it works:
When the new organization files the Form 1023 (Application for Recognition) the IRS will assign the application to one of three tracks. Realistically there are two - either it gets immediate approval (TRACK A). In those cases it takes about 2 months.
Theoretically there is a TRACK B which is a small amount of additional information, but that doesn't really happen.
In TRACK C it is sent for further work-up. In those cases the folks in Cincinnati will prepare a a series of Questionnaires (Called "Letter 1312") which will also be public information including any responses.
In a high-profile, highly complicated application ($100,000,000.00! Offices in Malaysia! Are you kidding me?!) this application may take as long as a year or more to be approved (unless the Soetoro administration decides to request it be expedited, which they'll do at their own risk because that's public information).
While approval will be retroactive, during the pendency of the application they will have trouble getting foundation support.
As for the Church Status - that was a big no-no. If you look at the approval letter as a Church it will say something to the effect of "If your purposes and/or activities change, you must notify the IRS so we can see how that impacts your status". If Soetoro was not in charge and running interference, the Regional District Director should be notified and do something about it.
Dutch taxpayers money
Submitted by Dutch Taxpayer, Aug 26, 2010 15:05
For the Record : Geert Wilders from the PVVj , asked parliamentary questions in response to notices on the website of the Ministry of Foreign Affairs that the Netherlands help to build a mosque near Ground Zero in New York and participates in the financing of $ 1,000,000 by Dutch taxpayers' money.
The website of the Ministry of Foreign Affairs states that a Netherlands grant $ 1,000,000 grant to the organization American Society for Muslim Advancement.
This organization work together with the Islamic organization Cordoba Initiative.
Daisy Khan is behind this action.
IRS Action?
Submitted by Geheran, Aug 26, 2010 14:37
Talk about musical chairs...if this sort of behavior were the result of an individual taxpayer's actions, the IRS would be all over it. Given this administration's track record, I am not holding my breath.
More Reader Comments
Comment on this item