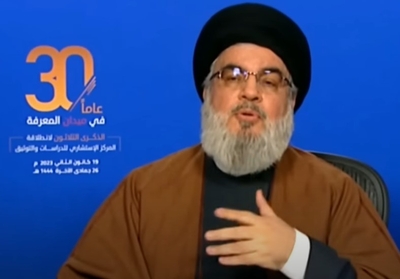 Hizballah leader Hassan Nasrallah in a speech last month.
Lebanon is experiencing one of its roughest phases since the end of the civil war in 1990. The country has been
without
a president for more than three months and the economy is in shambles. The political situation is
governed
by militias, namely the terrorist group Hizballah, which is Lebanon's
dominant power
, turning the country into a vassal of Iran.
Facing so many challenges, Hizballah leader Hassan Nasrallah recently went looking for someone else to blame. He targeted Egypt and Jordan in a speech last month, saying they, too, are struggling economically despite help from the United States for being the first two Arab countries to sign a peace treaty with Israel.
"I call upon you to monitor the situation of Jordan and Egypt, specifically, as the first countries that signed a peace treaty with Israel and are strictly committed to it. But what is the situation in Egypt now?" Nasrallah asked.
Egypt's Foreign Ministry rejected Nasrallah's statements as "absurd and an attempt to invoke false heroism."
Lebanon's economic woes are far greater than Egypt's or Jordan's. Inflation is soaring, with prices nearly tripling in 2022. Power outages are common. The Lebanese lira was devalued 90 percent earlier this month. Starting next week, food will be priced in dollars.
Hizballah has controlled the flow of goods into the country for years. It also diverts money to the Syrian regime to help it in its ongoing civil war. Other political leaders in Lebanon have held Hizballah responsible for the financial crisis which started in 2020.
"You are right Sir Nasrallah, You want to keep your weapons, our money, our security and our economy to serve two regimes in Damascus and Tehran so that Beirut remains the major victim," Lebanese MP and minister Pierre BouAssi tweeted in 2020.
And, despite its own challenges, Egypt has provided Lebanon medicine, food and energy.
But Nasrallah continues to pin Lebanon's failures on America and the rest of the world.
"In the region here, a strong country is not allowed, even if it signed a peace treaty with Israel, neither Egypt nor Jordan, even if it was a reliable ally. Everyone must remain weak and needy, and all the peoples of our region remain running after bread, diesel fuel, gasoline, a pill and infant formula," said Nasrallah.
"The countries of the axis of resistance suffer because they refuse to submit to American dictates," said Nasrallah in his Jan. 19 speech. "What about the countries that follow Washington?"
"Targeting Arab countries that signed peace deals with Israel is part and parcel of the 'resistance camp' modus operandi," Egyptian-British writer Nervana Mahmoud told the Investigative Project on Terrorism (IPT). "On one hand, it galvanizes supporters and, on another hand, deflects from the deteriorating domestic situation in both Lebanon and Syria (which Hezbollah is deeply involved in)."
Egypt's economic struggles include a near-total collapse of its currency compared to the same time last year. This is a direct result of dwindling tourism revenues as well as foreign currency resulting from the Russian invasion of Ukraine. Visitors from Russia and Ukraine provided a large chunk of Egypt's tourism. Moreover, Egypt imports a large amount of wheat from both countries. Food prices have increased dramatically in Egypt due to erratic supplies. January's inflation rate was 25.8 percent, the highest in five years. The central bank of Egypt floated the exchange rates to face the high inflation which resulted in a tumble in the Egyptian pound's value.
But Lebanon's challenges remain far greater, given its political instability and the loss of revenue that goes to Syria. All of that is due to Iran's proxy, Hizballah. Rather than acknowledge reality, Nasrallah hinted that Saudi Arabia, Iran's rival, should help bail Lebanon out.
"Lebanon's economic woes are dire," New York based lawyer and political analyst commentator Irina Tsukerman told the IPT. "Saudi Arabia ... has so far refused to provide direct financial assistance to Lebanon without clear and consistent sign of reform. Hizballah is in a dilemma as it is losing its political hold inside the country and needs to remain in control to appease its main funders, Iran."
"However, with the nation absolutely disillusioned with Hizballah's promises of economic prosperity, Hizballah is seeking to shake [Saudi Arabia] into providing aid, while using Egypt and Jordan as examples of what happens to countries which get too close to Israel," Tsukerman said. "It is a strange message because Nasrallah is indirectly threatening Saudi Arabia with religious delegitimization (a long-term goal of Iran), while also trying to essentially blackmail Riyadh into providing financial support."
Egypt has strengthened economic ties with Israel in recent years, including a natural gas deal that sends Israeli gas to Egyptian refineries, where it can be liquefied and exported to Europe.
At the same time, Egypt has not responded to repeated Iranian attempts at rapprochement. Iraqi Prime Minister Mohammad Shia al-Sudani last month offered to mediate talks between Iran and Egypt. Egyptians remain wary of Hizballah and the Iranian regime.
"Seeing that Egypt is strengthening its relations with Israel may be seen as a reason for Cairo's disinterest in diplomatic rapprochement with Iran, or at the very least as an obstacle to Iran's agenda," said Tsukerman. "Without a doubt Hizballah is seen (by Egypt) as an extension of Iran's foreign policy, a well-trained quasi formal military and well-organized political institution that has flexibility enough to operate internationally."
Claiming wisdom in solving Lebanon's problems while trying to divert attention from Hizballah's crimes became a trait of Nasrallah's in recent years.
"We want a brave country that takes a stance that stands defiant and takes bold decisions. If we remain like this, then there is a real problem. We want a country whose leaders, leaders, presidents, ministers, deputies, and everyone who bears responsibility in it must prioritize the public interest over personal interests before Threats and penalties, this is the independence of the decision," he said.
But his words were mocked by Lebanese political analysts.
"And how can you demand a sovereign president when you are the one who confiscates the state's decisions as it was dictated by a crisis reality. The collapse, retreat, and the severing of Lebanon's relations from its surroundings and the world are caused by your weapons and accessories. You are nothing but a militia that kidnapped the people and the country," wrote Jinan Shoeib for Sawt Beirut International.
Nasrallah's emphatic statements that Lebanon has been abandoned by its neighbors and allies while diverting attention to other countries' problems are failing to deliver the reactions Nasrallah desired. That is due to his track record of prioritizing his terrorist group's needs over that of Lebanon's. His statements are brimming with denial and ignoring the core problems that Hizballah continues to bring on the Lebanese state and citizens.
But a delusional Nasrallah still uses phrases indicating he sees his role as part of a divine commandment. "Leave me alone, who are you?" Nasrallah said in August. "God assigned me to defend Lebanon."
If that were true, Nasrallah wouldn't have to work so hard to blame peacemaking countries while Iran and Hizballah continue investing in war.

IPT Senior Fellow Hany Ghoraba is an Egyptian writer, political and counter-terrorism analyst at Al Ahram Weekly, author of Egypt's Arab Spring: The Long and Winding Road to Democracy and a regular contributor to the BBC.
Copyright © 2023. Investigative Project on Terrorism. All rights reserved.