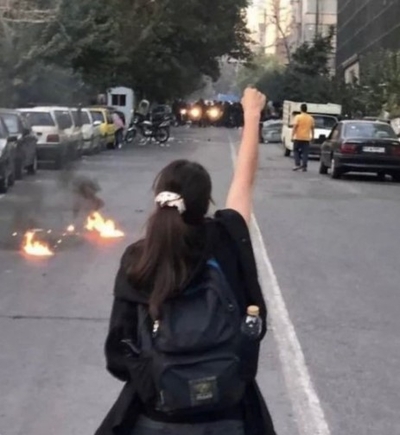 (Twitter image from a protest in Iran.)
Born and raised in post-revolution Iran, Havva grew up covering her hair every time she left the house – not because her family required it, but because the government did. She hated every minute of it, so much so that for much of her childhood, she dressed as a boy in order to play outdoors freely.
Now living in New York and hijab-free, Havva has been joining the protests – both on the street and on social media – in support of the women still in Iran who are now fighting for the right to live without hijab. "This is not about politics," she says. "This is about women. This is our fight."
The Investigative Project on Terrorism caught up with her to talk about why, even though she no longer lives under the arm of the regime, this fight matters.
ARE: What was it like for you as a child, having to wear hijab?
H: My family was not religious, so there was no force in the family; but outside, we were forced. It wasn't a choice for me, wanting or not wanting to; they would kill us if we didn't. And it got worse and worse. By the age of seven we were forced to cover our hair; if not, we couldn't go anywhere. We had to show up at school like that. But I was always bothered by this, even then, by the idea of being looked down on as a woman. Men have the power; women are the second [class] citizens. So yes, I covered my hair at school because there was no way around it, but for a long time until my teens I would not cover my head. I had a nickname as a boy. I wrapped my breasts, I cut my hair short and wore a baseball cap so I could be outside, to be able to ride a bicycle. I did this until I was 13 or 14 – not because I was unhappy to be a woman, but I couldn't stand that they would look down on me because I was a woman. I was a strong woman and I didn't want to be looked at as less than a man.
ARE: So what did you think when these protests first started?
H: I don't generally get involved in politics. But this is very personal for me. It brings back the scenario I always had as a kid, that I'm going to attack them, I'm going to get a gun and shoot them. And at first I was frustrated, because this is a fight I am not there to fight. It's not just for Iran, it's everywhere, these hard-core religious people, they don't believe anything but what their holy book tells them.
But there were these young people, and I see people all over the cities and the world and when I see people are supporting us, have our back like this – forget about the big politicians. These are the people. It gives us hope. And this is why we are willing to risk everything.
ARE: Is there more you think America can do? That you would want America to do?
H: This is what we do not want; The majority of Iranians definitely don't want the U.S. to get involved in importing guns or in any sort of war. We don't want anything like Iraq. We also do not want the U.S. to sign a nuclear deal, or any other deal, really, with the Iranian leaders. Because that money will go into the regime pockets, not to the people – and it just makes [the regime] stronger against the people.
But what we do want is a travel ban, for all and every single head of the regime, for all who are affiliated with the "Islamic Republic" – politicians connected with them, their kids, their grandchildren, any relatives who are living or studying in the U.S. They are killing people, they are killing these girls in Iran right now over basic human rights and freedom – all while their affiliates living here in the U.S. and in Europe live freely, in exactly the lifestyle for which the regime kills its own people, and all of these kids.
And above all, we would want everyone to be more vocal, to be loud, about the situation in Iran.
The truth is, I know it may now be impossible for me to go back to Iran after this. I'm not an important person, but I know how they operate in Iran. I post on the Instagrams of well-known people supporting us. They see our faces, my face, in videos. They know our faces and our names and as soon as we get to the airport in Iran, our names will pop up. And my whole family is there, my parents, my cousins. I don't know if I'll see them again, or when. It's so heartbreaking.
But I won't stop. We won't stop. This is the least we can do here: to be their voice.
(This interview has been edited for clarity and for space.)

IPT Senior Fellow Abigail R. Esman is a freelance writer based in New York and the Netherlands. Her new book, Rage: Narcissism, Patriarchy, and the Culture of Terrorism, was published by Potomac Books in October 2020. Follow her at @abigailesman.
Copyright © 2022. Investigative Project on Terrorism. All rights reserved.