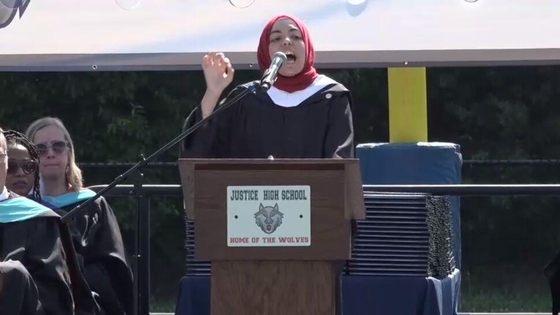 boxcast.tv.com
Fairfax County School Board At-large Member Abrar Omeish has been making headlines for her June 7 commencement speech at Justice High School, and not in a good way.
In the past few days the speech was covered by The Daily Mail, FOXNews, Apple News and the Washington Examiner just to name a few.
Omeish campaigned for Bernie Sanders and her father [Esam] was a "leader and board member of the Dar al-Hijrah Islamic Center" said a member of Justice's student council in his introduction.
Omeish's keynote address started off innocuously by congratulating the graduates, before it quickly turned controversial with racial and class-based nuances. Omeish suggested that Justice High School is sitting on land stolen from Manahoac people. According to the Stafford County Museum's website, the Manahoac were a small group Siouan-speaking Indians who occupied an area above the Rappahannock fall-line to the Blue Ridge Mountains.
"You understand that social justice is only political for those that can afford to ignore it," said Omeish. "You understand that 'neutral' is another word for complicit. And you have made a choice to take a stand."
Switching between Arabic, Spanish and English languages, Omeish warned the graduates about the world. "Our world is overwhelmed with need," she said. "We struggle with human greed, racism extreme versions of individualism and capitalism, white supremacy, growing wealth gaps, disease, climate crimes, extreme poverty amidst luxury and waste right next door. And the list goes on."
According to The Daily Mail, Omeish told the graduates in English, "The world sees the accolade, the diploma, the fruit of all your years yet to be reminded of the detail of your struggle. When she switched to Arabic, she told the students to remember their 'jihad' – a word meaning both 'struggle' and, specifically, holy war waged on behalf of Islam."
Many parents took to Facebook to voice their displeasure of the speech, some commenting that they would have walked out of the ceremony rather than listen to "that garbage." "What an embarrassment that she is one of our school board members. She's openly anti-Semitic and takes no responsibility for her actions," said one parent. "A rich girl who went to Yale and won a political election in one of the richest counties uses her position to teach our kids that they will be oppressed by a racist and capitalist society. Such a disgrace!" said another.
A significant number of parents move to Fairfax County for the schools, according to Gary Aiken, a Fairfax County parent and resident running for Mason District supervisor. Aiken says it's the responsibility of the School Board to make sure kids receive an education that prepares them to be successful members of society.
"Abrar Omeish seems only concerned with turning kids into activists for her political causes. Her comments and her refusal to apologize [for what many have deemed anti-Semitic social media posts] and this latest doubling down on her hateful ideology and insistence on making it an issue on the School Board is distracting, and worse it's a direct violation of the Code of Conduct for Board Members," he said, noting that her speech is not her first example of divisive rhetoric. "If any of our students said the things she said, they'd be in violation of the Student Rights and Responsibilities and subject to consequences."
"Abrar Omeish's graduation speech to Justice High School is part of disturbing pattern of radicalization in America's public schools," said Asra Nomani, vice president of strategy and investigations at Parents Defending Education. Nomani is a Fairfax County resident, whose son recently graduated from Thomas Jefferson High School for Science and Technology.
"Fairfax and Loudoun County are hotbeds of this radical activism, but this is happening around the country based on reports we are getting at Parents Defending Education," said Nomani. Parents Defending Education is a national grassroots organization working to reclaim schools from activists promoting harmful agendas.
"From the divisiveness of critical race theory to the destruction of merit-based education at Thomas Jefferson High School and Technology and the anti-Semitism of the anti-Israel movement, school board members, teachers and principals are choosing to indoctrinate children and schools, not educate," she said.
Nomani, who described herself as a Muslim feminist, is cofounder of the Muslim Reform Movement. She said she's been tracking Omeish since her run for school board and victory in 2019. She has also been following Omeish's father Esam for years. The elder Omeish was asked to step down from a state immigration board in 2007 after video surfaced of him praising Palestinians who chose "the jihad way" to liberation.
"When I saw her running for office, I knew trouble was on the horizon. Abrar Omeish is not just your ordinary neighborhood school board member. She is a political activist who is part of the same dangerous Islamist network of political Islam in America that elevated Rashida Tlaib and Ilhan Omar to power," said Nomani. "She is part of the family business that pushes the agenda of political Islam with its rhetoric of anti-Semitism, anti-Israel activism and anti-American propaganda. She [Omeish] is the anointed princess of the Islamist movement in America right now."
Fairfax County Public Schools released a statement saying that "individual School Board members have a First Amendment right to share their personal views at any public event at which they are invited to speak. Their personal opinions do not reflect nor represent the views of the Fairfax County School Board or the school division."
Aiken is disturbed by the silence of other school board members and elected officials. "They seem all too comfortable to chalk up blatantly anti-Semitic words and extremist rhetoric in her official capacity to the First Amendment," he said. "While she may have a right to say what she says, she has a responsibility as a school board member. She should choose which one is more important to her and follow that path. At this point, it's clear she should just resign."
The bi-partisan FCPS Accountability Coalition currently has an effort underway to recall Omeish and two other members of the school board. For more information visit openfcpscoalition.org.
This article originally appeared on Fairfaxtimes.com. Reprinted with permission.