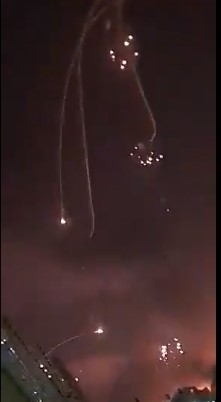 Iron Dome intercepts incoming Hamas rockets.
If not for the Iron Dome missile interception system, Israel would now be experiencing an intolerable level of destruction that would have forced a massive and costly ground invasion into Gaza.
Since Monday, Hamas, Palestinian Islamic Jihad and other terrorist groups are using missiles and technology supplied and designed by Iran to rain rocket fire onto Israeli population centers. Since the beginning of the conflict, Hamas has launched 1,750 missiles from Gaza. Approximately 300, or about 20 percent, fell inside of Gaza according to the Israel Defense Forces (IDF). As a result, those Hamas missiles have killed Palestinian civilians, including children, for whom Hamas has falsely accused Israel of being responsible for their deaths – an accusation blindly reported by the mainstream media.
In fact, according to Israeli military sources, in the very first three hours of the opening barrage of rockets fired at Israel on Monday evening, 17 Palestinian civilians were killed by malfunctioning rocket launches. Yet the New York Times, Washington Post, and virtually every mainstream media outlet in the world led Tuesday's headlines with reports of Palestinian casualties solely caused by Israel. And their source? The Gaza Ministry of Health.
The Gaza Ministry of Health is an arm of Hamas. During the 2014 Gaza War, Gaza hospitals were used to store and launch rockets against Israel as well as issue fabricated press releases accusing Israel of having killed hundreds of civilians when in fact they were Hamas terrorists. But the mainstream media uncritically repeats falsehoods that Israel has been responsible for all Palestinian civilian deaths.
Despite Iron Dome's effectiveness, at least seven people (six Israelis and one Indian national) have been killed so far, including a 5-year-old boy and a 16-year-old girl. Of the 87 Palestinians killed in Gaza, the IDF says at least 60 were members of Hamas and Palestinian Islamic Jihad. Pictured below are the key Hamas and PIJ intelligence, weapons manufacturers and senior leaders that were neutralized by the IDF: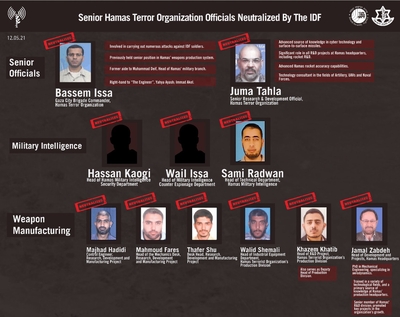 IDF graphic
About half of the 1,200 missiles that did reach Israel landed in open spaces, while the other half were aimed at cities. The Israeli Air Force has fired more than 600 Iron Dome interceptors to protect Israel. The IDF claims that the Iron Dome system has been 85-90 percent effective in striking incoming rockets it targets. In addition to the missiles, the IDF has stopped five Hamas attempts to send explosives-laden drones into Israel by downing them by using F-16 fighter jets firing Python-5 air-to-air missiles and Iron Dome missiles.
For the first time since 1966, the entire Israeli Knesset in Jerusalem evacuated to bomb shelters in the building because of the threat of incoming rockets from Gaza which landed on the outskirts of the Israeli capital. Every city and village in the entirety of Israel, from the South to the North including Haifa, Tel Aviv, Jerusalem and its suburbs, Be'er Sheva, Eilat and Israeli villages that are near the Gaza Strip, are within range of Gaza missiles. People all over Israel have been locked in shelters in their homes or apartments, praying that the rockets being fired at them are intercepted by the Iron Dome system that was designed by Israeli engineers.
Iron Dome interceptions clearly saved countless Israeli lives, as well as the lives of many foreigners visiting Israel. For those missiles that make it past the missile defense, only shelters will protect the population. Unfortunately, only a third of the Israeli population have shelters or are in range of public shelters. Even those who are near communal shelters often cannot make it to the shelters in the time between an air raid siren going off and a rocket striking.
The conflict has shown that the Gaza terrorists have a surprisingly deep arsenal.
Map Source: Israeli Ministry of Foreign Affairs
The map above shows the Hamas missile types and their respective ranges to cities in Israel. Of the 20-30,000 missiles in the Gaza Strip, Hamas has approximately 6,000 and Palestinian Islamic Jihad has 8,000. Other terrorist groups such as Popular Resistance Committees (PRC), Fatah, Palestinian Front for the Liberation of Palestine (PFLP), Tanzim, and Al Aqsa Brigade make up the for the remaining missiles.
Gaza's various factions have the ability to fire more than 1,000 rockets daily for a month in any new war, Palestinian Islamic Jihad leader Ziad Nakhaleh claimed in a 2019 interview with Hizballah's Al Manar television.
Each time Israel and the terrorist groups in Gaza do battle, the terrorists improve their capabilities with their missiles and develop new methods to kill Israelis. Already the rapidity of the Hamas firing and the introduction of new more powerful missiles could challenge Iron Dome's capabilities.
In 2001, missiles fired from Gaza barely reached Israeli towns that were less than 2.5 miles away. In 2005, the missiles could reach 7.5 miles, 12 miles by 2006, 28 miles in 2008, 45 miles in 2012 and 90 miles by 2014. Currently, not only can terrorists from Gaza reach the entire Israeli population with its missiles, the missiles now carry more explosive punch and the number of long range missiles has greatly increased since 2014.
It was widely believed that the Gaza rocket arsenal was severely depleted after the 2014 war. Israel estimated that Gaza terrorists started with about 12,000 rockets and missiles, 400 of which had a range of more than 47 miles. About a third of the overall arsenal was fired at Israel. Another third of the missiles were destroyed by the Israeli Air Force. Uzi Rubin, one of the key founders of Israel's missile defense program, noted that:
In the wake of the 2006 Lebanon War, Iran made a strategic decision to provide its clients in Lebanon and Gaza with indigenous manufacturing capabilities, to thwart potential embargoes and sieges. A systematic program of industrial buildup and manpower training was initiated. In the case of Gaza, the machinery was smuggled in through the extensive tunnel system running under the Egyptian border. According to a Turkish media source, Palestinian trainees were flown to Iran to receive on-the-job training in the rocket industry, with the motto "you can't bomb knowhow." This buildup was accelerated after the toppling of the regime of the Islamic Brotherhood in Egypt and the anticipation that the new regime would be unfriendly to the Hamas run government in Gaza.
Since 2011, Israel has produced its Tamir interceptors (Iron Dome missiles) in partnership with the United States to co-produce the missiles and the launchers. This large inventory of missiles and launchers has greatly assisted Israel in defeating these Gaza missiles and greatly reduced the fear of civilians that existed prior to the deployment of Iron Dome in 2011.
Since the first Intifada in 1987, the Hamas military wing built its own Qassam military industries, developing all types of weapons "from pistols to machine guns, to grenades, missiles and explosive devices of various kinds." In 2001, the Qassam Brigades developed and produced the first Qassam-1 rocket which had a range of 2-3 km (1.6-1.8 miles) with a 600 gram (1.3 pounds) high explosive warhead.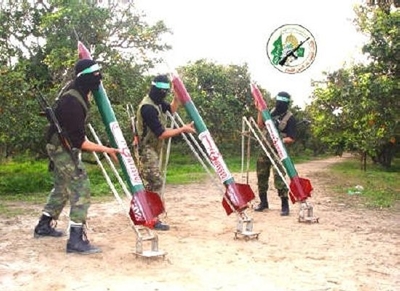 credit: Globalsecurity.org
Pictured below is an example of an advanced Qassam rocket Multiple Launch Rocket System (MLRS) developed by Hamas's military industries.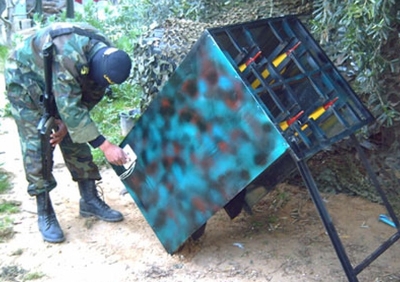 Credit: Silah Report
Once it had a basic rocket production capability and along with support from Iran and other sympathetic Muslim countries, Hamas continued to advance its surface-to-surface missile systems.
Below is a list of the missiles that Hamas has, most of which it can produce on its own:
Credit: Fabian Hinz
The spreadsheet displayed below lists the Hamas rockets along with their range and warhead. The newest Hamas rocket, A-250, which can reach anywhere in Israel, was fired Thursday at Eilat and at the Ramon airport that Israel and Jordan share along the southern border. Hamas published a video of the rocket soon after it was launched.

Hamas believes that it has a secret weapon that can overcome the Iron Dome system. It believes that the A120 missile – first seen this week – and PIJ's Badr-3 are evading Iron Dome interception. Given that about 10 percent of the missiles that are targeting population centers or strategic sites are going to get through, the assertion is probably more of a hopeful outcome than an actual weakness in the system. Secondly, it was reported that the Iron Dome briefly malfunctioned, but it was corrected.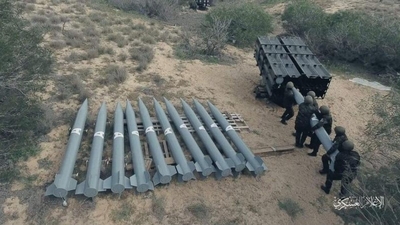 Hamas A120 Missile Credit: Trends Map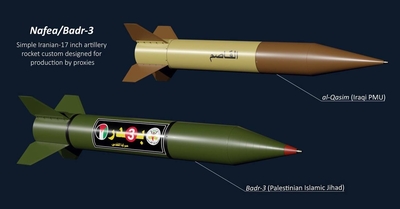 Palestinian Islamic Jihad Badr-3
Iran designed the Badr-3 to make it easy for its proxies such as Hamas and PIJ to reproduce. This is the most dangerous missile that Hamas has – it can travel more than 90 miles, carrying 550 pounds of high explosive. That kind of firepower can flatten a building.
Countering the Threat
Once a rocket is fired from Gaza, Israeli civilians have anywhere from 15 to 90 seconds to find a bomb shelter, depending on how close they are to Gaza. In most instances, the Iron Dome system has intercepted missiles that were a threat to the population. Additionally, while Hamas is firing missiles, the Israeli Air Force is bombing missile launch sites' storage areas, and missile production sites throughout Gaza. It also is knocking out Hamas infrastructure, including intelligence offices, and targeting Hamas leaders. All these activities mitigate the missile threat over time.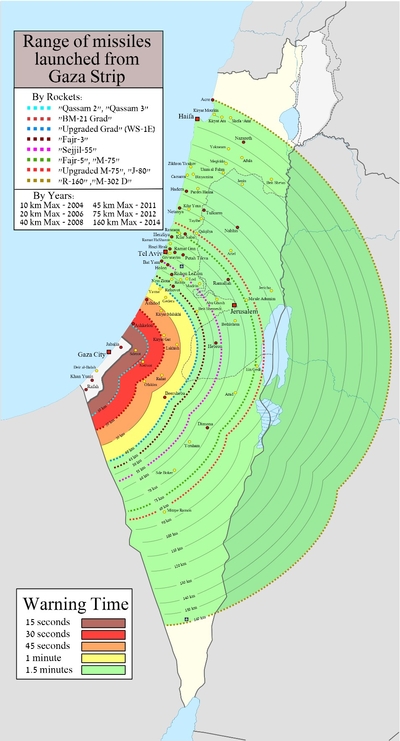 Credit: Wikimedia.org
It is Israel's military strategy to decimate the Hamas military threat no matter how long it takes. Israel will not go back to the status quo ante in which Hamas retains an ability to launch missiles and rockets into Israeli cities and terrorize its civilians. The Hamas arsenal and its command and control say the Israelis need to be totally destroyed once and for all.
Ground Invasion
There were conflicting reports Thursday about whether the conflict had escalated dramatically. The IDF posted on Twitter that "IDF air and ground troops are currently attacking in the Gaza Strip," indicating a ground invasion.
But that doesn't appear to be the case just yet. If the Israeli leadership should decide to order the IDF into the Gaza Strip, it will face many challenges including a trained force with lethal weapons.
Personnel: Hamas has 16,000 combatants and 16,000 security personnel. Its most dangerous group, the Nakba Force, has 5,000 personnel who are trained to infiltrate into Israel, usually via attack tunnels, and to attack IDF positions, kidnap civilians or soldiers, and hold soldiers' bodies as bargaining chips to be traded for Palestinian prisoners in Israel. Hamas sea commandos, which number 1,500, have advanced systems to help them travel long distances underwater. Islamic Jihad has about 6,000 fighters and about 9,000 activists.
The IDF will face the following in Gaza:
Ground Threats: The Burkan rocket (300 kg/660 pounds high explosives) has a short 5 km range and is designed to do severe damage to any IDF force concentration in or near Gaza. The Kornet guided anti-tank missile poses a serious hazard for Israeli Merkava tanks and armored personnel carriers. Hamas has thousands of mortars, especially 82mm and 120mm mortars, and tens of thousands of hand grenades (manufactured in Gaza or smuggled in). Smaller terrorist organizations in the Gaza Strip have hundreds or thousands of mortars. There are tens of thousands of AK-47/Kalashnikov automatic machine guns. Finally, explosives are readily available to Hamas combatants, and many locations have booby traps including ones that are remotely controlled.
Air Threats: Hamas has dozens of SA-7 Strela surface to air missiles that were smuggled into Gaza from Libya, and several types of UAVs/drones that we have already seen in the current conflict. They have suicide drones with explosives and intelligence collection drones. One of the unusual threats could come from paragliders to send special forces into Israel.
Naval threats: Hamas has a small number of surface-to-sea anti-ship missiles.
Conclusion
When the United States attacked al-Qaida and the Taliban for the carnage of the 9/11 attacks, virtually no voices opposed the resulting defensive war designed to protect American citizens. When the United States and its allies fought back against the Nazis who were bent on genocide, there was a total consensus in the West about the evils of the Nazis and the righteousness of the "Good War." Israel is fighting the same genocidal enemy bent on killing every Jew in Israel.
And those in the West, especially in the United States, need to understand that the necessity of defeating Hamas means much more than just a regional victory. It represents a victory of the radical Islamist Muslim Brotherhood and of the biggest state sponsor of terrorist in the world, Iran – forces that threaten the stability of every pro-western Middle Eastern and Gulf ally. Those forces also threaten the United States and Europe, so a victory for Israel represents a global victory over two of the largest anti-western terrorist forces in the world today: the Muslim Brotherhood and Iran.
Guermantes Lailari is a retired Air Force Lieutenant Colonel who was a Foreign Area Officer specializing in counterterrorism, irregular warfare, missile defense, the Middle East and Europe. He is now a Senior Analyst with the Investigative Project on Terrorism.
Copyright © 2021. Investigative Project on Terrorism. All rights reserved.