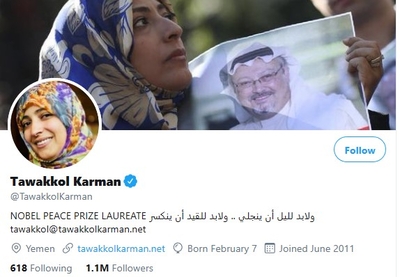 A new Facebook oversight board generated controversy last week before it even started work. The board will evaluate whether posts on Facebook and Instagram violate community standards and should be removed.
"Facebook should not make so many important decisions about free expression and safety on our own," said founder Mark Zuckerberg.
The company announced the first 20 people who will serve, including Yemeni Peace Nobel Laureate Tawakkol Karman, a former member of the Muslim Brotherhood-affiliated Al Islah Party in Yemen.
"I'm proud of the diversity of Oversight Board Members For Facebook and Instagram," Karman wrote. "Our unique global perspectives across professional, cultural, political, and religious backgrounds and viewpoints are just as important as our work."
Others were less enthusiastic about Karman's appointment.
"Why, out of 1.7 billion Muslims in the world, is FB putting an Islamist on its Supreme Court?" asked New York-based human rights lawyer and national security analyst Irina Tsukerman.
Yemeni journalist and human rights activist Kamel Al Khodani said he immediately copied all of his Facebook posts and articles upon learning of Karman's appointment "because my account would be the first to get suspended. Choosing her is a catastrophe, she banned half of the Yemenis following her account and doesn't accept any criticism or difference in opinion while carrying grudges and working for a political agenda ... Half the Yemeni people accounts will be closed."
But at least one person is elated by the appointment. Hussam Ayloush, director of the Council on American-Islamic Relations' (CAIR) Los Angeles office, called her "a great choice for that board." Her critics are driven by her role in Arab Spring protests, said Ayloush, who repeatedly likens Americans who move to Israel and join its army to ISIS terrorists.
Karman's Twitter critics, however, complain that she blocks anyone who disagrees with her views, such as these accounts from Egypt, Saudi Arabia, Yemen.
Karman, 41, won the Nobel Peace Prize in 2011 for her "non-violent struggle for the safety of women and for women's rights to full participation in peace-building work." She founded a group called "Women Journalists Without Chains," which trained journalists and reported on human rights abuses in Yemen.
Karman was a member of Yemen's Congregation for Reform (Al Islah), an Islamist party. But she was suspended in 2018 for criticizing the Saudi-led coalition in Yemen fighting Iranian-backed Houthi rebels who seized power in a 2015 coup-d'etat. She is also a vocal supporter of Muslim Brotherhood figures in Egypt.
"The Muslim Brotherhood movement will remain an anti-tyranny and a freedom fighting movement, despite Trump's nose and Trump's agents and it is one of the victims of tyranny and official terrorism in the region, for which Trump provides all support and support," Karman wrote a year ago on Facebook.
In response to the criticism over her Facebook appointment, Karman said she is being "subjected to widespread bullying&a smear campaign by #Saudi's media&its allies."
She claims that this Saudi campaign is related to her support for slain journalist Jamal Khashoggi. The Washington Post columnist was believed to have been murdered and dismembered by Saudi agents in 2018 inside a consulate in Turkey. U.S. intelligence officials believe the murder was ordered by Saudi Crown Prince Mohammed bin Salman.
"Saudi Arabia wants to spread fear among their citizens and among their critics," she wrote weeks after the murder. She tied Khashoggi's death to the ongoing proxy war in Yemen.
"The Saudis are killing thousands of civilians in Yemen," she wrote. "They want to occupy Yemen and steal its wealth, and they are doing exactly that. Their main goal is not a war against the Houthi militias, it is to spread their influence. It's to make Yemen a failed state."
Initially, Karman supported the war against Iranian-backed Houthi militia.
"I believe that [Saudi Arabia] and the Gulf states realized the danger of letting Yemen fall into the Iranian grip," she told Saudi daily Al Riyadh in 2015. "[A]nd undoubtedly, the formation of an Arab alliance against the coup taking place in Yemen will contribute to the return of political action to its natural course, and ensure a change in the political game and this will protect Yemen from the pitfalls of the absurd civil war."
Controversy also surrounded Karman's Nobel Prize. In 2011, Al Jazeera posted an interview for Karman calling upon Yemeni youth to march "peacefully" to take control of the streets and squares in capital Sanaa. The protest ended in a massacre.
The Yemeni Association for Human Rights and Immigration (Ma'ona) and the Yemeni Coalition for Civil Society Organizations labeled Karman a "war monger and not a peace messenger" because of her involvement in a 2011 protest in Yemen that ended in bloodshed.
Turkey's Foreign Minister Ahmet Davutoglu granted her citizenship in 2012. From there, she launched a Pro-Islamist Yemeni television network Belqees TV.
Egyptian authorities banned Karman from entering the country in 2013, after she joined Muslim Brotherhood supporters at the Rabaa encampment in support of ousted President Mohammed Morsi.
Before the June 30, 2013 revolution forced Morsi's Muslim Brotherhood regime from power in Egypt, Karman seemed to support the revolutionary movement, calling on him to resign. She even called for Defense Minister Abdel Fattah al-Sisi – now Egypt's president – to suspend the constitution and form a transitional presidential council. A day before the revolution, she tweeted that the number of people protesting against Morsi's rule was much larger than the number of those who protested against late President Hosni Mubarak.
Karman has a habit of calling heads of states names – she called Sisi a "killer" and Saudi Arabia's Mohamed bin Salman "a criminal," while lauding the Brotherhood's Morsi as "the Last of the Prophets." These views raise questions whether she can be an impartial judge on Facebook's oversight board.
American Enterprise Institute Scholar Michael Rubin detailed Karman's deeply rooted Islamist sentiments in 2014, writing that "peace and human rights seem to be less of a priority" to her "than the promotion of Islamism. She interprets human rights through a sectarian lens. How tragic that the Nobel Committee, so desperate to make a politically correct statement, ended up empowering someone who may embrace non-violent protest, but stands very much for the opposite of peace and universal human rights."
The appointment of someone as divisive and controversial as Tawakkol Karman undermines Facebook's effort to enhance its image and build trust that its content decisions will be well grounded.
Hany Ghoraba is an Egyptian writer, political and counter-terrorism analyst at Al Ahram Weekly, author of Egypt's Arab Spring: The Long and Winding Road to Democracy and a regular contributor to the BBC.