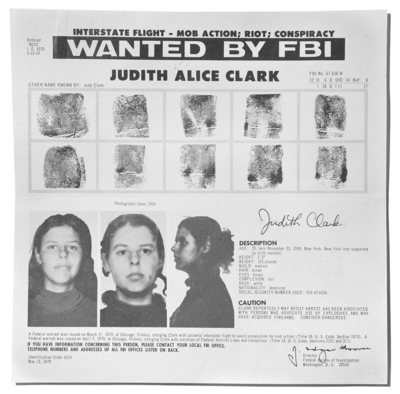 Judith Clark, a member of the Weather Underground who was serving a 75-year to life prison sentence for her role in a 1981 robbery that left two police officers and a bank security guard dead, soon will walk out of the Bedford Hills penitentiary a free woman.
Clark, according to her original sentence, should not have been released before 2056. New York Governor Andrew Cuomo granted her clemency, reducing her sentence by 40 years.
Another terrorist, another early out.
I recently wrote about the pending releases of John Walker Lindh and Kevin James. Both of those convicted terrorists received approximately 2½ off years their sentences for "good behavior."
Terrorists being released from prison is unsettling. Terrorists getting let out early is mind boggling.
People who take up arms against the United States should be considered enemy combatants and not common criminals.
Clark was a member of the Weather Underground, a domestic terrorist organization that had declared war on the United States in 1970, and was responsible for a series of bombings of police departments, government buildings, and military installations. Three members of the group were killed and two others injured when an IED they were constructing blew up prematurely in a townhouse in New York City's Greenwich Village.
The Weather Underground used the building as a bomb factory.
In 1981 members of the WU, including Clark, joined with members of the Black Liberation Army in an attempt to hijack a Brink's armored truck in Nyack, N.Y. The terrorists considered their action "an expropriation of bank receipts" and justifiably necessary to fund the revolution. They didn't view themselves as common criminals.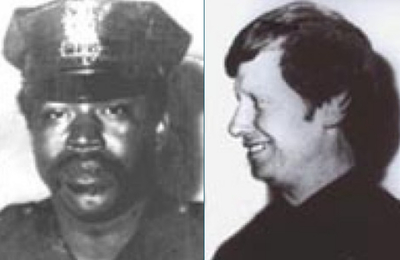 Slain Nyack, N.Y. Police Officers Waverly Brown and Edward O'Grady.
Two police officers, Waverly Brown and Edward O'Grady, as well as Brink's guard Peter Paige, were shot and killed by the terrorists. The families of the fallen officers consider the premature release of Clark a
"slap in the face"
to their loved ones' memories. This was the same reaction the family of John Micheal Spann had when they learned of Lindh's early release. Spann, a CIA operations officer, was killed in Afghanistan during a prison uprising after he had interviewed John Walker Lindh.
Lindh was being held in the prison following his capture while fighting alongside members of the Taliban and al-Qaida. Lindh was aware of the planned insurrection and withheld the information from Spann, resulting in his death.
Some have attempted to minimize Clark's role in the Brink's attack by saying she was only a driver and not a gunman. That is simply not true.
Clark was captured by police when she attempted to flee while driving the getaway car. As police removed Clark from the vehicle she reached for a firearm under the driver's seat. She could have shot the officers if they had not stopped her from getting her hands on the gun.
Some, including Governor Cuomo and state legislators, have lauded Clark as a model prisoner, having attained several college degrees while incarcerated. Her education generously funded by the taxpayers of the very country on which she declared war.
The leaders of the Weather Underground have never renounced that declaration of hostility. Bill Ayers, one of the founders of this terrorist organization said in his memoir, "I don't regret setting bombs."
Another WU member in prison titled his book, No Surrender.
In recent years, their radicalization has taken a new turn, embracing radical anti-Israel movements. Many of the group's members, for example, have injected themselves into the current BDS movement against Israel's right to exist.
In fact, David Gilbert, who was with Clark during the Brink's attack, sees solidarity between "former political prisoners in Palestine and former US-held political prisoners."
"Israel, from its inception, has served as an aggressive forward military base for U.S. imperialism in the oil-rich Middle East—a spearhead for keeping reactionary regimes in power and promoting chaos and divisions throughout the region," Gilbert wrote in a 2016 jailhouse letter.
Gilbert is in a maximum security prison in New York and is not scheduled to appear before the Parole Board until October 2056, unless the governor grants him an early release as well.
Two of the founding members of the Weather Underground, Bernardine Dohrn and husband Bill Ayers, have participated in the Viva Palestina movement, led by the UK's George Galloway. Money raised by Viva Palestina was openly given to Hamas, an Islamist terrorist organization dedicated to the destruction of Israel.
Ayers and Dohrn were also involved in helping to organize the Free Gaza Movement shipments sent from Turkey. The flotilla ships attempted to bypass an Israeli blockade of Gaza in May 2010 and were met by Israeli naval vessels. In the ensuing confrontation nine people were killed and seven Israeli commandos were injured.
On another occasion, Ayers and Dohrn reportedly crossed into Gaza and met with Hamas leader Ismail Haniyeh.
In 2016, Ayers protested Israel's refusal to let BDS movement co-founder Omar Barghouti travel outside the country.
Barghouti, the co-founder of the BDS movement, has called for Israel's destruction by any means, including violence. Just last week, Barghouti attempted to travel to the United States for several speaking engagements including one with former CNN contributor Marc Lamont Hill. Hill was fired from the network after making anti-Semitic remarks in a UN speech. The State Department refused to grant Barghouti entrance.
Meanwhile, the controversy over Clark's release continues to grow. A detective wounded in the terror attack Clark participated in claims that a board member is married to a convicted murderer, giving her a conflict of interest. She should have recused herself, Arthur Keenan told the New York Post.
The Weather Underground's endorsement of those who seek the destruction of Israel is in direct conflict with the United States' support of that country's right to exist. For these 60s domestic terrorists, the revolution is anything but over. Releasing one of its members from prison early sends the wrong message to the law enforcement community and the families of those who gave their lives protecting us.
Patrick Dunleavy is the former Deputy Inspector General for NYS, author of the Fertile Soil of Jihad, and Sr. Fellow at the IPT. Follow him on Twitter @PTDunleavy.