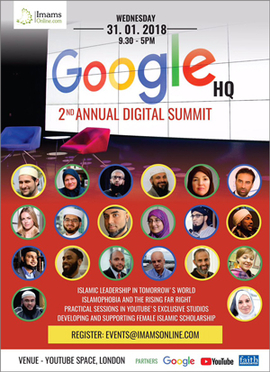 Why are Google and YouTube sponsoring a day-long symposium featuring a roster of speakers including known Islamist anti-Semites, as well as known militant Islamists who are long time Israel bashers and Hamas supporters? And why are Google and YouTube providing a forum for Islamists who approve of Sharia-imposed "death by stoning?"
This Wednesday's online conference by the British-based Imams Online features a rogues' gallery of Islamists and virulently anti-Semitic, anti-Israel speakers – and it's all being done "in official partnership with Google and YouTube.
One of the conference's three primary goals is "Tackling Rising Islamophobia and the Far Right Threat."
"Islamophobe is what politically correct bullies call people like you and me when we call out radical Islam for what it is," says Muslim reformist Raheel Raza. "...They actually call me, a practicing Muslim woman, an Islamophobe. Why? Because I speak out against radical Islam."
But spreading the false claim of rising Islamophobia actually can be seen as a national security threat. This is because that concept is based upon the false notion that there is a Western conspiracy against Islam – and that is the primary claim and motivation that induces jihadi terrorist attacks on western targets.
"Islamists hope to insulate themselves from charges of supporting jihadi violence by shooting off accusations of 'Islamophobia,'" Middle East Forum President Daniel Pipes, himself smeared as an "Islamophobe," told the Investigative Project on Terrorism (IPT). "Sadly, not only do many not-too-bright individuals of good will fall for this deception, but in the process, this ploy becomes a national security threat by confirming jihadi paranoia about the world being out to destroy Islam."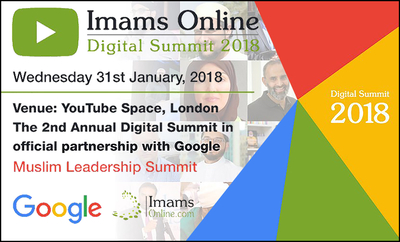 "For Google and YouTube to provide a worldwide forum for a group that includes known antisemites and bigots is irresponsible and beyond the pale," said Rabbi Marvin Hier, founder and dean of the Simon Wiesenthal Center. "Rather than promote tolerance and human dignity, it provides them with an enormous platform to further spew their anti-Semitism and hate! We call on Google and YouTube to immediately cancel the event!"
Google's participation in the Imams Online summit stands in sharp contrast to its ongoing censorship of pro-Israel voices, including Prager University. Google-owned YouTube has restricted access to Prager U's pro-Israel videos and has removed dozens of other videos for no apparent reason other than Google does not like Prager's politics. It has likewise censored pro-Israel videos by Alan Dershowitz. This double standard belies its claims of neutrality.
Google is not the first social media giant to enter into a partnership with this highly questionable Islamic group. Faith Associates, the parent company of Imams Online, partnered in 2016 with Facebook and Twitter.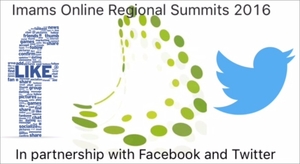 And in a similar action last November, Facebook partnered with the Muslim group Faith Associates to launch an online guide entitled "Keeping Muslims Safe Online," targeting "hate speech." Facebook has never offered a similar guide for other religions. Simon Milner, Head of Policy UK at Facebook, stated: "We're proud to be supporting Faith Associates in the development of their online safety guide. Facebook welcomes all communities, and there is no place for hate on the platform."
Yet investigative journalist and lawyer Judith Bergman noted at the Gatestone Institute: "It is curious that of all the groups Facebook could have chosen to 'protect' – if one is to believe that Facebook intends to 'protect' other groups as well – it chose Muslims. Are Muslims the most targeted group in the world today? In Canada, according to fresh statistics, hate crimes against Muslims have fallen while hate crimes against Jews have risen. In the United States, according to Gatestone's A. Z. Mohamed: 'Since 1992... anti-Semitic incidents have been higher than those perpetrated against other groups.'"
In line with Facebook's inexplicable decision to host a conference with speakers, some of whose public records are parallel with neo-Nazis' statements, we decided to check the backgrounds of the speakers at the Google/YouTube conference. And what sources of information did we primarily use? Google, YouTube and Twitter.
Adam Kelwick, a Liverpool-based imam and Muslim chaplain
In a July 2017 Facebook post, Kelwick wrote: "Muslims must visit Al-Aqsa in droves and ensure their visits adhere to the instructions of a 'principled visitation' as outlined by the Grand Mufti of Palestine and Jerusalem." The Mufti whom Kelwick invokes, Sheikh Ikrima Sabri, has incited violence and condoned suicide bombing, saying: "It is the Palestinian people's right to engage in resistance until the occupation ends. As long as the resistance is legitimate, everything related to it is also legitimate." Of suicide bombing, he said: "It is legitimate, of course, as long as it plays a role in the resistance."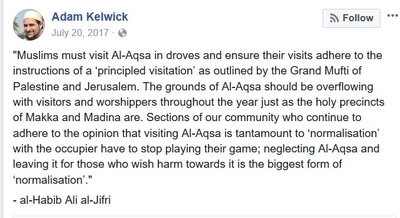 Mahmood Chandia, a lecturer at the University of Central Lancashire
Chandia "claims in one sermon that music is a way in which Jews spread 'the Satanic web' to corrupt young Muslims," the Times of London reported in 2007. Chandia openly endorsed Sharia-mandated death by stoning: "Death by stoning for both men and women exists to provide a social balance in a way that other people will see adultery as a deterrent. So while the Western observer might see it as abhorrent, it exists to preserve the family lineage. It is dictated by prophetic practice which is part of the Islamic religion, the Koran."
Shuruq Naguib, a lecturer at Lancaster University
Naguib has retweeted virulent anti-Semites and anti-Israel militants, notably Ali Abunimah of the Electronic Intifada blog; Naguib retweeted Abunimah's tweet of his pro-BDS article, "How to boycott Israel: updated guidelines for academics."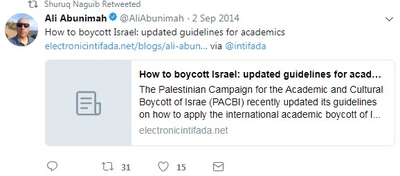 In it, Abunimah repeats the false claim that Israel has engaged in "horrifying destruction and mass killing in Gaza," and called for an "international academic and cultural boycott of Israel."
Going even farther, Naguib has tweeted support for a petition calling upon the United Nations and world governments to impose a military embargo upon Israel in light of its supposed war crimes.

On Facebook, Naguib has shared a link to the article "Decolonization is a global project: From Palestine to the Americas."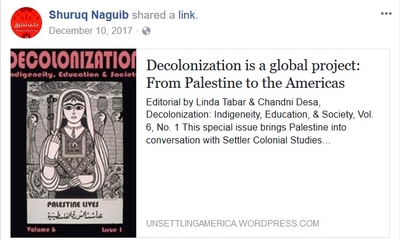 This article falsely claims that Israel expelled 800,000 of the "indigenous Palestinian people" from their homeland, saying "they were unable to return and became refugees as Zionist militias attacked and destroyed villages, towns and cities across Palestine." In reality, "thousands of wealthy Arabs left in anticipation of a war, thousands more responded to Arab leaders' calls to get out of the way of the advancing armies, a handful were expelled, but most simply fled to avoid being caught in the cross fire of a battle."
Ingrid Mattson, professor at Huron University College at the University of Western Ontario and former President of the Islamic Society of North America
Mattson is a serial anti-Israel tweeter; she has tweeted in favor of the Boycott, Divestment and Sanctions (BDS) movement, accusing Israel of war crimes, along with almost any position that denies Israeli legitimacy. We are publishing just a handful so readers can get an idea of who Google has selected to speak to the entire world on Wednesday.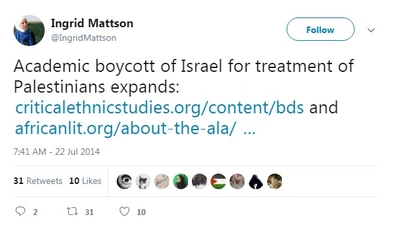 In 2014, during Israel's defensive action in Gaza, Mattson falsely claimed that Israel's actions were designed to "terrify people so they flee their homes – women, children, elderly all vulnerable."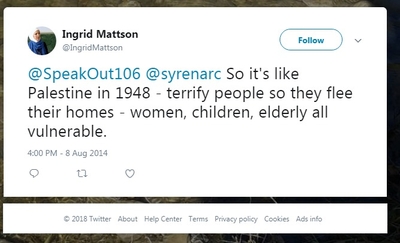 Mattson has engaged in moral equivalence between Israel and Palestinian terrorists, equating the terrorist bombing of a pizza parlor in Israel with Israel allegedly "bombing schools and hospitals" in Gaza, which only took place because Hamas was using them as "human shields."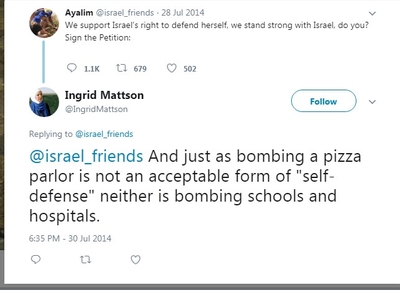 She has referred to Israel as an "Apartheid state."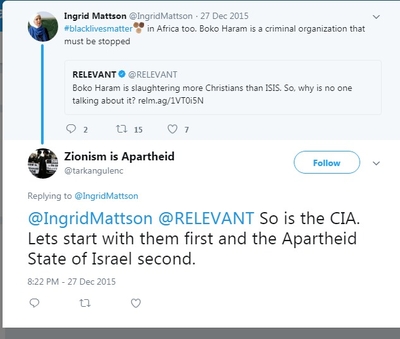 Also in connection with Israel's 2014 action in Gaza, Mattson claimed that Israeli Prime Minister Benjamin Netanyahu sent Israeli soldiers to Gaza to "kill and be killed."
She complained to then-Secretary of State John Kerry about what she termed "the terrorizing of Palestinian children."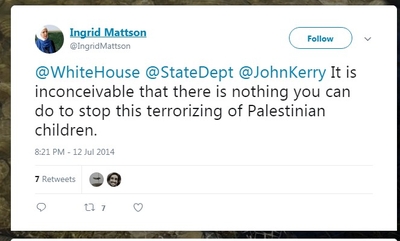 Myriam Francois, aka Myriam Francois-Cerrah, journalist
"Hamas' status as an international pariah, means that the lack of sympathy reserved for an organisation listed as 'terrorist' by most countries in the West, now sadly extends to all Palestinians living in Hamas' ruled Gaza," Francois Cerrah wrote in 2013. She even defended rocket attacks from Gaza into Israel: "Just as the blockade of Gaza, ongoing since 2007, is a form of collective punishment, the current international unwillingness to protect Palestinian civilians on the grounds that Israel has a right to respond to rocket attacks, also represents a form of collective punishment."
In line with this sympathy for Hamas, she has tweeted: "Israel accusing Hamas of war crimes? Oh the irony."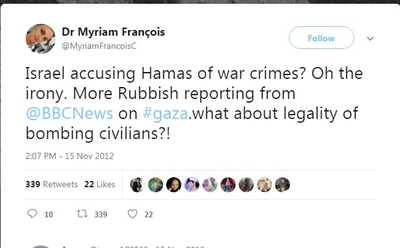 She has even claimed that Israel's "real purpose" in the Gaza operation was "to kill Arabs."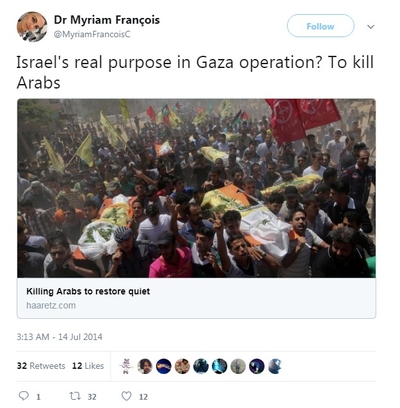 Francois-Cerrah has also claimed that banning Sharia courts in Britain "would harm British Muslim women....while the call to ban Sharia councils is often seen as a way of protecting women, many women I have interviewed feel a ban would disempower them, by removing one of the potentially powerful avenues through which they could exercise religious pressure on their husbands or family members." In reality, these courts have been found to be operating beyond the reach of British law and aiding and abetting the oppression of women.
Haaris Abdul Samad, imam of Hayes Muslim Centre
Even more disturbing is Abdul Samad's support for Aafia Siddiqui, "Lady al-Qaida," who is serving 86 years in prison for attacking American interrogators in Afghanistan.

Google's Partner in Crime: Imams Online
If Google had done its due diligence and investigated Imams Online, it would have easily discovered that its partner had posted anti-Israeli blogs, supported Hamas, accused Israel of genocide and promoted Hamas talking points. An article that remains on the Imams Online website repeats vicious Palestinian anti-Israel propaganda:
We see the brutal killing of innocent children, vile abuses of power from police and servicemen, the frustration of years of oppression and hardships, the anguish and pain of mothers and fathers and within all that, the unwavering defiance of young Palestinians....

As we watch in horror the senseless killing of women and children in Palestine, Imams and Islamic leaders from around the world share in the grief and speak out in outrage to ask where has our humanity gone?..
The Islamic authorities Imams Online invokes are noteworthy. They include Yasir Qadhi, an ultra-conservative cleric who has been a Holocaust denier and believes Muslim women should not work, except as school teachers or as physicians serving other Muslim women.
The Imams Online article also quotes the imam Suhaib Webb, whom the Simon Wiesenthal Center considers to be an "anti-Semite," saying: "The events in Palestine only increase my commitment to the BDS movement and support for organizations in America that are working to give life to Palestinians." Webb claims that effeminate men are cursed and that Muslims should fight gay marriage. He complains that American girls are "bad people" because they "don't wear any clothes." He accuses Jews of trying to kill Jesus and being Muhammad's greatest antagonists, and tells his congregation that animosity toward Jews is understandable. In 2014, Webb raised $300,000 for Islamic Relief, a Hamas-linked charity designated as a terrorist entity by Israel and the United Arab Emirates.
Imams Online also invokes another imam, Omar Suleiman, also considered an anti-Semite by the Simon Wiesenthal Center, who also retails anti-Israel propaganda: "The only result that ever comes out of constant violence and oppression is the perpetuation of animosity and the birth of countless generations of young Palestinians that will grow up in an environment that disregards their humanity and forces them to continue a tradition of resistance and protection for their lives and the lives of their families." Suleiman has a history with Google: he prevailed upon the social media giant to skew its searches so as to present only material favorable to Islam, and to hide any material critical of Islam.
In another Imams Online post criticizing President Trump's recognition of Jerusalem as Israel's capital, it reprints a tweet from Omar Suleiman: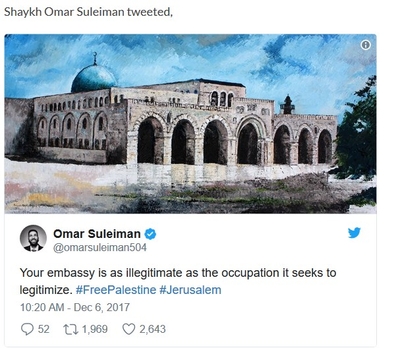 In still another post, Imams Online touted the "International Day of Solidarity with Palestine" and falsely claimed: "The Palestinian people are yet to attain their inalienable rights as defined by the [UN] General Assembly; the right to self-determination without external interference, the right to national independence and sovereignty, and the right to return to their homes and property from which they had been displaced."
MCA-UK partners with Muslim Aid. Gatestone Institute reported in 2014: "Muslim Aid, a British Muslim charity, is also presently working with the Muslim Chaplain's Association to provide 'opportunities to become a prison mentor.' In 2010, Muslim Aid admitted to funding two Palestinian charities that belonged to the terror groups Hamas and Islamic Jihad. In addition, a number of Bangladeshi commentators have accused Muslim Aid of funding the violent Islamist group Jamaat-e-Islami."
All this information is publicly available; Google either did not bother to investigate Imams Online, or simply isn't concerned about its providing a platform for virulent anti-Semitism and Islamism. In partnering with this unsavory group, Google is demonstrating what its detractors have insisted for years: it is an enabler of Islamic radicalism and extremism.
Steven Emerson is the founder and executive director of the Investigative Project on Terrorism.