Former D.C. Metro Transit Police officer Nicholas Young had unusual political views, a federal prosecutor told jurors in Young's terrorist trial Monday.
He "was attracted to Nazis and Islamic terrorists at the same time," Gordon Kromberg said in his opening statement. "Both hate Jews."
Young, a 36-year-old Muslim convert and resident of Fairfax, Va., is charged with attempting to provide material support to ISIS (Islamic State) and obstruction of justice.
According to court filings, Young gave misleading statements to the federal agents when interviewed about the whereabouts of a close associate who Young believed had traveled to Syria to join ISIS. Young also tried to give his associate gift cards codes to help ISIS recruit new members.
Young was a Washington Metropolitan Transportation Authority police officer since 2003. He drew investigators' attention after a September 2010 interview with FBI agents in connection with the arrest of an acquaintance, Zachary Chesser.
Chesser was sentenced in 2011 to 25 years in prison for communicating threats against the writers of the South Park television show and for attempting to provide material support to the Somali terrorist group, Al-Shabaab.
Young used an Israeli flag as a doormat in his home, and his phone featured a picture of billowing smokestacks with the caption, "Together we can finish what Hitler started," Kromberg told jurors in the Eastern District of Virginia. Young has an SS tattoo on his shoulder, and after attending a neo-Nazi gathering, said, "Don't discount an alliance with Muslims to combat the Jews."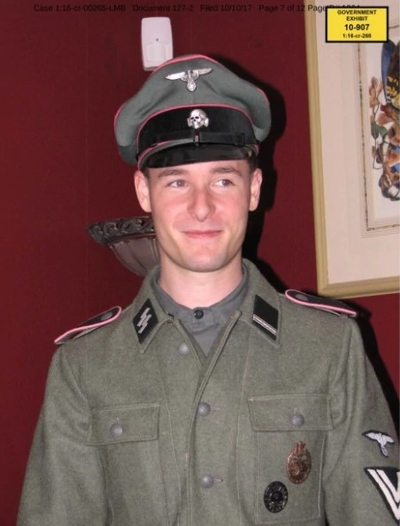 Nicholas Young in Nazi garb.
A search of Young's home and computer uncovered an "intense interest in terrorism – of the Nazi variety" and included a photo of Young and his associates in their Nazi SS uniforms in front of a Nazi flag, a picture of the swastika imposed on an Israeli flag with the caption "The Greatest Devil," and a cartoon depicting a pig with the face of a stereotypical Jew titled "Jewish swine."
Young's internet browser featured bookmarks for anti-Semitic, Neo-Nazis, and pro-Hitler websites, along with sites related to Osama bin Laden, Anwar al-Awlaki, and other radical Islamists.
"The FBI induced Nicholas Young, a distinguished officer to commit a crime that they created," lead defense attorney Linda Moreno said in her opening statement. "Nick Young never spoke to anyone in ISIS, never contacted anyone in ISIS."
To get past the entrapment defense, prosecutors will have to show that Young was inclined toward violence before his first contact with federal agents in 2010. The Nazi evidence becomes critical to the government's case because it predates Young's attraction to Islamist terrorism.
Young traveled to Libya twice in 2011 and associated with rebels attempting to overthrow the Muammar Qaddafi regime. Authorities found body armor, a Kevlar helmet, and several other military-style items in Young's baggage. Young also told a confidential informant that he served with the "Abo Salem Suhada Brigade" in Libya, which is a reference to the Abu Salim Martyrs Brigade that has al-Qaida ties.
Young went to Libya because he was inspired by the Arab Spring, Moreno said, arguing his conduct was legal and her client openly talked to federal authorities about his trips to Libya because he was proud of them.