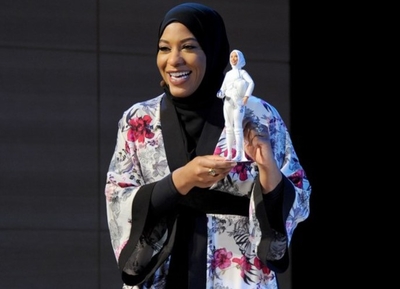 Olympic fencer Ibtihaj Muhammad and the Barbie doll made in her likeness.
For years, feminists
criticized
the Barbie doll for presenting an unrealistic, unattainable body image for young girls.
Her height, weight, bust size and hips were so "anatomically impossible," a 2013 New York Daily News article said, a real-life Barbie "would be reduced to walking on all fours and incapable of lifting anything."
Psychological studies show the doll's image can create real harm in young girls, leading in some cases to eating disorders.
The message many received was, if you want to be happy, or popular, or successful in life, this is what you should look like. Mattel implicitly acknowledged this reality a few years back, when it introduced new dolls with more varied, realistic figures.
This week, Mattel introduced a new Barbie doll, modeled after Olympic fencer Ibtihaj Muhammad – the first member of Team USA to compete in a hijab. The toy, which hits store shelves next year, is part of a "Sheroes" line that also pays tribute to gold medal winning gymnast Gabby Douglas, writer/director Ana Duvernay and other prominent women in the arts.
"I hope that little girls of color across the heartland will be inspired [by her Barbie toy] to embrace what makes them unique," Muhammad said.
While the whole line pays tribute to real-life role models, it is believed to be the first time a Barbie doll singled out any religious symbolism. Pop star Miley Cyrus praised the move, tweeting, "Yay Barbie! One step closer to Equality! We HAVE to normalize diversity!"
But it has been criticized and mocked in other circles for promoting a conservative religious image: If you are a Muslim girl in America, this is what you're supposed to look like.
It's one thing if parents want to do push this on their daughters. It's far different when toy companies push a specific application of religion.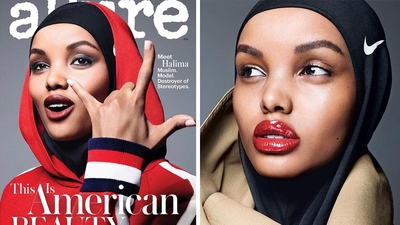 And it cannot be viewed in isolation. In recent years, images of hijab-clad women have driven marketing campaigns for commercial products from Nike to fashion magazines like Vogue, Allure and even Playboy. It was one of the most recognizable icons in January's "Women's March" protesting the incoming Trump administration, something that did generate pushback among some feminists.
"Some consider it a religious symbol; others see it as a tool of patriarchal control and oppression; and yet others consider it a symbol of the march of political Islam," Elham Manea explained in a January Huffington Post article.
"When it comes to wearing the headscarf (veil), some women wear it because they truly believe it to be part of their faith," she wrote. "Others, on the other hand, are forced to wear it, and these are many."
In Muslim-majority nations like Iran and Saudi Arabia, there is no choice for women. Go out unveiled and the state morals police may arrest a woman. In other countries like Egypt, there is no law, but societal pressures make the hijab a near necessity.
In territories liberated from ISIS, one of the first things many women do is take off their hijabs and niqabs, often burning them in celebration of their regained freedom.
This harsh reality is rarely considered in the West, where non-Muslims often treat the hijab as an exotic, enticing accessory. Non-Muslims at the Women's March eagerly donned hijabs, and a "Wear a Hijab" day – in which women of other faiths spend a day in the garment of conservative Muslim women in the name of fighting bigotry – has nothing remotely comparable involving other religions.
"To us, the 'hijab' is a symbol of an interpretation of Islam we reject that believes that women are a sexual distraction to men, who are weak, and thus must not be tempted by the sight of our hair," Muslim journalists Asra Nomani and Hala Arafa wrote in a 2015 Washington Post op-ed. "We don't buy it. This ideology promotes a social attitude that absolves men of sexually harassing women and puts the onus on the victim to protect herself by covering up."
Nomani, a former Wall Street Journal reporter, wrote this week that Mohammad, like every woman, "has the right to wear what she wishes, more power to @IbtihajMuhammad but no to the propaganda that pushes the headscarf as a symbol of Muslim women. In Iran, Saudi, villages everywhere with the idea we're a rotten apple, lollipop, lost pearl if uncovered."
"Why is #hijabbarbie such a trigger?" asked Nomani, a member of the Muslim Reform Movement. "It's not 'Islamophobia.' It's because many people are educated to how it is the fundamental ethos of 'hijab' is, yes, the ethos of sexist purity culture: that women & girls must cover every strand of hair to not tempt men & boys."
Lalo Dagach, a Chilean-Palestinian atheist and podcast host, noted the absence of Barbie dolls for girls of other minority faiths. "Would you say we have to 'normalize' Scientology? Or Mormonism?" he wrote in response to Cyrus. "You're praising religious fundamentalism cuz you equate Islam with race, so you call it 'diversity.'"
He then posted mock-ups of an Amish Barbie, a Mormon Barbie and an Orthodox Jewish Barbie.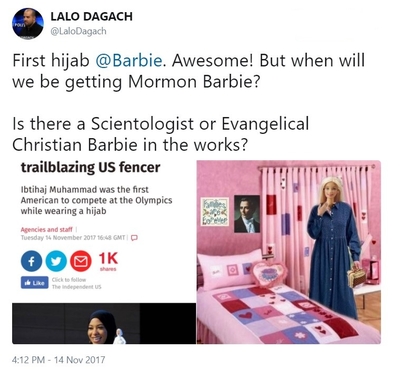 Mattel seems to be acting with good intentions and a desire to appeal to a growing minority population who will buy its toys. But it is impossible to separate the model – an Olympic athlete – with the endorsement of a specific interpretation of a specific religion. That's unprecedented, and with good reason.