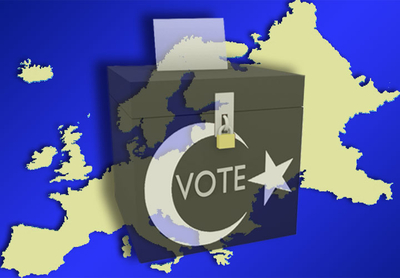 These past several months, eyes across the world have been trained on a growing far-right movement sweeping Europe and America – from the neo-Nazi groups in Germany and the United States to the increasing popularity of France's National Front. But another, far less noticed but sometimes equally-radical movement is also emerging across Europe: the rise of pro-Islam political parties, some with foreign support from the Muslim world. And the trend shows no sign of stopping.
Holland's Denk ("Think") party, established and led by two Turkish immigrants, is among the most significant. Denk won three seats in the Dutch parliament last month, becoming the country's "fastest-growing" new party, according to Dutch daily NRC Handelsblad. Its platform: replace ideas of integration with "mutual acceptance" – a charming but antiquated idea in a culture where one group accepts gay marriage and the other is taught that homosexuals should be shoved off of tall buildings; an "acceptance monitor" to measure the extent to which such "mutual acceptance" has succeeded; and the establishment of a dedicated "anti-racism" police force.
While not the first of such Islamic parties in European politics, Denk's March 15 win makes it an inspiration to others. Existing parties now see a new chance for success, while political aspirants across Europe are making plans to start similar parties of their own.
Hence, while the focus in next week's French elections will be on Marine le Pen's National Front, many European Muslims will also be watching the Equality and Justice Party (PEJ), led by French-Turk Sacir Çolak. Like Denk, the party claims to be a voice for the downtrodden, aimed at fighting "inequalities and injustices," according to a report by the Turkish Anadolu news agency. But also like Denk, it has been accused of representing not the political interests of French citizens, but those of Turkey's president – a man who has spoken out against assimilation and integration and called on European Turks to reject Western values.
The PEJ is not alone in France: The French Union of Muslim Democrats (UDMF), founded in 2012, made headlines when it entered the 2015 electoral race. Its platform seems more moderate than many of its fellow Muslim parties across Europe: founder Nagib Azergui has insisted in interviews that he respects the secular foundation of the French republic, and advocates philosophy and civic education classes that would help mitigate against the recruitment efforts of Muslim extremists.
The party does, however, seek to establish sharia-compliant banks and calls for Turkey to become a member of the European Union. Further, it seeks to re-install the right of Muslim girls to wear headscarves in public schools, a move that could be seen as a gesture towards re-introducing religion into the secular sphere.
Austria, too, has seen a rise in Islamic political parties, such as the New Movement for the Future (NBZ), founded, like Denk and the PEJ, by Turkish immigrants. Unlike the others, however, NBZ has made little effort to hide its loyalty to Turkey. Following the failed 2016 Turkish coup, for instance, its leader, Adnan Dinçer, called on Austria to respect Turkish President Recep Tayyip Erdogan's clampdown on the country and the mass arrests that followed. It is worth noting, however, that Austria's far right has been particularly virulent in its anti-Islam activity, calling for Islam itself to be banned from the country. Such motions inevitably bring forth counter-movements from the targeted groups, and it was, just those actions which mobilized Dinçer to form the NBZ.
But it was Denk's success, above all, that inspired Lebanese-Belgian activist Dyab Abou Jahjah to establish his newest political effort: a party (to date, unnamed) aimed at "Making Brussels Great Again, a la Bernie Sanders," according to an interview in Belgian newspaper de Morgen.
This would be a third attempt for Jahjah, who first came into the public eye in 2002 as the founder of the Brussels-based Arab-European League, a pan-European political group that aimed to create what he called a Europe-wide "sharocracy" – a sharia-based democracy. In 2003, the AEL further organized a political party, RESIST, to run in the Brussels elections: it received a mere 10,000 votes. Now, Jahjah, who also runs an activist group called Movement X, hopes to run again in Brussels' 2018 elections. While his party has yet to declare a platform, his anti-American, anti-Israel, pro-Palestinian and anti-European rants on Facebook and elsewhere give an indication of his plans. So, too, did a recent blog post in which he wrote: "we must defeat the forces of supremacy, the forces of sustained privileges, and the forces of the status-quo. We must defeat them in every possible arena."
But he, too, is not alone: days after Denk's win, fellow Belgian Ahmet Koç announced his own initiative, the details of which have also still to be determined. However, some things are easy enough to predict on the basis of his past: the Turkish-Belgian politician was thrown out of Belgium's socialist party in 2016 for supporting Erdogan's efforts to censor Europeans who insult him publicly, and calling for Belgian Turks to rise up against the "traitors" of the 2016 coup.
Both Koç and Jahjah will have to reckon with the ISLAM party, which has already established itself in the Brussels area. Founded in 2012, ISLAM – which poses as an acronym for "Integrité, Solidarité, Liberté, Authenticité, Moralité" is unapologetically religious. Leaders pride themselves on following the Quran, not party politics. With divisions already in place in the Brussels districts of Anderlecht, Molenbeek (the center of Belgian radicalism) and Luik, the party now plans to expand throughout the Brussels region.
So far, none of the existing parties has had a great deal of success – and the emerging parties have yet to make their platforms known, let alone acquire active supporters. But as Denk founder Tunahan Kuzu proudly announced after the March elections, a new voice has now gained power in a European government. But what that voice ultimately will be, and the strength of its commitment to secular and democratic values, remains yet to be seen.
Abigail R. Esman, the author, most recently, of Radical State: How Jihad Is Winning Over Democracy in the West (Praeger, 2010), is a freelance writer based in New York and the Netherlands. Follow her at @radicalstates.