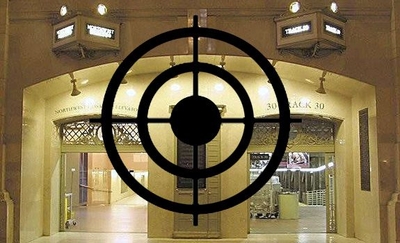 On July 18, a young man stormed through a train outside of Wurzburg, Germany. Crying "Allahu Akbar," (God is greatest) he brandished an axe high into the air, then slashed at the men and women seated around him. Within minutes, the car, as one person described it, " looked like a slaughterhouse."
Then he fled.
By the time the day had ended, five people had been seriously wounded: four on the train, and a woman who had the misfortune of walking her dog at the moment he passed by. She remains in critical condition.
A day later, the Islamic State took credit for the attack, calling the killer, a 17-year-old refugee who was ultimately shot and killed by German police, a "soldier for ISIS." It was the first full-scale Islamic terrorist attack in Germany.
But it was not the first Islamic terrorist attack on a train. Far from it: starting with the 2004 commuter train bombings in Madrid and the July 7, 2005 bombings of the London Underground, trains and metros have been a common target for extremist groups. Some efforts, like the bombing of the Brussels metro station this past April, succeeded; many more have failed. But the attempts, successful or not, betray a gaping hole in international security, and one that may not be easy to repair.
In fact, a 2007 report from the Council on Foreign Relations noted that "security professionals see trains as some of the likeliest targets." Consequently, when it comes to the possibility of a major attack on U.S. or European railway or metro systems, former Homeland Security officer Sean Burke told Boston's WCVB news, "We have to expect it. That's the bottom line."
Such an attack, if large enough, could be devastating. While air traffic remains substantial, five times as many people ride trains as fly in the United States, and in Europe, the rapid, efficient and low-cost trains often offer the best transportation options between countries, especially in an era of long airport security lines and early check-ins. Moreover, freight shipments, including highly toxic industrial chemicals, travel the same routes as passenger trains, frequently passing through densely populated areas. Because of this situation, the Council on Foreign Relations reported in 2007 that former White House Deputy Homeland Security Adviser Richard Falkenrath considered such trains "the single greatest danger of a potential terrorist attack in our country today.'"
Yet security on both continents is weak, and in Europe, often at the bare minimum; one will rarely find a policeman or other security personnel at a train station in the Netherlands, for instance. Even on international trains, like the high-speed Thalys between the Netherlands, Belgium, and France, customs and immigration officials are few and far between. Rarely is anyone asked for ID (let alone a passport), and there are, as in the U.S., no security screenings even at major rail stations like Paris' Gare du Nord and Berlin Hauptbanhof.
Which may in part explain why the real identity of the axe-wielder in Bavaria is still uncertain: at a July 20 press conference in Berlin, officials admitted that his name is still uncertain since he, like many other asylum seekers, entered the country without a passport or other identifying papers. Indeed, Time reports that, "Authorities have discovered that he could be from Afghanistan or Pakistan, and that the information he provided to officials in Germany could be partly or entirely false."
It also likely explains the many other, less successful attempts on European trains, such as the 2006 plot to bomb trains at the Cologne station; an attempt to blow up the main train station in Bonn in 2006; a suspected plot disrupted last New Year's Eve to send suicide bombers onto trains in Munich; and the foiled attack by Ayoub el Khassini, who opened fire on a Thalys train in August 2015. In the latter instance, three American tourists – two of whom were in the military - ultimately overpowered and subdued the Moroccan-born Belgian resident, who had boarded the train armed with a Kalashnikov, pistol, hammer, bottle of petrol, nearly 300 rounds of ammunition, and other weapons.
Yet, counterterrorism and national security officials in the U.S. as well as Europe admit there is little they can do. As Time notes, in Europe, "some of the trains linking major cities stop at countless small towns along the way," and the cost of installing metal detectors and setting up TSA-style inspections at all of these stations would be prohibitive. As Christophe Piednoel, a spokesman for the French SNCF railway told Liberation, "Stations are public places....We cannot ask the French to wait one hour before boarding a train. Moreover, 15,000 trains cross France every day, and traverse 3000 stations."
The same is true in the U.S., where some say Amtrak, which carries over 30 million passengers a year through 46 states and parts of Canada, is a prime target. Tracks pass through tunnels, across bridges, in and out of remote villages and major cities. As Burke also told WCVB, "The passenger rail system is designed to be open. It's specifically put in densely populated areas. [It's] a system that is vulnerable really from the beginning of its trip to the end of its trip."
Added to that is the threat of toxic, chemical freight, which is carried in pressurized tanks: the CFR report points out that "security along their route tends to be lax, and at times tanks sit unmonitored in rail yards for days at a time." Despite this fact, efforts to reroute such shipments have failed; not only are they costly, but impractical, since many of the shipments are themselves bound for populated areas, including major cities.
Despite this danger, the TSA all but overlooks train safety, budgeting just 2 percent of its spending on train and subway security, according to the New York Times. Even considering the practical complications and costs of adding metal detectors to all train stations and subway entrances in the country, this hardly seems like enough. New York subways are regularly patrolled by transit authority police who will perform random searches of bags, but with 5.6 million passengers riding the system daily, these measures scarcely seem adequate.
What is especially disturbing is that security officials, both in the U.S. and in many European countries, even seem aware of this: after the Paris attacks in November 2014, K-9 teams swept train stations across America. And after the Brussels metro attacks, train terminals saw a stepped up police and military presence in a number of major cities and even some smaller European towns. In New York and Washington, D.C., security was intensified not just on trains and subways, but also on bridges, tunnels, and even highways.
And then, suddenly, they were gone. It was as if the dangers in New York and Washington and Chicago were resolved, once the perpetrators of the attack in Brussels had been arrested or killed.
True, records show that TSA at airports have failed to stop a single terrorist attack (though they did find over 2,200 firearms, along with grenades, knives, and other weapons in 2015). At the same time, that may be because their presence discourages potential terrorists from attempting to strike on board a plane these days. There are, after all, easier options. Like trains.
Abigail R. Esman, the author, most recently, of Radical State: How Jihad Is Winning Over Democracy in the West (Praeger, 2010), is a freelance writer based in New York and the Netherlands. Follow her at @radicalstates.