Palestinian social media networks continue to play a vital role in promoting the recent wave of violence targeting Israelis, reports the Meir Amit Intelligence and Terrorism Information Center.
On February 18, two Palestinian youth stabbed two Israelis in a supermarket located in the Sha'ar Benyamin area. One of the victims, a 21 year old off-duty Israeli soldier later died of his injuries, while the other Israeli was critically wounded.
The terrorists – Iham Sabah and Omar Samir Taha al-Rimawi – were both 14 years old and from a village west of Ramallah.
The terrorists' Facebook pages featured similar violent sentiment associated with  Palestinians previously responsible for attacking and killing Israelis during the most recent wave of Palestinian violence.
Last year, al-Rimawi expressed support on his Facebook page for other Palestinian "shaheeds" (martyrs) who had carried out attacks against Israelis, and revealed an interest in emulating similar terrorist acts.
"We will live like proud hawks...and we will die like proud-standing trees," posted al-Rimawi on his Facebook page, expressing a desire for self-sacrifice.
While most of the Palestinian terrorists who have mounted recent attacks do not appear to be primarily motivated by religious ideology, some of them frequently relied on Islamic terminology and justification to carry out their attacks. Likewise, Al-Rimawi also praised the shahadah, death as a martyr for Allah's sake.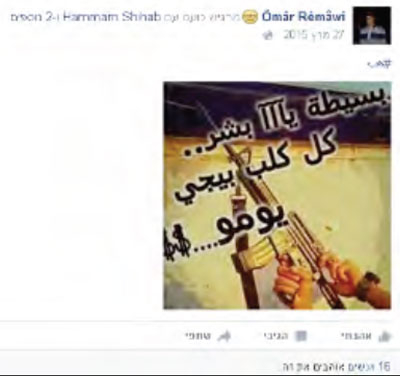 On March 27, 2015, al-Rimawi posted a picture of a rifle being prepared to shoot. "Simply a man...Every dog will have its day," writes al-Rimawi. He sent the post to three friends, one of whom was Iham Sabah, the terrorist who helped al-Rimawi carry out the stabbing atack.
Many of al-Rimawi's Facebook friends supported his desire for martyrdom, including Iham Sabah who helped him stab Israelis in the supermarket. No one among al-Rimawi's social network attempted to dissuade him from carrying out the attack.
Al-Rimawi also "adopted" terrorist Ibrahim Daoud as his personal role model. Daoud, 17, died during violent clashes with Israeli soldiers on November 26, 2015.
There was no mention of any particular Palestinian faction in either of the boys' social media posts, corroborating the view that the recent terrorist campaign is largely spontaneous and lacks organizational direction.
Nevertheless, Palestinian officials from across the political spectrum continue to fuel the violence by publicly glorifying the terrorists and encouraging others to follow in their footsteps.
Hamas spokesman Husam Badran praised the 14-year-old terrorists and the "intifada youth," referring to the attack as a "natural response" to "Israel's crimes," and encouraged other Palestinian youth to conduct terrorist attacks.
On Feb 21, senior Fatah official Sultan Abu al-Einein glorified the terrorists on his Facebook page.
"Iham [Sabah] and Omar [al-Rimawi], you are our leaders," posted al-Einein.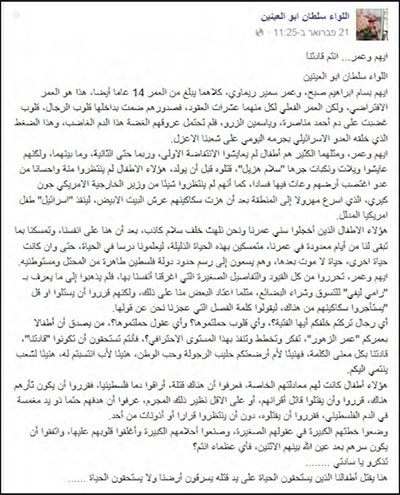 The Facebook page of General Sultan Abu al-Einein praising the two Palestinian terrorists who carried out the stabbing attack in Sha'ar Benyamin (February 21, 2016).
He praised what he referred to as the highly professional nature of the stabbing attack. Notable Fatah and Palestinian Authority (PA) officials, particularly al-Einein, have repeatedly expressed explicit support for Palestinian terrorists who attack Israelis – glorifying their images in official media outlets, attending government sponsored funerals of the attackers, and providing assistance to terrorists' families.
These developments highlight the important role Palestinian officials and social media play in promoting ongoing terrorist attacks against Israelis and Jews.
Click here for the full Meir Amit Center report.