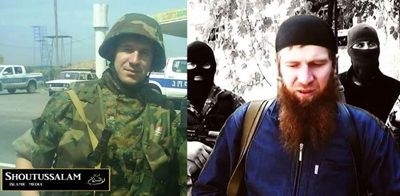 Shishani as a Georgian special forces soldier and as an ISIS leader.
The barbaric and
elusive
Chechen commander who recruited British executioner "
Jihadi John
" has moved to Sirte, Libya to assume control of ISIS operations in the terrorist organization's metastasizing
Mediterranean caliphate
.
The Investigative Project on Terrorism first learned about the movement of Abu Omar al-Shishani – among the world's most-wanted terrorists – through its exclusive Middle East sources. Other news organizations later confirmed the account.
Al-Shishani is a former American-trained officer in the Georgian special forces. He developed a reputation for his ferocity and effectiveness while fighting against the Russians during the 2008 invasion of Georgia and later for ISIS against dictator Bashar al-Assad in Syria.
He established his presence not long after arriving in former dictator Muammar Gaddafi's hometown Sirte by ordering one execution and chopping the limbs off another individual.
Western intelligence officials believe that up to 6,500 ISIS fighters – twice the number previously thought – have relocated to Libya as a result of coalition airstrikes on ISIS in the Middle East and new difficulties entering Syria.
Libya's emergence as an ideal location in which to foster its new caliphate arose after NATO assisted radical jihadists in killing Gaddafi in 2011 and abruptly abandoned the country. Left in its wake were two rival governments competing for power, which created space for Islamists to turn Libya into a cesspool of extremism.
ISIS's new caliphate along the Mediterranean coastline reaches as close as 200 miles from the vulnerable southern border of Europe. It exploits Libya as a base to export weapons, jihadists and ideology to Europe, Africa and the Middle East.
Benghazi and Derna have long been nests of radicalism. They provided more fighters per capita to Afghanistan and Iraq than nearly any other geographic area in the world. The difference between then and now is that Gaddafi kept the lid on the garbage can.
With al-Shishani hanging his hat in Sirte, Libya has become a safe haven for one of the most murderous leaders in the world today. The situation demonstrates the total failure of a Western foreign policy that "leads from behind."
Pete Hoekstra is the Shillman Senior Fellow at the Investigative Project on Terrorism and the former Chairman of the U.S. House Intelligence Committee. He is the author of "Architects of Disaster: The Destruction of Libya."