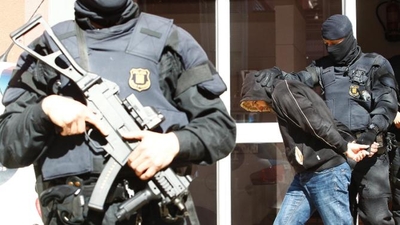 On Nov. 27, exactly two weeks after the terrorist attacks that killed 130 people in Paris, FBI agents swarmed into a private home in Harrisburg, Pa. Their target: 19-year-old Jalil Ibn Ameer Aziz, an American citizen and Muslim whom they'd been watching for several months, largely through his postings on Twitter. Using as many as 57 separate accounts, Aziz had pledged allegiance to the Islamic State, called for the killing of non-Muslims, aided others to make hijrah to Syria to join the jihad there, and expressed his own wishes to do the same.
And if that weren't enough, he promised further to continue the attacks against America, posting, for instance, "Know, O Obama, that we are coming to America, and know that we will sever your head in the White House."
But as the FBI soon discovered, Aziz's jihadist lust did not end with just words. At the home he shared with his parents in the Pennsylvania capital, according to the affidavit filed in the case, they found a "go-bag," or knapsack, containing "five M-4 style high capacity magazines loaded with 5.56 ammunition, a modified kitchen knife with the handle removed and wrapped in cloth and string, a thumb drive, a tin filled with various over-the-counter medications, and a head wrap commonly referred to as a balaclava."
This was only the beginning. Ten days later, the FBI arrested 20-year-old Abdirizak Mohamed Warsame, a Somali-American in Eagan, Minn., on charges of "providing and conspiring to provide material support, specifically personnel, to a designated foreign terrorist organization."
In fact, since the Paris attacks of Nov. 13 and the Dec. 2 terrorist attack in San Bernardino, California, law enforcement agents worldwide have apprehended dozens of suspects on suspicion of plotting terrorist attacks or helping to support the Islamic State. Activity has been especially strong in Europe, where one German jihadist, who escaped ISIS in Syria and is now doing time in a German prison, warned that he and other European fighters were asked to commit jihad "in their homeland," the Independent reported. He claimed he was part of a propaganda video encouraging other Muslims: "All you need is to take a big knife, and go down to the streets and slaughter every infidel you encounter."
With terrorist arrests in the U.S. reaching record numbers this year (60), and 315 in the UK, it seems that many Muslim followers around the world are happy to oblige.
And so you can't help but wonder: as we head into the 15th anniversary year of the 9/11 attacks, is this what our "new normal" will become?
Below, a summary of Islamic terrorism-related arrests since Nov. 13 worldwide:
France
Under the supervision of six counterterrorism judges, in the wake of the Nov. 13 killings, police perform 2,700 raids and arrest more than 370 suspected jihadists. In mid-December, a plan to attack civil servants is foiled by police in Orléans. Two men are arrested in connection with that plot; both had been in touch with a possible "ringleader" in Syria, according to France's interior minister Bernard Cazeneuve.
Germany
A Nov. 17 soccer match between Germany and the Netherlands in Hannover is cancelled amid threats of explosives, and the stadium evacuated. No bombs are found, but the intelligence, coming from France, was considered reliable.
After warnings that the country will be attacked, two men ages 28 and 46 are arrested during Nov. 26 anti-terror raids in Berlin and charged with plotting a terrorist attack in the northwest city of Dortmund.
Weapons handler Sascha W is arrested Nov. 27 near Stuttgart, accused of supplying some of the weapons used in the Paris terrorist massacres.
35-year-old Muslim convert Sven Lau is arrested Dec. 15 on four counts of supporting terrorism through his connections with ISIS and another organization, JAMWA. "Mr. Lau caused an uproar last year when he arranged for a group of young men to dress in orange security vests emblazoned with 'Shariah Police' and sent them into the streets of an ethnically diverse neighborhood in the western German city of Wupperthal, in an effort to encourage people to lead what Mr. Lau said was a more devout life," the New York Times reported.
Leeth Abdalhmeed, a Syrian in a Dortmund refugee camp, is arrested Dec. 17 on suspicion of links to ISIS and of smuggling medications and handling financial matters for the group. Syrian opposition members tell the Wall Street Journal that Abdalhmeed was "among the first Syrians who pledged loyalty to the Islamic State."
Austria
Two men are arrested Dec. 13 at a Salzburg refugee center on suspicion of connections to the Paris attacks and of entering the country on fake Syrian passports with plans to carry out attacks there. Investigators also examine whether the two are French citizens.
Two other refugees also were arrested earlier this month on suspicion of having terrorist connections, according to the Press Chronicle.
Great Britain
Britain's Home Office announced this month that a record 315 terrorists have been arrested in 2015. Of these, 16 percent were female – double the number in the previous year – and 79 percent were British nationals (compared to 56 percent in 2001). Among those arrests are four Luton men apprehended on Dec. 2, suspected of support for ISIS, and another arrested Dec. 22 "on suspicion of being involved in the commission, preparation or instigation of acts of terrorism."
Spain
Spain has been a quiet hotbed of jihadism in the past few years, according to recent reports – so much so that an anti-jihadist hotline generated tips for 29 credible suspects within its first 24 hours. Ninety suspected jihadists have been arrested in 2015, though the numbers since 2013 paint an even grimmer picture. An inventory by editors of the Local showed 133 total arrests, of which:
40 percent were Spanish-born

45 percent were Spanish citizens

10 percent were "lone wolves"

60 percent were married

13 percent were converts

the average age was 20-34

16 percent were women
That so many women have been involved is likely no accident: Abdelhamid Abaaoud, suspected of leading the Paris massacres, has specifically targeted Spanish women via social media, said Spanish interior minister Jorge Fernandez Diaz. Notes the Local, "Spanish people have arrested several women this year on suspicion of recruiting women and teenage girls for Islamic State jihadists."
Two prisoners already serving time for "common crimes" are arrested Dec. 5 on suspicion of distributing Islamic State propaganda and declaring their support for ISIS's atrocities.
Two Moroccan nationals – a 32-year-old man and 19-year-old woman – both legal Spanish residents, are arrested on charges of pledging allegiance to the Islamic State, promoting jihad on social media, and helping to recruit others.
Finland
Finnish police arrest 23-year-old twin brothers from Iraq Dec. 23, charging them with shooting 11 people during ISIS's 2014 massacre of 1,700 Iraqi soldiers in Tikrit. The twins were among 300 refugees being housed in the small town of Forssa.
Sweden
Sweden's Security Service raises the terror alert level to its highest point ever Nov. 18, signaling an imminent threat. Even so, the country's police force warns that it is inadequately armed to protect the public in the event of a terrorist attack.
On Dec. 14: Swedish courts convict 32-year-old Hassan Mostafa al-Mandlawi and Sultan al-Ami, 30, of participation in terrorist activities in Syria and sentence them to life in prison. "Chief Prosecutor Agnetha Hilding Qvarnstrom said the pair, who were arrested in July in Sweden, had both 'expressed joy over the deeds,'" the New York Times reported.
Switzerland
Geneva raises its terror alert level Dec. 10 as the department of security announces they are seeking terrorist suspects. Reporters surmise that the search relates to a Belgian-registered car that may have belonged to a friend of Salah Abdeslam, the suspected leader of the Paris attacks. The US Embassy in Bern also warns Americans to be vigilant and alerts them to the raised threat level in Geneva. A day later, Swiss President Simonetta Sommaruga speaks of a "potential IS cell in the Geneva area," according to Swissinfo, a local news site. That same day, two Syrian men are arrested, also in Geneva, with traces of explosives found in their car.
A Swiss national also is arrested for possessing an "unimaginable arsenal," according to Geneva police, that included a Kalashnikov, muskets, hatchets, and other weaponry, as well as a Third Reich flag.
Swissinfo further reports that 70 cases of jihadi radicalization are under investigation in the country, with more than 50 citizens confirmed to have traveled to join ISIS.
Netherlands
In the country's largest terror trial since the slaughter of filmmaker and author Theo van Gogh in 2004, Dutch authorities convict nine jihadist suspects on Dec. 10, six of whom they say form a terrorist organization in their own right, and all of whom are determined to have connections to ISIS. Sentences for the group range from seven days to six years.
Belgium
Only days after the Paris attacks, Belgium raises its terror level to its highest score in Brussels, placing the city in lockdown from Nov. 21-25 as the surviving perpetrator and possible leader of the attacks, Saleh Abdeslam, remains at large. A Belgian native, Abdeslam is thought to be in hiding in the Brussels region of Molenbeek, a largely-Muslim community that has bred a disproportionately high number of Islamic terrorists. Twenty-one raids in the first night of the lockdown lead to 16 arrests; others follow.
Though the government relaxes the alert Nov. 25 and reopens schools and offices, Brussels regional president Rudi Vervoort notes in a statement that the threat continues. "It is not the end," he says, "just the beginning."
Time shows that he was probably right: on Tuesday, police arrested two men believed to be planning an attack on New Year's Eve, probably at the city's main square, the Grote Markt, where thousands are expected to converge at midnight. Officials raise the law enforcement terror level, this time from level two to three – or second-highest.
The threat continues.