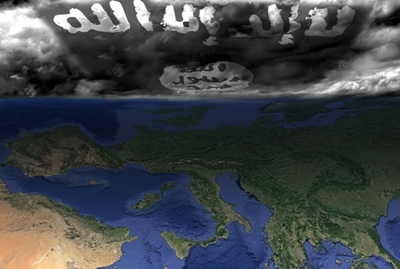 The Islamic State claims it sent highly trained sleeper agents to Europe through Turkey posing as refugees as far back as 2012. A 99-page manifesto issued in January, "Black Flags from Rome," also details the Islamic State (ISIS)'s desire to spark a Europe-wide Islamic insurgency using "Muslim No Go Zones" as bases of operations.
As an example, it claims that some Syrian refugees fled to Italy. "No doubt, some of these refugees were undercover fighters of Al Qa'idah and the Islamic State," the manifesto says. "They were quick to take the opportunity of entering into the different countries of Europe (most probably as early as 2012). All this was happening under the nose of the European intelligence services whose job during this time (2012) was only to prevent European Muslims from entering Syria. (This shows how quick the Islamic groups were in planning ahead. Years before Europe even knew where its Muslim citizens were going - experienced Islamic fighters had already found safety in Europe.)"
These highly trained fighters were instructed to form secret cells and wait until called on by the Islamic State's self-proclaimed caliph, Abu Bakr al-Baghdadi. At that time they would "continue the Jihad and ... seek revenge for the Western occupation of Muslim lands." "Black Flags From Rome" claims the sleeper agents were well-trained in urban combat tactics similar to this month's Paris attacks. It proudly contrasts past Al-Qaida's terrorists with its fighters, whom it describes as "untrained" and "vulnerable," noting that Western intelligence agencies never faced professionally trained fighters with combat experience.
"These young Europeans had been professionally trained, and given training most specific to the context of the war they would battle within Europe," the manifesto says.
ISIS training included instruction on buying and firing weapons and making improvised explosives. Such training could explain the sophistication of the Paris attacks and the attackers' competence in making suicide vests, which experts say takes weeks of training.
"Their locations were unknown, and police raids wouldn't even have the same impact as unarmed lone wolf terrorists' (sic), because these young men were armed and able to shoot back in groups. There were small armies of the Islamic State within every country of Europe by late 2014, and the intelligence agencies didn't even know about it!" the manifesto says.
ISIS propagandists based in Syria were quick to take responsibility for the attacks. An updated edition titled "Black Flags From the Islamic State," written in the past week, calls them "one of the first organised attacks done by the Islamic State in Europe which involved a Network of Cells working together in an organized way."
Police described the Paris attackers as "seasoned fighters by the looks of it and perfectly trained, with witnesses describing them as quite young and cool-headed," the London Daily Telegraph reports.
Furthermore, during the attacks, a mid-level Syrian Islamic State leader known as @Jazrawi_Oooud tweeted during the attacks: "... Syrian refugees sent by Islamic state carried out today's offensive names battle of Paris. More to come."
This statement came out a day before the media or French authorities mentioned any possibility that people who might have infiltrated the wave of refugees from Syria could have been responsible for the attacks. A fake Syrian passport bearing the name "Ahmad alMohammad" was found next to a suicide bomber who blew himself up at the soccer stadium. Two other stadium bombers arrived on Oct. 3, blending in with scores of refugees on the Greek island of Leros.
Several of the Paris attackers fought for ISIS in Syria and their leader, Abdelhamid Abaaoud, freely traveled to and from Europe. The Islamic State claims it selected Abaaoud to lead the mission and trained him in insurgency skills before sending him to France to create clandestine cells with the aim of starting a jihad in France. Abaaoud hid among the flow of refugees from Syria, and travelled to Turkey and Greece before making his way to France, according to "Black Flags From the Islamic State."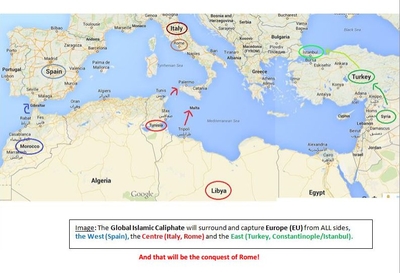 ISIS map claims to depict plans to "surround and capture Europe"
If what "Black Flags From Rome" and "Black Flags From the Islamic State" say is true, it could influence subsequent debate over the flood of refugees from Syria and Iraq into Europe and possibly America.
It could mean that the attacks in Paris weren't just a sign of a wounded Islamic State lashing out at Europe in retaliation for lost territory in Iraq as some suggest. The Black Flag manifestos, and a third called "How to Survive in the West: A Mujahid's Guide," all show a greater strategy to import the group's jihad to Europe.
"Once the media attention dies down, the Islamic State will tell another "sleeper Cell" (secret Cell which has not yet activated) to do another attack again," Black Flags From the Islamic State says..
Rome's Apocalyptic Prophecy
The manifesto's title, "Black Flags From Rome," draws from the Islamic State's apocalyptic theology. Islamic prophecy states that Rome will be conquered by Muslims before the appearance of Islam's Antichrist, the dajjal, appears. ISIS hopes to help that along.
In a hadith found in Sahih Muslim, Muhammad says:
"You will attack Arabia and Allah will enable you to conquer it, then you would attack Persia and He would make you to conquer it. Then you would attack Rome and Allah will enable you to conquer it, then you would attack the Dajjal and Allah will enable you to conquer him. Nafi' said: Jabir, we thought that the Dajjal would appear after Rome (Syrian territory) would be conquered."
The Islamic State, however, interprets this hadith as referring to Rome, Italy, rather than a region controlled by the Roman Empire in Muhammad's day.
The dream of conquering Rome appears in other Islamic State propaganda such as issue four of Dabiq, which shows an Islamic State flag fluttering atop the obelisk in St. Peter's Square.
"We have to defend our communities in Europe, and buy time for the Armageddon in Syria to finish and for the Roman invaders to be defeated. The day these Roman (NATO) armies set off with their 960,000 soldiers to fight the Muslims in Dabiq (Syria), they should realise half the prophecy has already come into effect. The 2nd half of the prophecy is that they will lose, and Muslims will take over Rome ... The next stop? The AntiChrist (al-Dajjal) in Israel," a subsequent manifesto published in July, "Muslim Gangs: The Future of Muslims In The West," states.
Both "Muslim Gangs" and "Black Flags" urge exploiting anti-Muslim sentiment to radicalize European Muslims to build an army to fulfill this prophecy. The authors of "Muslim Gangs" advise using propaganda to unite Muslims around local humanitarian efforts.
"The Propaganda Arm is using soft power techniques to build a united Muslim community which appreciates self-defence, a community which can support fellow believers in (future) times of difficulty and war," "Muslim Gangs" advises.
It urges Islamic propagandists to claim that aspects of Islam are being criminalized, and to frame police as enemies of the Muslims. This, it says, helps to build a sense of alienation:
"Tell them stories of how we feel unsafe and how they make it a crime for us to morally support Muslims around the world, and they do not even let us leave the West if we want to. Tell them that they should not talk openly with the police, or else they could be taken away from their parents. These are realities Muslims face everyday, we need to make them aware. "This will make the young generation stay distant from the police. They will hate it. The police will try to come to their schools to win their hearts and minds, but tell the kids: 'Who do you trust more? Your fellow Muslim brothers, or the ones who imprison Muslims?'"
It urges establishing "no-go zones" and creating a culture of hostility to the police where lawlessness reigns and the jihadists can flourish.
"Al Qa'idah, the Islamic State and many Mujahideen groups thrived in areas where there was lawlessness because they could buy smuggled goods from the blackmarket and train without fear of police. If police did come, the people in the area would inform everyone because this was a no-go zone for the police," "Muslim Gangs" states.
Abaaoud and his fellow Paris attackers used such a place in the Brussels, Belgium suburb of Molenbeek, which has been the source of the highest concentrations of jihadi foreign fighters who have left to fight in Iraq and Syria. Belgian authorities admit they have lost control of the suburb.
Other tactics include aligning with left-wing activists to fight neo-Nazis and using them to do undercover work for Muslims to "pave the way for the conquest of Rome." It suggests that Muslims can use leftists to fight and sabotage the "financial elite."
"War: right now you can do lone wolf attacks, but the West is not fertile for a full on war yet. Rather, the increasing amount of attacks from both sides will gradually create a state of war," "Muslim Gangs" states.
White Muslim converts are seen as the Islamic State's "secret weapon" because they can blend in more easily.
Additionally, the Islamic State wants followers to infiltrate gangs to learn how they operate, then develop into larger militias by using fear as a tactic to intimidate enemies and inspire recruits, which observers call "jihadi cool."
"Black Flags" suggests using mosques as operating bases and exploiting attacks by neo-Nazi groups. It predicts that Muslims and neo-Nazis will launch reprisals against each other.
Early stages of the proposed Islamic insurgency would use primitive weapons like Molotov cocktails, pellet guns and slingshots against neo-Nazi gangs. It suggests copying tactics used during the early stages of Syria's civil war, such as making attacks using homemade weapons and capturing more advanced weapons.
Recruits are obtained by "showing the glamorous nature of Jihad" and emphasizing great spiritual rewards for those who engage in jihadi attacks. Video recordings of "spectacular attacks" can put potential recruits in awe of jihad, "Muslim Gangs" says. It also suggests using such recordings to fundraise among Muslims who "might be willing to donate" to defending Muslim neighborhoods.
In the process, "Black Flags" suggests forming militias that would take over buildings, roads and weapons depots.
"As the Islamic militias begin to arm themselves and train each other, they will be able to fight more battles ... This will make them even richer and more financially independent, buy even more advanced weaponry from the black market and cause even more damage to the enemies," "Black Flags" says.
Muslim gangs are urged to fight to seize territory outside Muslim neighborhoods and build alliances with other gangs with the goal of creating a large army.
"Muslim fighters from all European countries will continue the fight, breaking borders until they can reach; Northern Rome," "Black Flags" says.