An Arizona man has been indicted in connection with the May 3 attempted attack on a "Draw Muhammad" contest in Garland, Texas. Elton Francis Simpson and Nadir Hamid Soofi opened fire on security personnel outside the contest in hopes of attacking participants inside. Both were shot and killed by police officers at the scene.
Abdul Malik Abdul Kareem, also known as Decarus Thomas, is charged with transporting weapons and ammunition across state lines with the intent to commit crimes and then lying about his involvement.
Between Jan. 7 and May 3, Kareem hosted Simpson and Soofi (and possibly others) to plot their attack on the contest, the indictment alleges. He also supplied them with firearms and went with them to a remote desert to practice shooting. Between May 1 and May 3, Kareem allegedly transported the assault rifles from Arizona to Texas. He also is charged with lying to FBI agents about his involvement with the planned attack denying he even knew the Muhammad Art Exhibit and Contest was scheduled to take place.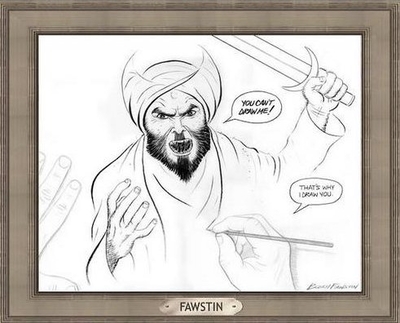 The contest was in reaction to the massacre at the Paris offices of the satirical magazine Charlie Hebdo by radicalized Islamists who said they were avenging Islam's prophet Muhammad after the magazine's repeated caricatures of him. The winning entry shows an image of the Muslim prophet Muhammad brandishing a sword, commanding, "You can't draw me!" The cartoonist's hand responds, "That's why I draw you."
So far Kareem is the only suspect charged in relation to the foiled attack, but the indictment reveals the possibility of others involved in the planning of the attack.
The Islamic State (ISIS, ISIL, or IS) claimed responsibility for the attacks on its official radio channel, referring to Soofi and Simpson as "brothers" and "Al Khilafa," the name ISIS gives its soldiers. Minutes before the attack, Simpson expressed his allegiance to the group in a Twitter post.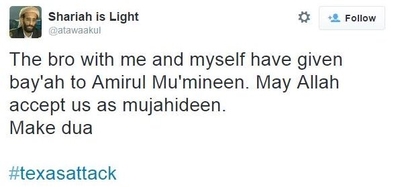 The Garland shooting was not the first sign of Simpson's radical leanings. In 2010 he was charged with lying to the FBI about his intentions to travel to Somalia to fight with the terrorist group Al Shabaab. He was convicted in 2011 and sentenced to three years probation.