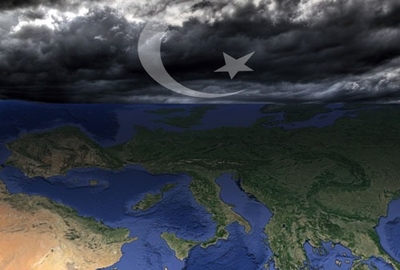 With every new atrocity, Western leaders and political commentators collectively assure themselves and the public that the Islamic State's power will suffer, that its PR machine is failing, and that the flow of Western Muslims to the Caliphate will stop.
It doesn't.
European Muslim radicals have shown no hint that they are reconsidering their hero worship of IS (or ISIS), not even in the aftermath of the widely-condemned killing of Jordanian pilot Moath al-Kasasbeh, who was caged and burned alive in January. While Muslim moderates around the world decried the killing, teens from England, Germany, Holland, Belgium, France and even the United States continue to cross into Syrian territory, eager to join the jihad.
This news shouldn't be all that surprising. In 2013, Ruud Koopmans published the results of a pan-European study, based on interviews with 9,000 European Muslims, which showed large numbers of European Muslims believe in many of the ideas championed by the Islamic State: a return to the roots of Islam, the conviction that religious (Koranic) law stands above all secular laws; a hatred of Jews and homosexuals; and a view of the West as the enemy of Islam.
Among the findings, "[a]lmost 60 percent of the Muslim respondents reject homosexuals as friends; 45 percent think that Jews cannot be trusted; and an equally large group believes that the West is out to destroy Islam."
More recently, in the aftermath of the Charlie Hebdo massacre, the BBC surveyed 1,000 British Muslims, and found that 24 percent consider "violence against those who publish images of the Prophet" is justified. Asked whether "Muslim clerics preaching that violence against the West can be justified are out of touch with mainstream Muslim opinion," 45 percent disagreed.
Put another way, nearly half of British Muslims stand comfortably by those clerics who justify violence against the West.
Equally disturbing was the finding that 11 percent of British Muslims questioned said they "feel sympathetic towards people who want to fight against western interests." With a Muslim population of more than 2.7 million in 2011 (the most recent date for which such figures are available; by now the number would be higher), that makes for approximately 297,000 people. While likely not even a majority of those 297,000 are seeking to make hijrah – join the Islamic State and its jihad – these numbers represent an international terror threat of astronomical proportions.
And that's just in the U.K.
Sadly, one can no longer pass these views off as those of a "small minority" of Europe's Muslims. Across Western Europe, Koopmans' study determined, "Two thirds of the Muslims interviewed say that religious rules are more important to them than the laws of the country in which they live. Three quarters of the respondents hold the opinion that there is only one legitimate interpretation of the Koran."
While these figures reflect the responses to interviews conducted in 2008, little would suggest a massive re-evaluation of their views and religious beliefs on the part of significant numbers of Western Muslims, as the BBC survey makes clear.
Moreover, 56 percent of Belgian and 64 percent of Austrian Muslims responding to Koopmans' survey in 2008 agreed that "Jews cannot be trusted," and indications are strong that Muslim attitudes towards Jews have only worsened. Indeed, with the targeted killings of Jews in Brussels, Paris, and Copenhagen over the past year, Muslim hate towards Jews in Europe has now reached a crisis.
Clearly, we are watching trends that stretch across all of Europe. The issue here is one of trends, and these trends, which involve hundreds of thousands of radical, fundamentalist Muslims, paint a deeply disturbing picture.
Just how disturbing can be seen in a report from the International Center for the Study of Radicalization and Political Violence, which suggests that those who "sympathize with" IS and al-Qaida can be some of the terrorist groups' most potent weapons. Such sympathizers – private individuals in the West – "possess significant influence over how the conflict is perceived by those who are actively involved in it." In addition, new spiritual leaders have emerged who, while not actively "facilitating the flow of foreign fighters to Syria or coordinating with jihadists," play the role of cheerleaders. "Their statements and interactions can be seen as providing encouragement, justification, and religious legitimacy for fighting," the report's authors say.
Koopmans clearly agrees. Though he did not respond to an interview request from IPT, he cautioned last month in Belgian newspaper de Morgen that because of such influences, "in addressing radicalization, leaders have to look beyond the small group that just uses violence. The roots of this problem sit in the Muslim community itself."
This radicalization challenge poses more than a danger for us. It also creates a tragedy for that same Muslim community Koopmans pinpoints as its cause: for the young girls who, running off to Syria with dreams of marrying heroes find themselves wed, instead, to strangers, forced into sex at 14 and 15 years old; for boys like the 18-year-old Australian Jake Bilardi, aka "Jihad Jake," who blew himself up earlier this month in Baghdad; for the girls and women growing up in fundamentalist communities hidden in European cities, with their medieval, often barbaric views on women.
Yet astoundingly, none of this seems to be enough to bring the moderate Muslims in the same communities to their feet, to defend equality and freedom, to demand a world of possibility and reason. That fight still remains our own.
This article was updated to correct an incorrect date reference.
Abigail R. Esman, the author, most recently, of Radical State: How Jihad Is Winning Over Democracy in the West (Praeger, 2010), is a freelance writer based in New York and the Netherlands.