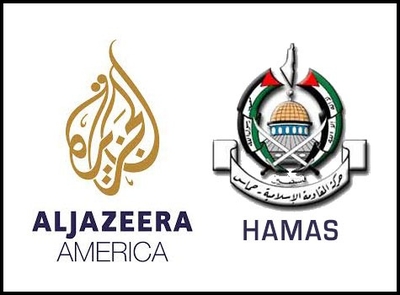 A congressman's recent criticism of Al-Jazeera America's Qatari owners for funding of Hamas has renewed questions about the network's journalistic integrity.
Rep. Brad Sherman, D-Calif., who sits on the House Foreign Affairs Committee, also slammed the network's coverage of the latest round of fighting between Hamas and Israel during his July 9 appearance on the network.
"Every one of those rockets [fired by Hamas into Israeli cities] is a war crime, almost every one," Sherman said, noting that Hamas seeks to hit civilian targets. "Of course it's a war crime committed by Hamas. And of course the owners of this TV network help fund Hamas."
Allegations have floated for years about members of the Qatari royal family meddling in editorial decisions of Al-Jazeera's Doha-based English-language sister network. A State Department cable from December 2009 stated that Qatar was using Al-Jazeera as "an informal tool … of foreign policy."
This lack of editorial independence came into focus in 2011, when Qatari superiors ordered the re-editing of a two-minute video package that appeared on Al-Jazeera English. Qatari network officials modified the segment to ensure that comments by Sheik Hamad bin Khalifa Al-Thani at the United Nations led the segment, even though staffers judged Al-Thani's comments as being less important than other speakers that day, such as President Barack Obama.
Al-Jazeera America strives to publicly distance itself from its Qatari parents and portray its product as "unbiased, fact-based … in-depth journalism." A look at its coverage of the current Gaza conflict, however, calls its claim of being unbiased into question.
The network's pro-Hamas slant has been exhibited in its disproportionate emphasis on deaths of Palestinian civilians without almost any critical mention of Hamas's intentional use of human shields – considered a war crime under international law.
Similarly, Al-Jazeera America reporters have made scant reference to the terrorists' use of densely populated areas to fire rockets or of Israel's warning civilians to leave targeted areas prior to bombing.
For example, a July 15 segment of its program "Consider This" focused on the plight of Palestinian children in Gaza. Moderator Wajahat Ali omitted any reference to how the terrorist group endangers children's lives. Ali repeated the mantra about Gaza's population density without a single reference to how Hamas uses mosques and civilian buildings to launch rockets.
During his appearance on the network, Sherman also slammed Al-Jazeera America for dismissing Hamas' threat to Israeli civilians because their rockets had not killed anyone at a kindergarten in Israel.
"… [Y]ou on this TV station say, 'well maybe it's not a war crime because it's not successful, the rocket didn't hit a kindergarten – it was aimed at a kindergarten but it didn't hit a kindergarten – so then it's not reprehensible,'" Sherman said.
U.S. officials have harbored concerns about the Qatari royal family for years and even interceded to stop some of the money it sent to Hamas.
A confidential State Department cable from February 2006 describes former Qatari Emir Hamad bin Khalifa Al-Thani, who founded Al-Jazeera by a royal decree in 1996, as a "a big friend of Hamas." He notably pledged $400 million to Hamas's cash-strapped government in Gaza during an October 2012 state visit. However, recent reports indicate that the U.S. blocked the transfer of money to Hamas.
Back in 2006, Al-Thani gave $50 million to the then Hamas-led Palestinian Authority.
Al-Thani may have abdicated in 2013 in favor of his son, but the change has not lessened Qatar's financial commitment to Hamas. Qatar's Prime Minister Abdullah bin Naser bin Khalifa Al Thani announced in June that Qatar would give Hamas $60 million to pay the salaries of its civil servants in Gaza.
That kind of open support frustrates American diplomats.
"Officials should make known USG concerns about the financial support to Hamas by Qatari charitable organizations and our concerns about the moral support Hamas receives from Yousef Al-Qaradawi [a popular Muslim Brotherhood cleric living in Qatar]," U.S. Ambassador to Qatar Joseph E. Lebaron wrote in a 2009 secret cable to Washington. He also made clear "high-level Qatari political support is needed" to curtail terror financing.
Hamas received much of its money in Qatar through charitable foundations or popular committees, Hamas politburo chief Khaled Meshaal told Al-Hayat in 2003. Meshaal noted that Qatari TV occasionally organized days when it would collect donations to assist the intifada happening at the time.
Qatar twice provided sanctuary to Meshaal after he wore out his welcome elsewhere. Jordan kicked him out in 1999, and he had to leave Damascus in 2011 after relations between Hamas and the Assad regime soured over the Syrian civil war. Qatar has allowed Hamas to maintain offices in Doha for years.
Qatar Charity, formerly the Qatar Charitable Society and also controlled by the Qatari royal family, has long been suspected of maintaining close ties with Hamas. A secret cable from July 2003 suggests that the charity likely had ties to Hamas. The charity collaborated with the Hamas Ministry of Education 2009 to build schools, according to the Daily Mail. Such schools indoctrinate children with pro-jihadist propaganda.
Osama bin Laden discussed Qatar Charity in 1993 as an important fundraising source for al-Qaida – underscoring its long history of funding terrorism.
Another example of Qatar's complicity with Hamas fundraising has been in its allowing Qaradawi, who heads the Union of Good, to operate within its borders. Treasury Department officials stated in a November 2008 press release that Hamas's leadership created Union of Good in 2000 shortly before the start of the second Intifada to "facilitate the transfer of funds to Hamas."
Qaradawi has hosted a program on Al-Jazeera's Arabic channel where he has advocated Palestinian suicide bombings.
Al-Jazeera America came into being after the Al-Jazeera Media Network purchased Current TV from former Vice President Al Gore and other investors in January 2013. Worries about Qatar using Al-Jazeera America as a propaganda tool surfaced almost immediately.
Al-Jazeera America interim CEO Ehab Al Shihabi fought back hard against those accusations in May. "I am not Qatar. I don't represent Qatar," Al Shihabi told the Paley Center for Media. "I am, you know, separate from Qatar government. I took a grant like what [the] BBC has."
"And the whole concept exercise really is built up on the asset of Al-Jazeera Media Network," he added, "and if I'm not successful to build up on that asset that means I am not a right business person."
Other than Al Shihabi, all of the network's top executives are Americans who previously worked for American networks such as CNN or ABC.
Questions about Al-Jazeera America's editorial independence and slant persist, despite those American hires.
Temple University journalism professor Christopher Harper, a veteran reporter who has covered the Middle East since 1979, noted in a column following the network's launch last August that Al-Jazeera America was not about news, and that its product reminded him of Soviet propaganda. Al-Jazeera America gave Qatar a "seat at the political table in the United States," Harper wrote, adding that it was not likely to make money in the already crowded cable news market.
He has proven correct thus far. Its viewership has been practically non-existent, averaging 15,000 viewers during prime time.
Al-Jazeera America's uncritical coverage of the Hamas-linked Council on American Islamic Relations (CAIR)'s effort to weaken the terrorism watch list is one example of the slanted coverage. The FBI cut off contact with CAIR in 2008, based on evidence it uncovered tying CAIR and its founders to a Hamas support network. A federal judge also ruled in 2009 that the evidence established "at least a prima facie case as to CAIR's involvement in a conspiracy to support Hamas."
Al-Jazeera America anchor John Siegenthaler Jr. interviewed CAIR-NY board member Lamis Deek on June 25 concerning a federal judge's ruling that the watch list was unconstitutional. Siegenthaler never asked Deek about the national-security considerations stemming from the judge's ruling and seemed to sympathize with CAIR's position.
"I think it is simply providing one side of a story. It doesn't rise to Soviet propaganda, but it certainly is propaganda for one side," Harper told the Investigative Project on Terrorism.
A July 10 broadcast of the network's program "Inside Story" hosted by longtime former National Public Radio announcer Ray Suarez provides another example of this slant.
Suarez sought to discuss the failure of peace talks between Israel and the Palestinians, except for one critical part of the story – someone to present Israel's perspective.
Peace would be possible, Suarez and his three guests agreed, if only Israel were to cooperate with Palestinian Authority President Mahmoud Abbas.
None of the guests, including Gershon Baskin, head of the Israel-Palestinian Think Tank; Aziz Abu Sarah of the Middle East Justice & Development Initiative; or former U.S. Ambassador to Egypt Dan Kurtzer, made any reference to Hamas' refusal to renounce violence or its commitment to Israel's destruction, nor provocations by members of the Palestinian Authority calling Israel the occupied "1948 lands," nor Abbas's statements of solidarity with Hamas as far back as 2009.
Suarez noted that Baskin had past contacts with Hamas and proceeded to ask him how he would handle peace negotiations with the terrorist group, regardless of the fact that Hamas's charter and recent statements show it has no desire for peace with Israel. The host then referred to Palestinian terrorism as the "armed struggle" – a term Hamas leaders use to describe their terror attacks against Israelis.
Abu Sarah suggested that Palestinians should consider a one-state solution where Palestinians and Jews would live side by side in the same state – something he said "would mean the end of the Jewish state."
Suarez's political bias has been well-known for years. He narrated an April 2007 PBS documentary, "America at a Crossroads: The Muslim Americans," which dismissed CAIR's links to terrorists as the work of "a small band of conservative and pro-Israeli groups, who accuse it of having an extremist agenda."
"There have also been claims that some members of CAIR have terrorist links. But there have been no charges linked to CAIR itself," Suarez said.
Information about CAIR's extremism was readily available at the time the documentary aired. These included CAIR Executive Director Nihad Awad's 1994 endorsement of Hamas; convictions of CAIR leaders such as Randal "Ismail" Royer and Ghassan Elashi; and its opposition to terrorism investigations.
Conservative journalist Cliff Kincaid questions why Al-Jazeera America continues to operate despite Qatar's terror ties and argues that it should be labeled foreign propaganda.
"Al-Jazeera's entry into the U.S. media market, in violation of the law, was tantamount to giving American broadcast facilities during World War II to 'Tokyo Rose' and 'Axis Sally,'" Kincaid said. "Its broadcasts in the U.S. are not being labeled by cable and satellite providers as foreign propaganda under the Foreign Agents Registration Act.
"In addition, the deal was not reported to the Committee on Foreign Investment in the U.S. (CFIUS) of the Treasury Department, in violation of the law."
Clearly, the terror ties of Al-Jazeera America's Qatari owners should be further examined by U.S. regulatory authorities and members of Congress because many questions remain to be answered regarding the network's independence from foreign control.